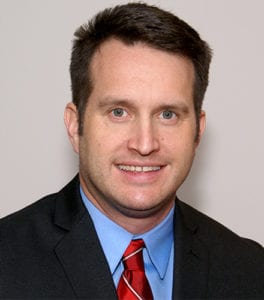 Exhibit Systems has expanded its market presence in northeast Wisconsin with the hiring of Peter Linn, an account executive with a unique background in business-to-business sales and creative services.
Exhibit Systems, a premier exhibit and display company offering one-stop service for trade shows and events, has twice been named a "Future 50" business by the Metropolitan Milwaukee Association of Commerce. The honor recognizes fast-growing companies that drive regional economic growth.
Based in Appleton, Linn represents Exhibit Systems in a broad geographic swath including Green Bay, Appleton and stretching from Wausau to Sheboygan. This New North territory is an 18-county region in northeastern Wisconsin and includes a large volume of manufacturers, which regularly employ trade shows as a key component of their marketing outreach, and professional services firms that use exhibits and displays at conferences and meetings.
Linn consults with clients on their positioning within respective market segments, and on aligning trade show marketing within their overall structure and goals. He is focused on developing relationships, and ultimately growing Exhibit Systems' market share, helping businesses make the most of their tradeshow and event capabilities while enhancing their brand.
Linn, who grew up in Appleton, brings diverse knowledge and insight to the role. He has more than 15 years of sales and marketing experience in professional services, health care, education and non-profits. As the former owner of a custom music business, he worked in diverse marketing channels serving a variety of businesses including the Ohio Lottery, American Family Insurance, SSM Health and Schnucks. He is a graduate of the University of Iowa.
"We are thrilled to welcome Peter to our growing company, and look forward to his executing a long-planned strategy to boost our presence in northeast Wisconsin," said Dave Jentz, executive vice-president of Exhibit Systems. "We are confident that his experience, creative abilities and dedication to customer service will lead to success for our firm and, most importantly, our customers."