The "Walled City" opens up
Nicknamed "The Walled City," Old San Juan in Puerto Rico was once highly sought-after as a port due to its geographic location in the Caribbean, attracting major powers like Spain, France and England. To defend against foreign attacks, military forts and walls were erected around the entire perimeter of the main island.
Old San Juan's architecture adopted colonial and art deco styles from over four centuries under its previous Spanish ruler. Now standing tall as national historic landmarks, the former military forts along blue cobblestone streets transform Old San Juan into a picturesque, antique Spanish town in the Caribbean Sea.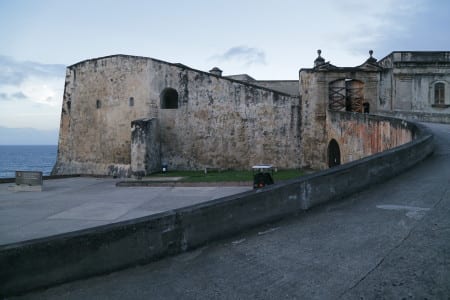 As a U.S. commonwealth, American citizens do not need a passport to visit the island destination. Although the U.S. itself does not have an official national language, Puerto Rico boasts both English and Spanish as official languages, and all U.S. laws and denominations apply. Puerto Rico, today an unincorporated U.S. territory, welcomes business and leisure visitors from mainland U.S. and overseas.
A convenient two-hour flight from Miami, it is easily accessible with seven regional and international airports dotted throughout its 100 by 35 square-foot island. Serving over 2,000 weekly flights from the U.S. and international destinations, Puerto Rico is undeniably a quick Caribbean getaway for Americans.
With the Puerto Rico Convention Center only 15 minutes from the main Luis Muñoz Marín International Airport, visitors can go from the show floor to the sandy beach in no time.
Puerto Rico Convention Center
First constructed in 1972, the original Puerto Rico Convention Center (PRCC) stood in the middle of Condado, a popular shopping mecca and tourist attraction. To allow for expansion opportunities, the government, in conjunction with the private sector, decided to relocate the facility to a 113-acre site in Miramar where the barracks of a naval base once stood. Converted into offices in the 1950s, the barracks were later leveled to be developed into a commercial area.
Inaugurated in 2005, the new facility faces San Juan Bay that today serves as a port for cruise ships and boats. Also facing PRCC is Isla Grande Airport, a small commercial airstrip that flies visitors to outlying islands.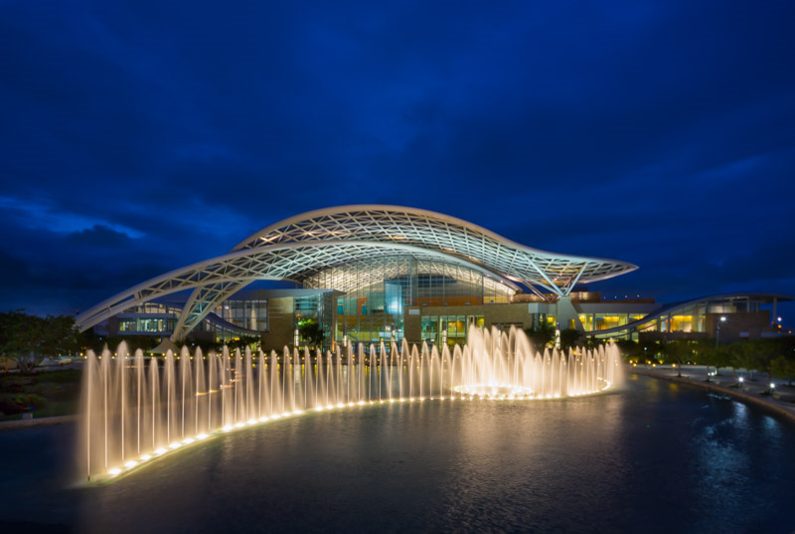 As the largest convention center and overall waterfront development project in the Caribbean to date, PRCC boasts 600,000 square feet of flexible meeting space and exhibition halls. Approximately 60 full-time employees manage operations at the facility, including in-house catering and food and beverage services. Partnering with several vendors, facility management company SMG delivers technical assistance while PSAV provides audio-visual services.
Turning 10 years old next year, the multi-use facility can hold more than just conventions; it also hosts sporting games, graduations and other local events. With over 400 events held at the facility each year, approximately 40 percent consist of tradeshows and expositions with 25 percent of the island's convention business rooted in associations.
Its exhibition hall can be divided into three spaces – two spanning 40,000 square feet each and one larger space at 72,000 square feet – to easily accommodate multiple events. Fifteen dedicated meeting rooms can be subdivided into 29 spaces. The largest in the Caribbean, the 40,000 square-foot ballroom divides into two, has its own satellite kitchen and features a turquoise-colored oceanic theme. A 12,000 square-foot outdoor terrace with a capacity for 1,200 rounds out the facility's offerings. With views of the city and the Atlantic Ocean, the terrace is covered 90 percent by a glass roof offering unobstructed views of the sky.
Through sponsorship programs, its meeting spaces and exhibition halls are named after sponsoring companies such as Chrysler. PRCC itself has its own brand in the form of locally grown Alto Grande coffee served at Aromas coffee shop, one of its many permanent concession stands.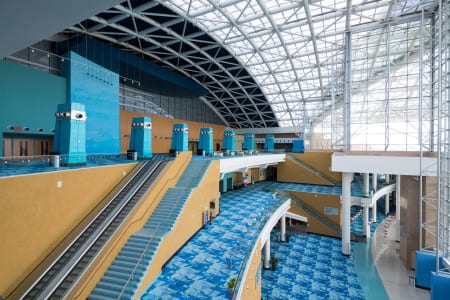 Million-dollar art pieces from the Department of Tourism's extensive art collection are frequently rotated in and out of the Convention Center's halls. Adding another artistic element are stained glass panels featuring ironwork on interior doors, incorporating traditional Spanish architecture into the modern facility. Concave ceilings with decorative wall panels are yet another ornamental detail of the newer facility.
Technological advances are prevalent throughout the facility. Indicated by seating areas, PRCC offers free Wi-Fi in select public spaces. Out front, dancing fountains put on a performance every hour beginning at 6 p.m. nightly, greeting delegates with a lighted water show that synchronizes with music.
Also lighting up is the Convention Center building itself. Constructed with a wave to keep in theme with the island destination, the front of the facility is illuminated in various themed colors to match special occasions or events. During the annual Susan G. Komen fundraiser for cancer research, for example, the building is lit with pink lights.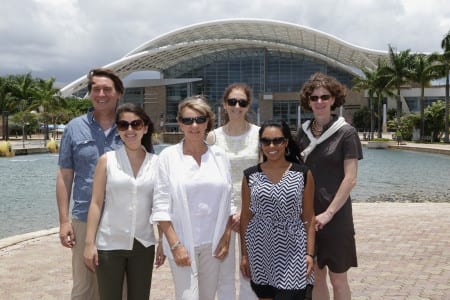 Finally, Meet Puerto Rico (MPR), a non-profit organization established in 1962 to drive meetings, conventions, tradeshows and incentive groups to Puerto Rico, is the official marketing and sales agent for the Puerto Rico Convention Center.
MPR relaunched its logo and name, previously known as of the Puerto Rico Convention Bureau, under the shrewd leadership of President and CEO Milton Segarra.
"We are proud of our Convention Center, the largest and most technically advanced in the Caribbean, and pleased we can offer the best 'nuts-and-bolts' for the meeting planner," said Milton Segarra, president and CEO, Meet Puerto Rico. "But another important aspect for us is to also make sure the experience here in Puerto Rico is authentic and experiential– from the planner to the participant. We can ensure you have the right hotel in terms of size, technical offerings, conference center and airlift, but we also want to make sure every client has an authentic experience. And whether it is our historic Old San Juan, our culinary offer or our natural attractions, we can deliver."
Escaping the conventional
As if attending a tradeshow on a tropical island was not enough, the Meet Puerto Rico team helps delegates escape the conventional while conducting business in the Caribbean.
Within a few hours' drive from the Puerto Rico Convention Center are countless beautiful beaches and thrilling activities. For nature lovers, a trek through the only tropical rain forests in the U.S. National Forest System is a delight to the senses with tropical fauna and cooling waterfalls at El Yunque National Forest.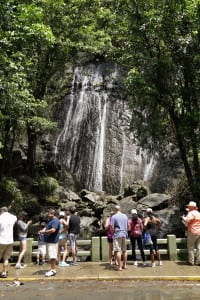 For the adventurous, zip lining at heights up to 800 feet above the ground is a unique way to take in the spectacular views of Puerto Rico's lush mountains. Adrenaline junkies who dare to conquer "The Beast," the highest zip line in the world and the fastest in the Western Hemisphere, travel in a flying position, reaching 65 miles per hour.
Foodies can also venture off the beaten path with refreshing seafood dishes and a sip of Bacardi, bottled at the world's largest rum distillery near San Juan, Puerto Rico. Curious culinary minds can get a taste of plantains, added to both sweet and savory dishes, such as mofongo or tostones, staples in the Puerto Rican kitchen.
"Golden Triangle"
Established in 2001, the Puerto Rico Convention Center District Authority (PRCCDA) develops, manages and oversees the Puerto Rico Convention Center and the District as well as other entities in the surrounding area. With a goal of building a Convention Center District that includes hospitality, commercial and residential developments, the public corporation is proposing to build an entire lifestyle development – a city within a city.
"The Convention Center has unique and endless possibilities for companies seeking special events, tradeshows, conventions and meetings for their employees, clients, colleagues and friends. Also, the new developments planned for the site will revive the District even more. We will have a vibrant Convention District – the economic center of business and tourism it was meant to be." said Blarys Segarra, general manager, PRCC.
Less than five miles from Luis Muñoz Marín International Airport, the waterfront District will be part of the "Golden Triangle" that includes the capital city of San Juan and Puerto Rico's Golden Mile financial district in Hato Rey.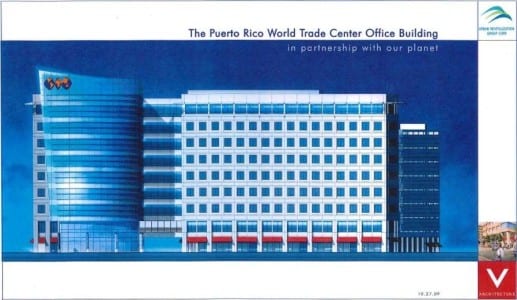 As the anchor property in the District, PRCC is the Puerto Rican government's cornerstone project for the area. Public investments totaling $419 million along with other private funds have already been used toward the infrastructure of the Convention Center.
Completed in 2014, a $30 million private investment addedsolar panels to the facility's rooftops and covered parking lot. Supplying 60 percent of the electricity used to operate the Convention Center, the solar panels have proven to be cost-effective and eco-friendly. Increasing its efforts to become green, PRCC also reinforced its recycling program and implemented food composting, among others.
While the Convention Center currently partners with the Sheraton Puerto Rico Hotel & Casino, a Four- Diamond property within mere walking distance of the facility, the District developments will include additional hotels and commercial buildings. Among those hotels, to be opened in fall 2014, is the Hyatt House, an extended stay hotel with 126 room studios geared toward conventioneers attending longer shows. Following its opening, construction of the Hyatt Place Hotel will commence next door adding 146 rooms and scheduled for 2016. Also adding nearly 214 rooms to the area will be a Marriott Courtyard property.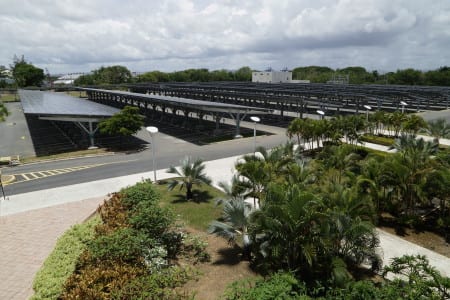 To begin building between late 2014 and early 2015, the World Trade Center will be constructed across the street from the Convention Center, and will include 200,000 square feet of office space and 32,000 square feet of commercial space. Some government agencies are already making plans to be among the building's occupants
Transforming 21 blocks, the PRCCDA plans to turn approximately 15 seaports into a boardwalk with restaurants, retail shops, and an amphitheater to be constructed in the near future. Water taxis will connect the Convention Center District to Old San Juan on the peninsula. Expected to be entirely finished in about 10 years, the project is first developing the area immediately surrounding the Puerto Rico Convention Center.
Creating a city within a city complete with hospitality, residential and commercial developments within walking distance of the Convention Center adds convenience to a long list of benefits for exhibiting in Puerto Rico.