by Calanit Atia
Resorts World Las Vegas (RWLV) opened on June 24 last year, marking the first completely new resort to open on the Las Vegas Strip in a decade and the first time that Hilton has brought together Hilton Hotels & Resorts, Conrad Hotels & Resorts and LXR Hotels & Resorts.
Despite the challenges in 2020, Hilton opened more than 400 hotels, totaling nearly 42,000 rooms. By the end of 2021, Hilton was scheduled to have more than 30 hotels and more than 11,000 rooms across 12 brands in the Las Vegas market.
RWLV is located at the north side of the Las Vegas Strip and cannot be missed with its LED tower which can be viewed for miles, including a   100,000-sq.ft. West Tower LED screen (one of the largest LED building displays in the world), 19,000-sq.ft. East Tower LED screen and a 50-ft.  diameter video globe which displays more than 6,000 square feet of captivating LED content.
The hotel offers 3,506 luxury guest rooms and suites; an innovative, next-generation gaming floor; more than 40 world-class food and beverage options and a 5,000-seat theater. The property is designed so that guests can go right to their room without having to walk through the casino should they decide to do so.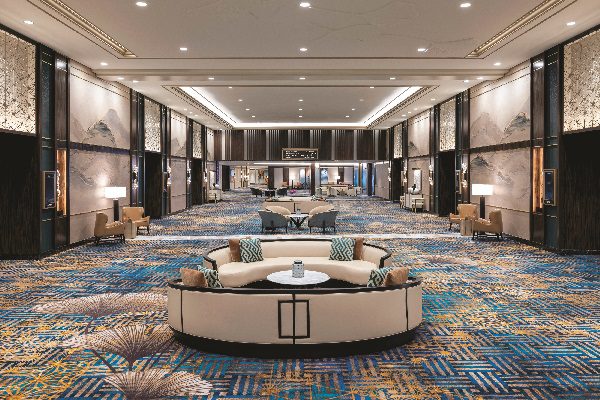 The three hotels have three separate entrances with three different experiences. The Las Vegas Hilton at Resorts World offers 1,774 guestrooms and suites, ranging from 400 to 3,300 square feet. There are smart, luxurious amenities in a comfortable and refined setting. Residential-style furnishings, modern light fittings and a contemporary yet luxurious sleeping environment add to its glamour.
Conrad Las Vegas at Resorts World offers 1,496 guestrooms and suites, ranging from 550 to 2,800 square feet. Luxe amenities and curated art inspire the entrepreneurial spirit of the globally connected traveler. Curated art pieces are commissioned especially for Resorts World Las Vegas to adorn the walls of the Conrad premium guestrooms and displayed throughout the Conrad hotel public areas.
Crockfords Las Vegas, LXR Hotels & Resorts offers 236 ultra-luxe guestrooms and suites featuring lavish accommodations, upscale amenities and highly personalized service ranging from 550 to 7,000 square feet. It is one of the first LXR locations in the U.S. to feature an exclusive entrance and grand lobby for a private check-in experience. Gaming salons conveniently are located off the lobby with complimentary access to the resort's VIP pool and 24-hour, dedicated concierge assistance from highly trained service staff.
Meetings & Events: The property features 250,000 square feet of flexible meeting and banquet space that has the first passenger station and tunnel connecting to the Las Vegas Convention Center; a 23,000-sq.ft. Strip-facing ballroom and terrace with floor-to-ceiling windows, a 90-foot dynamic LED wall as well as digital pillars in the meeting space. The best part, in my opinion, is it's only 100 feet from the hotel tower elevators to the meeting space.
Entertainment: Providing a multiplicity of experiences in one 100,000-sq.ft. entertainment complex, the venues include Zouk Nightclub and AYU Dayclub, and a 5,000-seat concert and entertainment venue, the Resorts World Theatre. Singer Carrie Underwood has already performed at the Resorts World Theatre and Celine Dion, Carrie Underwood, Katy Perry and Luke Bryan are slated for future performances.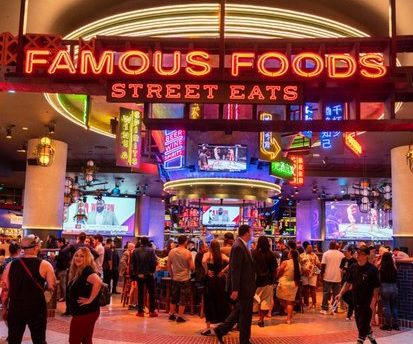 Dining: The property features an extensive food and beverage portfolio offering a wide range of cuisine from authentic street food to Michelin-star dining, including concepts entirely new to the Las Vegas Strip.
Pools: There's a five-and-a-half acre elevated pool complex with seven unique pool experiences including an 1,800-sq.ft. infinity pool with spectacular views of the Las Vegas Strip.
For more info, visit https://www.rwlasvegas.com
Calanit Atia is an award-winning event planner, entrepreneur, Air Force Veteran, founder and president of A to Z Events (a Las Vegas DMC and entertainment agency), a 2021 MPI Advisory board member and speaker. She can be contacted at Info@AtoZevents.com. 
This story originally appeared in the Jan./Feb./Mar. 2022 issue of Exhibit City News, p. 16. For original layout, visit https://issuu.com/exhibitcitynews/docs/ecn_q1_2022