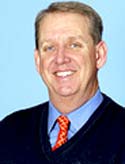 The International Association of Assembly Managers, Inc (IAAM) recently announced the nomination of Richard L. Andersen, CFE, for second vice chair. The membership will vote on the nomination at the business meeting scheduled during the upcoming VenueConnect Annual Conference and Trade Show July 23-27 to be held at the George R. Brown Convention Center in Houston.


"The nominating committee had a tough choice with so many outstanding candidates, but the leadership and consensus building skills that Richard has are exactly what the association needs at this time," said Robyn Williams, CFE, chair of IAAM's Nominating Committee. "Combined with the talents of John Siehl and Randy Brown, IAAM will be well positioned in the near and distant future."
Andersen has 32 years of professional sports team management and sports facility development and operations experience. He holds a Master of Business Administration (MBA) degree from the University of Pittsburgh's Katz School of Business and is currently a member of the faculty at San Diego State University where he facilitates classes in their Sports MBA program. He has also taught sports management courses at Robert Morris Graduate School of Business in Pittsburgh and Barry University in Miami.
He has served as executive vice president and general manager of the San Diego Padres' PETCO Park facility; founder of Lighthouse Consulting Group; president of Joe Robbie Stadium in Miami, where he supervised the delivery of services to the NFL's Miami Dolphins and was part of the Super Bowl XXIX Hosting Committee in 1995 and vice president of administration and operations with the Pittsburgh Pirates. Prior to his stint with the Pirates, Andersen served for 10 years as a member of the Atlanta Braves organization, including seven as their AAA affiliate general manager in Richmond, Va.
"I am honored to have been nominated for this important role," Andersen said. "I consider both the educational opportunities I have been afforded through my IAAM membership and the resulting industry relationships with many of my colleagues as the cornerstone of my career growth. I look forward to this opportunity and will make every effort to add value to the great volunteer leadership and staff already in place."
Andersen earned his Certified Facilities Executive (CFE) designation in 2003. He is currently serving IAAM as chair of the Industry Affairs Council; faculty at the Public Assembly Facility Management School at Oglebay; member of the Board of Regents; past director-at-large for Stadiums and chair of the Stadiums Committee.
"Richard brings vast expertise in venue management to this organization. I know that the members and the association will greatly benefit from his leadership," said Shura Lindgren-Garnett, CFE, IAAM's chairman of the board.