Teeing off with co-workers on a sunny afternoon is nice; teeing off to help fellow industry members in need is even nicer. Tradeshow professionals gathered Oct. 14 at Chateau Elan in Braselton, Ga., for the annual Randy Smith Memorial Golf Classic (RSMGC) event in support of their own.
Established in 1995, RSMGC was first organized for Randy Smith, project manager, IDEAS Inc. Smith tragically passed away in an automobile accident while returning home from the show floor. Co-workers Ted Peterson and Rich Johnson hoped proceeds from the event would help alleviate the financial burden on Smith's surviving wife and two young children.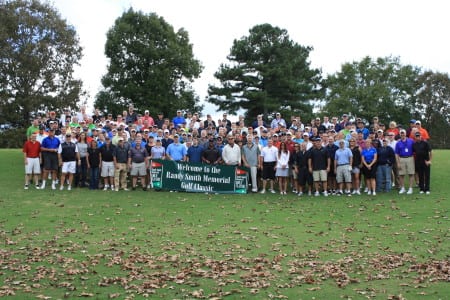 In its 19th year, the event continues to give back to the community, providing monetary relief and emotional support to those who suffer and whose families experience hardships and tragedies. Successfully uniting the tradeshow industry in camaraderie, participants helped fellow industry members by playing a round of golf, sponsoring the event, contributing to the fund and volunteering their time.
The 3D Exhibits team, including golfers Jim Burke, Gene Faut, Bob Prihoda and Matt Shireman took home the first place prize at the Chateau course. At The Woodlands course, the PRG team won the round with golfers Rodney Brannon, Shawn Dagon, Al Dyess, Mike Gurick, Freddy Kong, Mark Herrington, Austin Holstein, Frank McCrary and Ken Race. Dinner and a silent auction at the Winery Pavilion followed the golf outing.
This year's nine recipients are individuals or family members of those in the industry who have made a significant impact in their line of work.
Christina Arnold, wife of Cary Melton, leadman, Laser Exhibitor Service, who is in complete remission from non-Hodgkins lymphoma.
Family of late Kurt Johnson, I&D leadman, Momentum Management, and son of industry members Skip and Sandy Johnson.
Kim Hally, wife of Jack Hally, executive vice president, Blue-Hive, who suffered a homographic brain stem stroke.
Kim Hayes, Nth Degree, underwent a double mastectomy for breast cancer.
Gina McLane, formerly with ExpoSystems, underwent chemotherapy for cancer.
Family of late Vince Rodriguez, Czarnowski, who passed from lymphoma.
Family of late Greg Berger, shipping and traffic manager, DisplayWorks, who passed from terminal cancer.
Rick Janin, lead crafteman, SPOON Exhibits & Events, who was diagnosed with non-Hodgkins Lymphoma and whose wife was diagnosed with thyroid cancer.
Family of late John Cantu, team leader of customer account management department, The Expo Group, who passed from stomach cancer.
Sponsors' generous donations offer much needed assistance to recipients, who must cope with both medical tragedies and mounting expenses.
Corporate Sponsors
3D Exhibits
Brown Bag Graphics
Coastal International
Czarnowski
Derse
E2MA/EDPA Atlanta Chapters
E2MA/EDPA Chicago Chapters
MC2
PRG
Videocraft Productions
Platinum Sponsors
Classic Exhibits
Display Works
EDPA Foundation
Nth Degree
Octanorm
Renaissance Management
Gold Sponsors
Brumark
Donald E. McNabb Company, Inc.
Expotechnik
The Expo Group
Silver Sponsors
Assurance Agency
beMatrix USA
BlueHive
Blue Sky Exhibits
Elements Exhibits
Imagen
Moose Exhibits
NorCal EDPA Chapter
OnSite Exhibitor Service
Reveal Exhibits
Sho-Link
Studio III
The Inside Track