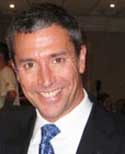 As part of a significant organizational change, the San Francisco Convention & Visitors Bureau's (SFCVB) board of directors voted unanimously to change the name of the organization to the San Francisco Travel Association, effective January 11, 2011.


"Over the past 100 years, this organization has grown and developed as the sales and marketing agency for San Francisco's tourism industry," said Joe D'Alessandro, SFCVB president and CEO. "Today, the word bureau doesn't accurately describe who we are. In fact, we are far from bureaucratic."
The new name is one outcome of the SFCVB's yearlong centennial project which is designed to prepare the organization to best meet the challenges of the next 100 years. The project will enhance every aspect of the bureau's value and effectiveness. It incorporates strategic planning, technology planning, visitor research, convention sales benchmarking and process assessment, organizational realignment, membership structure, and branding.
"This is the most comprehensive review of our business that we've ever done, and one that I believe will lead the way in developing the industry's best practices," said D'Alessandro.
"The key points driving the name change were ensuring and protecting the organization's future relevance in a changing world, while also communicating our curatorial perspective and unique point of view," said Matt Stiker, SFCVB executive vice president and chief marketing officer.
The SFCVB has also named Paul Frentsos to the newly created position of executive VP/ COO. Effective November 29, 2010, Frentsos will report to the bureau's President and CEO Joe D'Alessandro.
The creation of the chief operating officer position developed from the SFCVB's Centennial Plan, a strategic planning process designed to evaluate the first 100 years of the bureau's work and best position the organization for the future.
The COO will be responsible for aligning and mobilizing the organization to successfully implement the strategic plan and achieve the SFCVB's core objectives and will also lead the day-to-day management of key functions; people and organizational development, IT, operations, and management of the Tourism Improvement District (TID).
"With his background in both operations and the travel industry, Paul is uniquely qualified for this critical position," said D'Alessandro. "The COO will play a vital role in keeping the SFCVB moving forward as the key destination marketing organization for San Francisco and the region."
"I'm excited about working with the SFCVB in this new position," said Frentsos. "It will be an opportunity to make a difference in one of the most innovative and dynamic organizations in the business."
Frentsos brings over 26 years of experience in hospitality, human resources, operations and recruiting. In his past nine years with Joie de Vivre Hotels, he has been general manager of the Hotel Adagio and Galleria Park Hotel in San Francisco.
His responsibilities included financial management and business plan development, all levels of employee development and training, facilities management, developing revenue management tools and directing all technology upgrades.