Tweet

Social media plays a major role in the high-volume, visually stunning atmosphere of Electronic Entertainment Expo (E3), with exhibit houses taking notice.
This year, from June 10-12 at the Los Angeles Convention Center, a smaller show floor featuring 200 exhibitors, compared to 230 in 2013, may have meant less competition. But it also gave all 48,900 attendees more opportunities to scrutinize their experiences playing these games. In the age of social media, this could be good or bad.

"E3 is fascinating. You go to other trade events and the consumer actually isn't engaged at all. For this event, it is incredible how much the consumer will watch press events and attend lectures virtually," said Giles Rickett, creative and marketing director, Pinnacle Exhibits. "The outside world looking in definitely influences the type of components you'll see at the show. The concept of a sharable photograph, sharable video or a sharable tweet is absolutely changing the face of the physical properties that you see at the show."
Sharing a photo was easy for attendees who visited the Electronic Arts (EA) Sports booth, designed by Premier Displays & Exhibits.
"There are many photo opportunities. We wanted to make the booth people friendly, so [attendees] could come in and experience the games," added Sean Van Wettering, project manager, Premier Displays & Exhibits.
To help their clients create a great first impression on excited gamers, as well as people across the social media spectrum, Pinnacle Exhibits and Premier Displays & Exhibits designed environments to bring sharable, memorable experiences to life.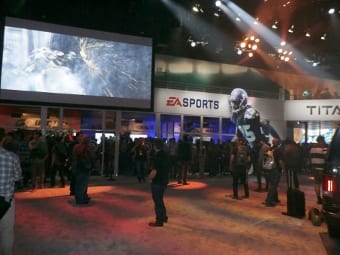 Bringing seven exhibits to E3, including custom built and rental structures, Pinnacle Exhibits' 25-member crew set up and managed what overall amounted to 60,000 square feet of space. The largest chunk of this figure belonged to the 15,000 square-foot Sony PlayStation exhibit.
Working with PlayStation since 1998, Pinnacle has discovered what will and won't work for the company's booth design.
"In our design department, we believe in interaction over architecture. So while architecture is beautiful, it isn't necessarily going to create the interaction that our clients need to have happen. It's about creating a person-to-person connection to discuss something about our clients' products," explained Rickett.
With that in mind, Pinnacle reused the structure it originally created for PlayStation in 2009 six times. This allowed Sony to save money in logistics, planning, labor and drayage. With the structure taken care of, Pinnacle focused on updating technology, graphics and games, and delivering a high level of customer service.
"Within the exhibit, you can create a specific environment for each game title. You can explore the world of that game. A big priority for Sony is to engage the media. There are specific zones that are privatized and cater to the media and their needs," added Rickett.
The two-story PlayStation exhibit overflowed with attendees. Its open layout featured various demonstration stations and an oversized flat screen that highlighted the latest gaming titles.
Although Premier also featured a 26 by 13 feet video screen that garnered attention at the EA Sports exhibit, the company's design included a glass enclosure.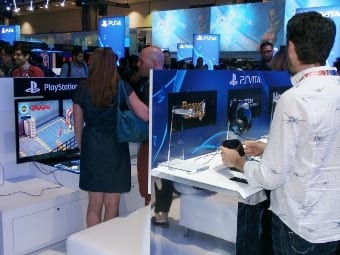 "We wanted to make [the booth] stand out above the rest. That way [EA Sports] can work to the smaller public and deliver a personalized experience. When you're in there, you're getting full attention rather than them trying to give attention to thousands at once. They're giving it to 30 at once," Van Wettering explained.
Although Premier brought two other clients to the show, the two-story EA Sports booth was the largest at 23,000 square feet.  To support the project, Premier employed 24 carpenters, eight rigging teams, 10 to 15 video and sound technicians, five lighting technicians and eight electricians. This team collaborated with EA Sports on an exhibit design that featured wood, foam, fabric, glass, vinyl printing, aluminum and steel.
Taking their level of service a step further, Premier implemented a lighting effect it designed in-house and resized signs when needed.
"We increase sign sizes after the sign has been made. If it doesn't have the presence we expected, we have it redone. We get it done before the show," added Van Wettering.
Sometimes sharable, tweetable moments are induced by the visitor. The EA Sports booth has attracted many celebrities, including rappers Lil' Jon and Snoop Dogg, according to Van Wettering.
The next E3 occurs from June 16-18, 2015, at the Los Angeles Convention Center.