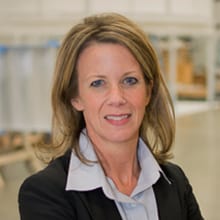 by Pat Friedlander
Coming from the book publishing industry where two, sometimes three, times a year, publishers announce a list of new products, Debbie Parrott (pictured right) is not limited by the assumption that there is not much room for innovation in exhibit design and fabrication.
"Quality has traditionally been a concern—for some exhibit designers and builders more than others—but the industry is very slow to develop new products," said Parrott, president, Highmark TechSystems. "The introduction of new building technologies has never been a particularly robust part of our industry. The application of existing materials, such as fabric, and creative uses of lighting have somewhat masked that fact. In truth, it is very difficult for a company that has a defined set of manufacturing processes in place to turn a corner—exactly what we at Highmark have done this year, with not only new products but also with a pursuit of new markets."
This past year at Highmark is a case study in how a traditional manufacturing company goes about expanding its offerings and its customer base. This spring Parrott's team launched Highmark Outdoor which offers event producers a premium, modular outdoor deck system. This new outdoor deck—the company's famous ExpoDeck reimagined for outdoor use—can be completely enclosed and is totally customizable. Like all Highmark products, the outdoor deck can be expanded to go up or go out. It is available in a variety of pre-engineered solutions or as a completely custom structure for almost any event.
In addition to this new offering, Highmark has become the sole U.S. distributor for Berlin-based mo systeme. Event marketers now have access to this state of the art indoor-outdoor line, which includes products such as the MO5, a super mobile, brandable, promotional counter on wheels featuring an adjustable canopy and lots of storage space. When fully unfolded, it stands 3.6 m—approximately 12 ft.–tall and is an eye-catching bar, mini-booth, or information kiosk. In less than a minute, the MO5 can be hauled away by hand to the next location.
"We have had to do a number of things simultaneously. The first stage was the actual plan to enter new areas of growth, followed closely by the 'how' of it," she says. "What products were we going to offer these new markets? Products that were identifiable as Highmark but served an entirely new purpose."
"Next, we had to adjust our budgets to invest in the necessary equipment to manufacture the new products. That certainly is not as easy as it sounds. We had to reallocate resources as well as research the best means of production. And after that, we had to hire the right people who understood what we intended to do and who knew how to do it. People, who if they had not previously done the type of thing we were proposing, would understand how to make it happen. The search for the right people to add to our team as well as preparing our existing employees for a new adventure was daunting. Basically, we had to reorganize to improve the efficiencies, effectiveness and delivery of our core business. We also had to put in place optimal go-to-market teams and capabilities to develop and launch new products and enter new markets."
One of those new employees is Steve Jackson, who recently joined Highmark as a project manager/engineer. "Joining Highmark is a breath of fresh air in my career," Jackson said. "I am working with a seasoned crew in developing high-level manufacturing processes which have the potential to re-invent the outdoor event industry. Our new products have the 'feel' of Highmark but the scale is so much larger. I love the fact that I am part of a company that is not afraid to go in a new direction."
Sam Kimmel, whose background is in automotive, joined the company as a product specialist and has been instrumental in establishing a turnkey approach for Highmark's mobile offering. The sales team was strengthened with the promotion of Matt Andrews to VP of sales and the addition of Kevin Nute for the western territory. Brian Baker joined the company slightly more than a year ago as VP of business and market development. "Brian's design background plus his remarkably sharp insights into the nature of our business has been a game changer for Highmark," Parrot says. Jennifer Lehrman was promoted to director of client services, a new and much needed position, given the anticipated market expansion.
In addition, new roles and promotions have been key to getting product innovations from concept to market-ready and tackling all the steps in between. Kurt Moore became VP of research and development, Dave Cooper became director of operations, turning the procurement function over to Matt Bell, who is now procurement specialist after working as the raw materials inventory manager. These were all upward moves for key employees who are positioned to both support and develop current and future innovations.
"When a company such as Highmark undertakes a major commitment to innovation and product development, it is imperative to keep our core business strong," says Parrott. "Our industry has a number of unfortunate examples of companies that attempted expansion without safeguards in place. We are fortunate to have an involved board of directors who give us not only good ideas but pushback. Highmark's future has never looked brighter."