Showcraft has announced the expansion of their tradeshow division with the recent hire of a new project graphic production manager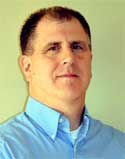 Mark Stavros will interface with both vendors and customers in order to drive value and quality for Showcraft customers. He comes to Showcraft with over 20 years of experience in design, production and client relations and will help continue to develop, among other things, Showcraft's growing tradeshow program.
"I'm excited to work with such a creative company that emphasizes Customer Service," said Stavros.
Stavros previously worked for various portable display manufacturers in Atlanta and Chicago before returning to Minnesota in 2000. Most recently, he worked as an account manager for a large format digital printing firm.
Stavros resides with his wife and two children in Shakopee, Minn.