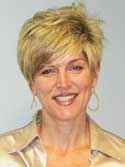 Skyline New Jersey, designer and retailer of tradeshow displays in New Jersey, has announced the hiring of their newest sales consultant, who has over 15 years of sales experience.


Wendy Wallin comes to Skyline New Jersey having created her own successful interior design business. Wallin is also an experienced project manager, helping her hone negotiation skills while giving her a knack for coordinating several events to coalesce into a successful outcome.
"We're very pleased to have Wallin come on board with us, as we believe she'll be an asset to maintaining our leading market stance for sales of trade show exhibits in New Jersey," said Scott Price of Skyline New Jersey. "She places customer service first, just as we do. That trait, along with her keen business sense, makes us proud to add her to our team of talented Consultants."
Skyline Exhibits New Jersey makes 19 different exhibit systems, providing everything from tabletop displays to large-scale island exhibits. Skyline currently holds over 70 patents.
"We seek out integrity, passion, ethics, and honesty in our candidates, and Wallin exemplified those characteristics," said Price. "She has proven that she can develop sales strategies and promote a positive team environment, and we're very proud to have her with Skyline New Jersey. We're confident that she will develop the type of relationship with our clients that keep them coming back again and again."