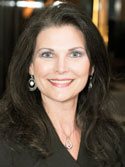 Smart City Networks recently announced that Linda Ness will be joining the event technology company as its new director of national sales.


Ness comes to Smart City Networks from Freeman Audio Visual Solutions where she served as national sales director. During her tenure at Freeman, she sold audio, visual and production services and more than doubled overall branch sales. Prior to working at Freeman, Ness managed member events, including all fundraising and special events for the Chicago Convention and Tourism Bureau.
"Linda understands that the technology needs of today's conventions and events are greater than ever before," said Mark Haley, president of Smart City Networks. "Her experience will be a great asset as Smart City continues to meet the technology challenges facing the convention industry and broaden our partnerships nationwide."
Based at the company's headquarters in Las Vegas, Ness will be responsible for overseeing Smart City's sales effort of event technology solutions to convention centers nationwide. She will also manage the sale of new products, such as Smart Connexion, Smart City's cost-efficient solution for streamlining the provision and sale of Internet services at small and mid-sized facilities.
Ness serves on various community boards, including the Board of Directors for the Las Vegas Hospitality Association and the Board of Trustees for the College of Southern Nevada Foundation.
Additionally, Ness is a member of various industry organizations, including the Professional Convention Management Association, Meeting Professionals International and the International Association of Exhibitions and Events.