A respected industry veteran in the contract management business is joining SMG, a leader in venue management and facility services, as senior vice president, strategic marketing, to expand the company's food and beverage portfolio. Tom Marchetto will specialize in concessions, catering and banqueting, and premium services for convention centers, stadiums and arenas, theater and performing arts centers; and newly defined markets, both domestically and internationally.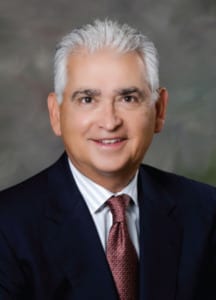 In his new role, Marchetto will report directly to SMG President and Chief Executive Officer Wes Westley, and will be involved in setting strategic direction, business development planning, synergistic branding across a multiplicity of business units, and client relationship management.
"Tom will work closely with SMG's senior management team, in particular SAVOR, to accelerate our current growth, and identify new opportunities through an innovative approach utilizing all of SMG's resources," said Westley.
"Tom provides dynamic leadership and extensive industry knowledge, and his unique ability to grow organizations and build client relationships, makes him the right fit at the right time for SMG. I know the professionalism and value that Tom brings, and I'm excited to have him as part of our team."
Prior to joining SMG, Marchetto held a senior marketing advisory position at Ovations Food Services, a subsidiary of Comcast-Spectacor, from 2006 to 2014. He was instrumental in the implementation of a business development strategy that resulted in Ovations more than quadrupling its revenues, and becoming an industry growth leader, while doubling the number of its client roster accounts.
Formerly, Marchetto spent 30 years with ARAMARK, a world leader in managed services, where he held several senior level executive positions. As president of the Convention and Tourism Services (1999-2003) division, he had nationwide responsibility for a broad range of services for convention centers, national parks and cultural attractions, including some of the largest public facilities and park resorts in the U.S. Under his leadership, the company experienced unprecedented growth in its convention center sector, advancing from low market penetration to the No. 1 position in the hospitality industry.
Marchetto also served as area president for ARAMARK's Sports and Entertainment Group (1995-1999), where he was responsible for stadiums, arenas and amphitheaters. His vision and operational focus contributed to double digit sales and earnings growth, and high customer satisfaction and fan experience levels, which resulted in record client retention rates. Earlier in his career, he was vice president, convention center services (1990-1995); and regional vice president, conference center services (1987-1989).
Marchetto is a graduate of the Pennsylvania State University, with a degree in Food Service and Housing Administration. He continued his training and education through various executive leadership programs including the University of Florida. He and his wife, Lois, reside in St. Simons Island, Ga.