Metro Toronto Convention Centre
The Metro Toronto Convention Centre (MTCC) has 1.2 million square feet of meeting and exhibition space, making it Canada's largest convention and meeting complex.
It hosted the G7 Summit in 1988 and the 620 Summit in 2010, notable gatherings promoting global collaboration and economic growth among world leaders. In February, the MTCC is home to the annual Canadian International Auto Show. During the month of April, contemporary art from galleries around the globe fill the exhibit halls at the annual Toronto Art Expo.
Square footage offers versatility, attracting a diverse mix of tradeshows and events. This facility features large exhibition halls covering 46,000 square feet, the 28,000 square-foot Grand Ballroom and the 1,232-seat John W.H. Bassett Theater. There are also 66 meeting rooms with flexibility for multi-purpose configuration. Large plate-glass windows allow for natural interior illumination, making for open and airy public spaces throughout the facility. The MTCC also offers world-class culinary service with award-winning chefs at its on-site restaurant.
This convention centre is situated in the heart of downtown's entertainment distinct, placing it within walking distance to the city's top restaurants, 11,000 hotel rooms and other entertainment venues. The MTCC is also connected to the 586-room InterContinental Toronto Centre Hotel with its world-class dining and other resort amenities. Easy access to the city's subway system (PATH) makes it easy to get around town and to connect to the Toronto Pearson International Airport.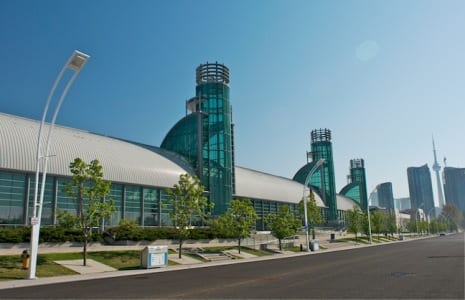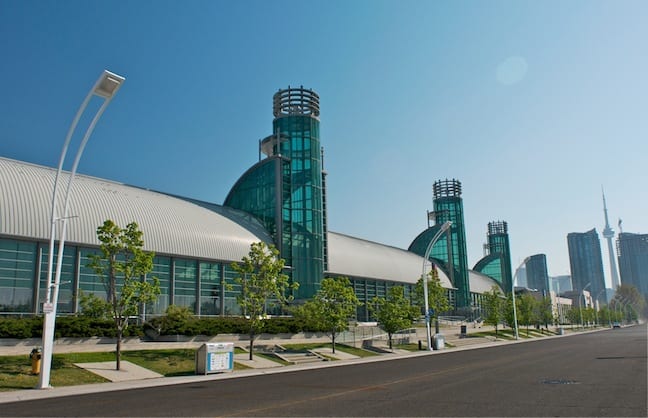 Direct Energy Centre
Located along Toronto's beautiful waterfront is the Direct Energy Centre. This state-of-the-art facility is Canada's second largest convention centre with 1 million square feet in flexible meeting and exhibition space. Exhibit halls are designed to offer unobstructed floor space with columns spaced 90 feet apart. This centre also offers a 8,200 seat-arena in addition to a 20,000-seat open-air stadium. From July 10- 26, 2015, the Direct Energy Centre will host an international multi-sporting event, the Pan-American Games. An award-winning culinary team provides hungry guests menu items made with the freshest ingredients, including organic seasonings from the centre's own rooftop herb garden.
In addition to being located in close proximity to over 8,000 hotel rooms, in 2015 a new 500-room Hotel X is scheduled to open adjacent to the Direct Energy Centre, offering additional meeting space with dining, fitness and other resort amenities. The hotel property will connect to the AllStream Centre, an adjacent state-of-the-art multi-purpose convention and meeting facility.
Vancouver Convention Centre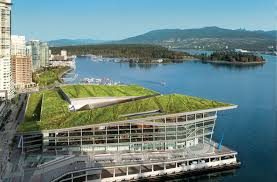 The Vancouver Convention Centre is situated on the waterfront, giving its guests breathtaking views through floor to ceiling windows. The new West Building extends over the water. It was awarded the distinguished Platinum certification for Leadership in Energy and Environmental Design (LEED) for its utilization of or eco-friendly building materials, sustainable energy and recycling. The roof of this building is a "living roof," meaning it grows vegetation native to a British Columbia grassland. This literally "green" roof supports the natural ecology within an urban area.
There has been a recent expansion to 466,500 square feet in versatile floor space, hosting events from large tradeshows to small meetings. Waterfront walking/bike paths with lush green belts provide for a pleasant exterior space experience.
This award-winning facility is known for its role in the 2010 Vancouver Olympic and Paralympic Winter Games. The outdoor Jack Poole Plaza proudly displays the 32.8 foot tall Olympic Cauldron. There is also a permanent display of Olympic memorabilia. The centre's state-of-the-art Media Centre served as the broadcasting hub for this entire international event.
Additional meeting space, hotel accommodations, dining and other resort amenities are provided by the connecting Fremont Pacific Rim Hotel and Condominium complex.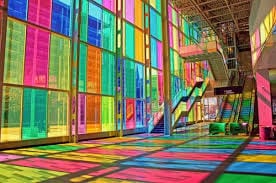 Palais des congrès de Montréal
In the mix of 4,000 hotel rooms, plenty of dining and shopping options among other entertainment venues in downtown Montréal is the Palais des congrès de Montréal. Better known as the Palais, this structure appears to be more of an avant-garde work of art than a convention centre. The use of surrounding multi-colored plate-glass windows providing natural interior illumination combined with one-of-a-kind pieces of artwork and sculpture from various artists gives public spaces a very open and contemporary look.
The Palais has over 200,000 square feet of exhibition space with 85 meeting rooms. This centre comes equipped with the latest innovations in audio-visual and conferencing technologies. Event planners can plan and coordinate their event online before even arriving at the centre. The Palais hosts the annual Montreal Auto Show and the United Nations Climate Change Conference among a host of other notable events and tradeshows.