Board members of the Las Vegas Convention and Visitors Authority (LVCVA), which manages the Las Vegas Convention Center (LVCC), voted March 10 to create a special committee to direct construction of the planned Las Vegas Global Business District (LVGBD). The project includes plans to both renovate and expand the existing LVCC.
At the recommendation of LVCVA Chairman and District D Commissioner Lawrence Weekly, six board members were elected: Tom Jenkin, global president of destination markets, Caesars Entertainment Corp.; Clark County Commissioner Tom Collins; Kristin McMillan, president and CEO, Las Vegas Metro Chamber of Commerce; Ward 6 Councilman Steven Ross; and North Las Vegas Mayor John Lee as well as Mandalay Bay President/COO Chuck Bowling, who will chair the committee.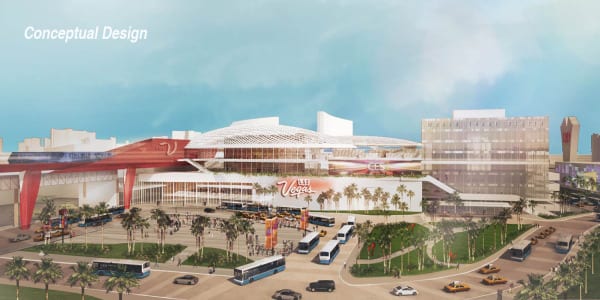 Charged with providing policy guidance and direction, the special committee's first decision will be to hire a third-party owner representative to manage the design and construction of the LVGBD. Fees to outsource the management role would amount to 2 percent of the overall estimated fee structure for the project.
Originally recommended by the LVCVA during the March 10 Board Meeting, Cordell Corporation, a privately held firm specializing in managing the development and renovation of high-profile public assembly facilities, was selected from among 47 firms. Among its qualifications, Terry Miller, executive vice president and co-owner, Cordell Corp., previously provided consulting in a November 2013 agreement with the authority.
As owner representative, Cordell Corp. would oversee the entire course of the project, estimated to take five to eight years to complete.
Plans to vote on the full term of the owner representative agreement and approve $270,000 for demolition of the Riviera Hotel & Casino in preparation for LVGBD were curtailed by board member concerns.
"We should be using local talent and local firms for this project in Las Vegas," remarked Councilman Ross.
While management of the project would fall to California-based Cordell Corp., the exclusive agreement would not allow the firm to bid on the actual design of LVGBD, leaving contracts for its conception and build open to Southern Nevada companies.
The special committee of the Board moved to revisit the tentative owner representative agreement with Cordell Corp. at its April meeting.