By Jeanne Brei
Optimism appears to be on the rise across the U.S. as cities are investing in their convention centers in a big way. From Seattle's new $1.9 billion "Addition" (also known as the Summit) just months away from completion to the Javits Center in New York's $1.5 billion renovation that was completed last fall, cities are adding space and amenities to attract the bigger shows.
The Seattle Convention Center Summit (formerly the Washington State CC) 
Since breaking ground on the "Addition" project in 2018, The Seattle Convention Center officially "topped out" on June 11 last year. Originally scheduled to be completed by the end of 2021, the lockdowns' economic downturn delayed the completion until this fall.
Due to the building's massing and complexity, traditional bottom-to-top construction would have meant more than four years of construction. Instead, the team chose a "billboarding" approach—the first use for a commercial building of this scale in the Northwest—to cut a full year from the construction duration.
A collaboration of the Clark/Lewis GC/CM team (a joint venture of Clark Construction and Lease Crutcher Lewis), project manager Pine Street Group, LMN Architects, civil/structural engineer Magnusson Klemencic Associates, steel erector American Bridge and a host of related designers and subcontractors, the team constructed the Addition building from east-to-west, resulting in a shorter construction duration. According to Josh Van Kirk, project manager at Lease Crutcher Lewis who managed the Addition's building structure scope as part of the Clark/Lewis team, the method, called "billboarding," involved structural steel rising in one of five geographic zones at a time. Each zone topped out at full height as the next zone's steel erection began. This approach simplified logistics and improved workflow. You can read more about the Addition's billboarding method here.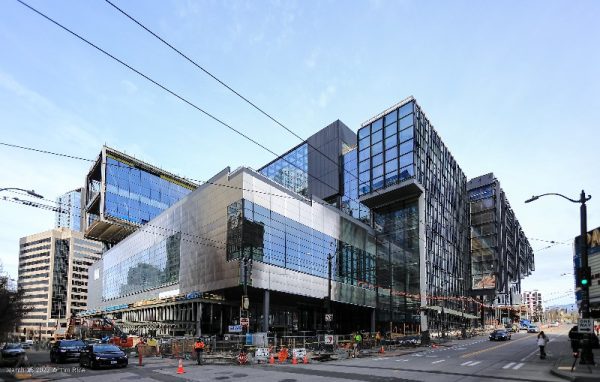 Most convention centers are low buildings over many acres, but the Addition stacks more program space onto less land than any other center in North America with unique structural components and supporting systems at every level. As a result, it rises more than 200 feet above grade for most of its double-block site between Olive, Pine, Boren and Ninth. The 150,000-square-foot exhibit hall is topped by trusses up to 90 feet long that will contain three levels of parking. Above the parking is a 100,000-square-foot flex hall topped by trusses up to 180 feet long, followed by two levels of meeting rooms and finally a 60,000-square-foot grand ballroom. Each level also includes pre-function and support spaces.
The project has also exceeded its diversity goals in a variety of areas and has entered into more than $140 million in contracts with women- and minority-owned businesses (WMBE). From engineers and artists to truckers and designers, the Addition has thus far benefited from the services of more than 110 WMBE businesses. Workforce statistics include 20 percent apprentices, 27 percent workers from Priority Hire ZIP codes, and 32 percent people of color. When open for business, the Addition will be a critical tool for recovery of the region's hospitality industry, which employs as many as 80,000 people in King County.
An office co-development, along with a neighboring residential co-development, will rise immediately north of the Addition and above its below-grade loading dock. The co-developments are central to the goal of building a great neighborhood with street-level uses, pedestrian amenities and density that create a welcoming environment for walking, living, working and visiting.
On April 27, the Seattle Convention Center completed the sale of the Addition's fully entitled office development site at 1000 Olive Way to developer Hudson Pacific Properties. The tower is expected to be LEED Gold-certified with 100 percent carbon-neutral operations and will feature 546,000 square feet of Class A office space. The tower is centrally located within the Amazon-anchored Denny Triangle submarket (on the site of the former Honda dealership at Boren Avenue and Olive Way), directly adjacent to the Addition, which is adding numerous retail amenities and streetscape improvements to the neighborhood. Hudson Pacific has already begun construction of the office tower with total project costs, including the purchase price, of $340 to $360 million and anticipated delivery in early 2024.
The Jacob K. Javits Convention Center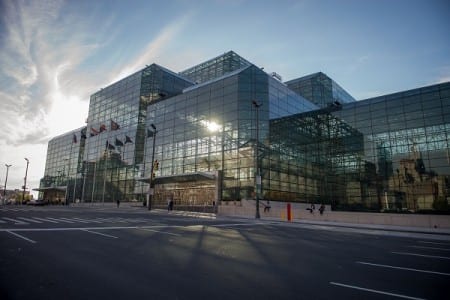 The massive $1.5 billion project to expand New York City's Jacob K. Javits Convention Center, which began in early 2017, was completed in the spring of 2021. The upgraded facility now has a total interior area of 3.3 million square feet, with 500,000 contiguous square feet of event space. The massive project enlarged the Javits Center by 1.2 million square feet, amounting to a fivefold increase in meeting room space including another 200,000 square feet of meeting room and pre-function space, and a 54,000-square-foot special event space with views of the Hudson River. There's also a new truck marshaling facility designed to make event operations more efficient. The new four-level facility is big on indoor and outdoor space, wide-open views of the Hudson River, and sustainability efforts, including new solar panels and energy efficient operations.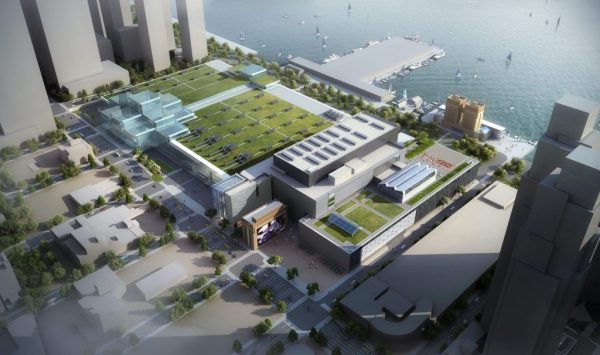 The project's rooftop spaces include a glass-enclosed pavilion, an outdoor terrace, a greenhouse, and a one-acre farm. More than 3,000 solar panels were installed on the rooftop as part of a program with the New York Power Authority. The North building's rooftop farm and greenhouse are adjacent to and in full view of the Pavilion, and promise to offer a true roof-to-table dining experience.
Also new at the Javits is a 30,000-square-foot broadcast studio which opened in September 2020 to meet demand for virtual and hybrid event broadcasting options. The studio can host up to 300 participants in a socially distanced setting.
The Javits expansion is part of the city's Midtown West redevelopment plan. The long-term vision includes transportation-facility improvements at Penn Station and the Port Authority bus terminal plus the transformation of Pier 76, located directly behind the convention center, from a police tow pound to an extension of Hudson River Park. There are also plans to link the High Line walking trail to Pier 76. The 7 subway line has already been extended to 11th Avenue for easy access to the Javits.
Next week: Lexington's Central Bank Center & the LACC