By Erik Huey
Tension fabrics continue to change and evolve throughout the industry and EXHIBITOR 2014, a tradeshow and conference for tradeshow exhibitors and event marketers, showed that light in design equates to light on the budget.
In fact, at the show held in Las Vegas in March 2014, one could see several examples of tension fabric stressing the lightweight, the portable and the cost-efficient. Combined with strategically-placed in-booth lighting, these designs are now dominating the industry.
And the industry is responding. There is continued decrease among rigid display production amid a continued move toward tension fabric exhibits and structures.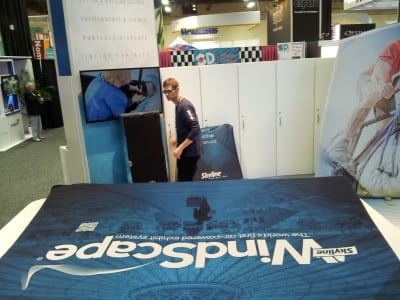 Skyline Exhibits, a designer and builder of custom modular tradeshow exhibits and portable tradeshow displays, demonstrated a unique air-powered tension fabric exhibit system that's small enough to fit in standard carry-on luggage and takes 10 minutes to inflate.
Appropriately dubbed the Windscape system, Mike Thimmesch, customer engagement director, Skyline Exhibits, stated the system has tension fabric overlays that allow an exhibitor to easily change out a message almost on the spot with relative ease.
"We've been in business for 34 years and we know that flexibility is key for exhibitors," said Thimmesch. "The inflator, being a separate, stand-alone item, has an auto-shutoff and weighs only 11 pounds."
As mentioned in a September 2013 Exhibit City News article, Mike Heuer referenced the increased use of these structures is becoming far more common in the tradeshow industry and adding that it is simply only the imagination of the tradeshow exhibitor that has a primary limitation.
Those limitations are virtually nonexistent and when an exhibitor factors in shipping and drayage costs, the costs have decreased even more.
Chicago-based TenFab Designs unveiled its new Pavilion series in early 2014 in which two tensioned fabric walls run the length of an exhibit booth space and can soar to a height of 16 feet. The two walls support a tensioned fabric ceiling, which can support LED light fixtures.
According to designer Aaron Helfman, each of the exhibits provides over 1,200 square feet of tensioned fabric wall surface for high visibility graphic communications.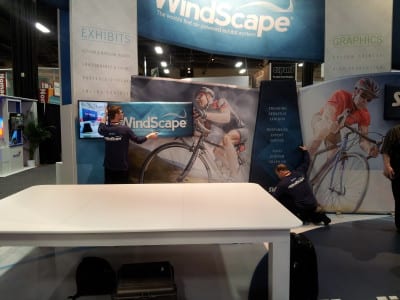 "We felt we could create an exhibit that would be more effective, more appealing and more enticing," stated Helfman.
The growing appeal of the versatile uses of tension fabric is evident even in the retail sales industry.
Demonstrating those uses at GlobalShop 2014, Kevin Aronhalt with Moss Retail said the use of tension fabric within the general retail environment helps to keep overall labor costs down, helping a retailer's bottom line. "Labor is expensive, so this is a major advantage," said Aronhalt. "The fabric is washable and can be changed out easily by the retailer, a good example being seasonal merchandise." Aronhalt added that Moss Retail has a positive collaborative and warm relationship with retailers who use their tension fabric products in-store.
As exhibits continue to become smaller and more portable, expect to see an increased use of these materials among exhibits at tradeshows.