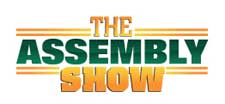 The first annual ASSEMBLY Show, which takes place from Oct. 28-30 at the Donald E. Stevens Convention Center in Rosemont, Ill., is making things cheaper for its exhibitors. BNP Media, producers of the show, recently announced there will be no drayage fees for all shipments sent directly to the Rosemont Convention Center.


The ASSEMBLY Show, presented by ASSEMBLY Magazine, is the only event to focus exclusively on assembly technology, equipment and products.
"We are 100 percent dedicated to assembly, and willing to do what it takes to deliver the most compelling event in the industry," said Tom Esposito, publisher of ASSEMBLY Magazine. "The main attraction for attendees at a tradeshow is the opportunity to view live demonstrations of new products. To encourage exhibitors to bring their large equipment to this working-product show floor, we are picking up all direct-to-dock drayage fees including surcharges and overtime."
Space at The ASSEMBLY Show has already exceeded expectations and the show floor has been expanded by 25 percent from the initial space commitment, which sold out in a matter of weeks.
"Drayage fees are typically the largest expense at a manufacturing event, creating a huge burden for exhibitors who want to display a heavy product," said Esposito. "By eliminating these fees we are making The ASSEMBLY Show more affordable and accessible to exhibitors."
More than 60 companies have signed up to exhibit at the inaugural event. Show management is expecting thousands of manufacturing engineers and managers in attendance.