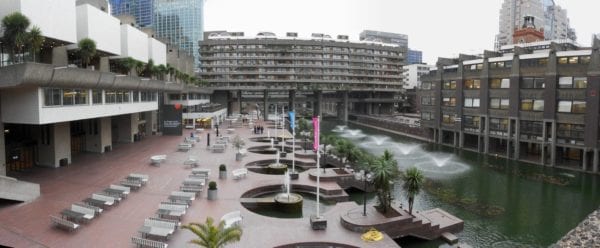 The Barbican in London, England, has cemented its position amongst the most elite venues in the country through the achievement of AIM Gold. It is the second time that the Barbican has been recognized with AIM accreditation – a mark of excellence demonstrating the important traits of compliancy, competency and capability. The accreditation consists of a strict auditing process of rigorous tests, which examine all elements of the business, including planning, customer environment and levels of service.
Lee Dobson, head of events management at the Barbican, said; "Achieving AIM Gold for the second time puts us in an exclusive group of the highest quality meetings venues in the country. It sets us apart from other venues and is a unique point of differentiation. As a result, it will help us attract more business both nationally and internationally." Lee went on to say; "A huge amount of work has gone into achieving this award and I would like to congratulate all our staff for their contribution, particularly Eloise Freeman, who is an event manager at the Barbican who oversaw the AIM accreditation project. The business events, sales and delivery teams, also played an integral part in helping the Barbican achieve its aim of excellence within the meetings industry."
The AIM accreditation process ensures that venues and industry suppliers are fit for purpose and operate as decent and ethical organizations. As the highest level of accreditation available to venues in the UK, the Gold level of accreditation places the Barbican in a unique group of outstanding venues, focused on the delivery of top quality events with the highest possible levels of service.
Jane Longhurst, mia chief executive comments, "Achieving AIM Gold for the second time, the Barbican continues its tangible demonstration that its facilities are of the highest standard, the service it delivers is second to none and catering and hospitality at the venue are exceptional. To maintain AIM Gold is a fantastic achievement, and a hallmark of excellence showing bookers and planners exceptionally high levels of service across the board."
A world-class arts and learning organization, the Barbican pushes the boundaries of all major art forms including dance, film, music, theatre and visual arts. Its creative learning programme further underpins everything it does. Over 1.5 million people pass through the Barbican's doors annually, hundreds of artists and performers are featured, and more than 300 staff work onsite. The architecturally renowned center opened in 1982 and comprises the Barbican Hall, the Barbican Theatre, the Pit, Cinemas One, Two and Three, Barbican Art Gallery, a second gallery: The Curve, foyers and public spaces, a library, Lakeside Terrace, a glasshouse conservatory, conference facilities and three restaurants. The City of London Corporation is the founder and principal funder of the Barbican Centre. For more info, visit http://www.barbican.org.uk.