(Pictured above: The Detroit Opera House)
The D.E.A.L.: Dining, Entertainment, Attractions & Lodging
by Jeanne Brei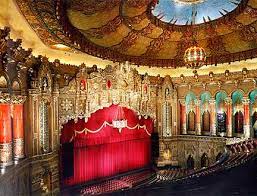 When you're the home of Motown, the palatial Art Deco Fox Theatre (built in 1928, pictured right), the fabulous Fisher Theatre (also built in 1928) known for its Broadway touring shows, the Fillmore Detroit (built in 1925 as the State Theatre in Renaissance Revival style of architecture) and the Detroit Opera House (built in 1922 as the Capitol Theatre in the style of the Italian Renaissance, with soaring Corinthian columns with an even more ornate interior featuring, several kinds of marble, Tiffany mosaics, sculpture and gilt) along with venues for every major sport and casinos—and they're nearly all within walking distance of each other—the next step is to give the area a name and so began The District Detroit, Detroit's entertainment district.
The District Detroit is a world-class sports and entertainment development—made up of 50 blocks, six theaters, five neighborhoods and four teams and back in 2017, when Little Caesars Arena opened, they announced that The District Detroit would connect Downtown and Midtown into one contiguous, walkable area, where families, sports fans, entrepreneurs, entertainment lovers and others could enjoy a vibrant urban setting with plenty of shows, sports and concerts.
They are still working on that ambitious project of connecting both neighborhoods but in the meantime, the District Detroit is a thriving art, music, sports, and nightlife scene with Comerica Park, Little Caesars Arena and Ford Field featuring concerts when they aren't playing sports in their venues.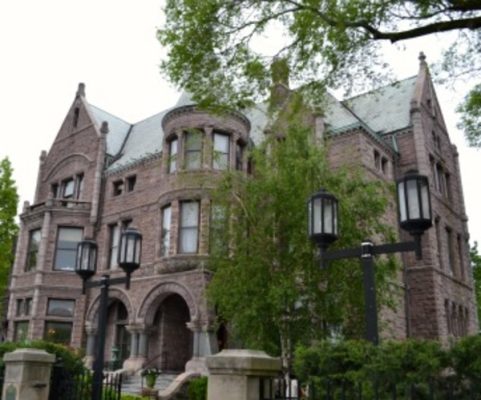 Faithful readers know how partial I am to historical Art Deco architecture, live music featuring the Great American Song Book and all things swanky. In downtown Detroit, nothing comes swankier than the Whitney mansion (pictured right), one of the last standing of the many impressive homes on Woodward Avenue. The structure, completed in 1894, was designed for lumber baron David Whitney Jr. and described by one newspaper account at the time as "the most elaborate and substantial residence in this part of the country." Built in a Romanesque style of South Dakota Jasper, a rare variety of pink granite that originally provided the outside of the house with a striking rose hue, the exterior features a multi-gabled roof and arched windows that add drama to the already luxurious facade. The 21,000 square foot home originally had 52 rooms, 10 bathrooms, 218 windows, 20 fireplaces, a secret vault in the original dining room and an elevator. Construction took four years at a cost of $400,000.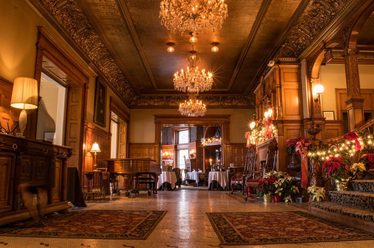 With its gorgeous granite arches, crystal chandeliers and stained glass windows, the Whitney now has a new life full of grandeur as a fine dining restaurant and upscale lounge. Traditions of elegant tea parties and dinners, as well as sightings of David Whitney Jr.'s ghost, are alive and well. The third floor Ghostbar's eclectic spirits make any evening spent in the dining rooms or garden an enchanting one—and possibly haunted one as well.
From the painted glass windows done by Mr. Tiffany himself to the light fixtures created and signed by Thomas Edison, it truly is a historic masterpiece. They offer free guided tours of the mansion throughout the night to learn more about what went into making this home. There are several parlors with beautiful fireplaces and fabulous mantles. One of the parlors has a collection of tapestries of mischievous cherubs, and there's also a dramatic stairwell that harkens a Hello Dolly or Gone with the Wind moment.
Tucked in on the top floor next to the Ghost Bar, The Woodward Room is a hidden gem in the restaurant.  A small room facing Woodward (hence the name), it offers an intimate spot to dine. And many online reviewers mention that the live pianist is one of the highlights of an evening spent at the mansion.
This story originally appeared in the Jan./Feb./Mar. 2022 issue of Exhibit City News, p. 73. For original layout, visit https://issuu.com/exhibitcitynews/docs/ecn_q1_2022.