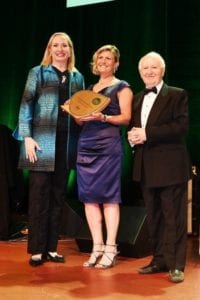 Carlson Rezidor Hotel Group Recognized for Blu Planet Water Conservation Project
The Events Industry Council, in partnership with IMEX has launched a new industry award this year, the Innovation in Sustainability Award, and honors Carlson Rezidor Hotel Group as the inaugural winner of the award. The Innovation in Sustainability Award was designed to recognize event professionals who are driving sustainability forward through innovation, collaboration and idea sharing. The Carlson Rezidor Hotel Group was recognized for doing this with their Blu Planet water conservation project.
"The Green Meeting Industry Council, now the Events Industry Council's Sustainability Committee, has had a long tradition of celebrating sustainability in our industry through the IMEX-GMIC awards. We are excited to continue this tradition with IMEX," said Karen Kotowski, CAE, CMP, president and CEO, Events Industry Council.
"Collaboration is fundamental to innovation in any field as it is only through working as a team that we can identify sustainability challenges and gain fresh and innovative insight into how these challenges can be addressed. In support of this, the award has been re-imagined to celebrate and encourage innovation and collaboration. The award takes a holistic approach to sustainability, factoring in social, environmental and economic impacts, as well as evaluating the event or project's legacy and contribution to industry education," said Mariela McIlwraith, CMP, CMM, MBA, director, Sustainability Committee, Events Industry Council.
The Carlson Rezidor Hotel Group demonstrated both collaboration and innovation, taking a multi-faceted approach to address water conservation and sanitation issues. The project lead organization has been a signatory of the UN Global Compact since 2009 and was the first hotel brand to sign the UN CEO Water Mandate. The initiatives to recognize include:
A redesigned breakfast menu that reduces water use and carbon emissions by 20%.
A donation program linked to guest towel reuse that has provided clean drinking water for life for 6,900 children.
A soap recycling program that has diverted 1.7 tons of soap from landfill to where it is needed, by creating fresh bars for distribution in local communities with limited access to hygiene and sanitation.
Water conservation initiatives that have reduced their consumption by 30% since 2007, and, in the spirit of continuous improvement, they are working towards a further 10% reduction by 2020.
Congratulations to the Carlson Rezidor Hotel Group for their contribution to sustainability in our industry and for winning the 2017 Innovation in Sustainability Award.
The Events Industry Council's more than 30 member organizations represent over 103,500 individuals and 19,500 firms and properties involved in the events industry. The Events Industry Council promotes high standards and professionalism in the events industry with the Certified Meeting Professional program and signature program initiatives. The CMP credential is recognized globally as the badge of excellence in the events industry. The qualifications for certification are based on professional experience, education, and a rigorous exam. The four signature programs — Sustainability, Industry Insights, Knowledge, and Leadership — represent the key initiatives, assets, services and products for the Events Industry Council. Learn more at www.eventscouncil.org.