The Expo Group, the Single Source general contractor, presented its fourth annual Exhibit Marketer of the Year (EMY) last night at E2MA Red Diamond Congress Awards ceremony.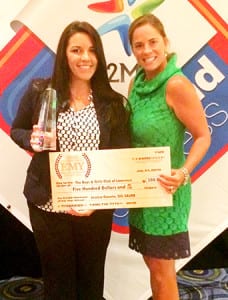 Jessica Gauvin of SIG SAUER received this honor. Gauvin first became involved with exhibits and events as an account manager for an exhibit house in Wilmington, Mass.
After five years, she saw a unique opportunity to move to the client side of the industry working with New Hampshire-based weapons systems provider SIG SAUER as their Trade Show and Event Manager. This CTSM candidate is passionate about marketing strategy, exhibit design and creative cost-effective solutions.
In addition to a custom EMY crystal trophy, a check for $500 has been sent in her name to The Boys and Girls Club of Lawrence, Mass.
The EMY Award was created by The Expo Group in 2012 to honor unsung heroes of the event and exhibit marketing world. Demonstrating value, marketplace engagement and multi-channel initiatives are among the criteria that are reviewed by the award's independent panel of judges.
Another signature awards event, The Expo Group Show Manager of the Year award, now in its 14th year, will be presented in November. Nominations can be made year-round for either award by visiting theexpogroup.com.