By Emily Olson, Photography by Gary Prochorchik / Exposures LTD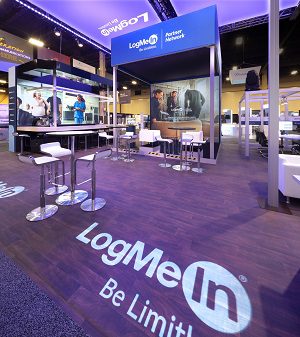 LogMeIn calls themselves "the work-from-anywhere company before work-from-anywhere was a thing." The organization helps companies connect their workforces so that they can effectively communicate and collaborate from anywhere. And their booth at Channel Partners provided an inviting space for connection. One attendee said that it was "the best booth at the event by far!"
The booth was designed and built by the Massachusetts-based BlueHive Exhibits, and its color palette in soothing shades of blue drew people in. BlueHive Vice President of Sales and Business Development Chris Dunn says the design really evolved as he discussed different concepts with his client. "LogMeIn's clarity on what they wanted to achieve shifted, which drove a change in the overall concept for the space," Dunn says.
Ultimately, the main goal with the booth design was active engagement. "We wanted attendees to be participants in the space rather than passengers. This 'return to live' was meant to create a big impact on attendees and leave them with some amazing memories."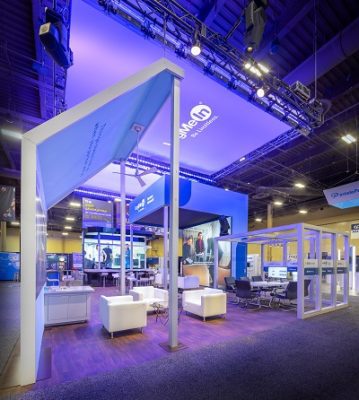 The booth provided several seating areas with inviting, comfortable white chairs where show attendees could connect with each other. There was a conversation pit, high top tables, a conference room style setup and even a bar. The bar turned out to be Dunn's favorite part of the booth. "It was a huge piece that told part of the story," Dunn says, "but it also served as an obvious anchor for the several different hospitality sessions that the client rolled out. There was a huge buzz around the space. When the show-sponsored happy hour was going on, it felt a little like you were in a really fun pub."
Because the booth setup was so elaborate, it took incredible efficiency to set it up and break it down in the time allotted. "Every element was highly orchestrated between us, the client, our labor group and our AV partner," says Dunn. To ensure the setup went smoothly at the show, the different partners did a dry run in the shop before shipping the different elements.
And LogMeIn can use the whole setup again. "This property was created as a custom rental, which I think is so cool," says Dunn. "The client can change the content and the fabric skins to create a different look and feel, while being able to leverage this amazing architecture at different shows in different ways."
Dunn says attendee feedback at Channel Partners was overwhelmingly positive. "The energy, the clarity of the client's message and the way the media worked so well with the architecture created an incredible overall impact," Dunn says. "People were blown away."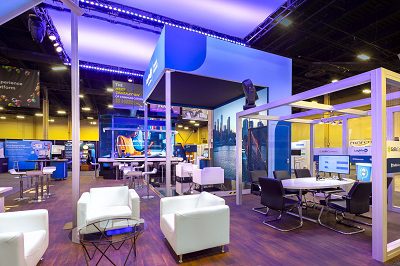 Project Credits:
Designer: Finn Yonkers
Builder: BlueHive Exhibits
Production Manager: Chris Littlefield
Client Team: Kelsey Campbell
Account/Project Management: Amanda Porcaro
Production/Engineering: Sean Hopwood
Exhibit Construction: BlueHive Exhibits
Graphics Production: BlueHive Exhibits
Photography: Exposures
Exhibit I&D: Lime I&D (div. of BlueHive)
AV/ Lighting Design: AVFX/ Kevin Reilly
By the Numbers:
Booth Footprint: 30 x 50
Install: Ten people installed it over a day and a half
Booth Height: 20 feet
This story originally appeared in the Jan./Feb./Mar. 2022 issue of Exhibit City News, p. 52. For original layout, visit https://issuu.com/exhibitcitynews/docs/ecn_q1_2022