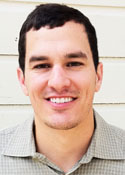 Trade Show Internet (TSI) is excited has announce the hiring of a new account executive. In this role, the primary responsibilities will be to work with the company's exhibitor and exhibit house customers to provide Internet and audio/visual technology solutions for their events.

Peter Thompson, the new account executive, comes to the company from Northrop Grumman, where he developed skills in budget and logistics planning for engineering projects. Peter earned a bachelor's in Business Administration from the University of San Diego.
"We are very excited to welcome Peter Thompson as a full-time member of the Trade Show Internet team," said Ian Framson, CEO. "Peter brings a willingness to learn and a refreshing warmth representative of his Southern California roots. Peter has very quickly overcome our steep learning curve and has demonstrated the compelling value he brings to the company and our clients."
In his new role as account executive, Peter will be responsible for growing and scaling sales initiatives to support TSI's rapid growth.