by Bob McGlincy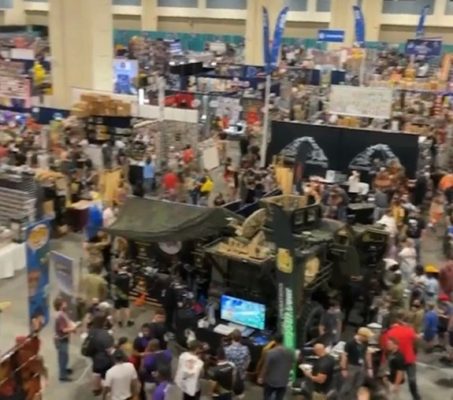 Tradeshows are happening. Big shows, small shows, medium sized shows … all types and sizes of events are occurring throughout the U.S. They are happening safely and successfully. They are being attended by individuals and companies who want to be there … attended by those who want to meet face to face, and want to do business. They have been happening regularly for months, and they are now increasing in number. There are many more shows scheduled during the last five months of 2021, than is typical for this time of the year. And that is great news, and a great opportunity.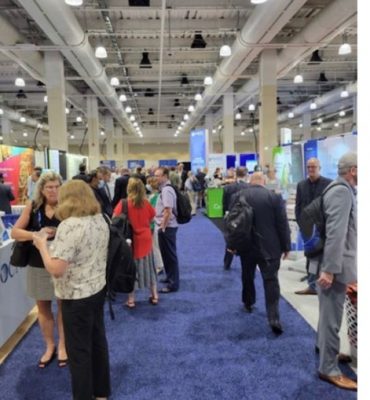 Of the thousands of fall business events, there are more than 800 major U.S. tradeshows scheduled August-December. This number does not include hotel shows and regional business events, nor does it include many events in secondary and tertiary cities. This list in the table is not all-inclusive: it is based on a relatively quick review of multiple sources. There are other events and exhibitions in each one of these cities and regions, and many, many more business meetings elsewhere in the country.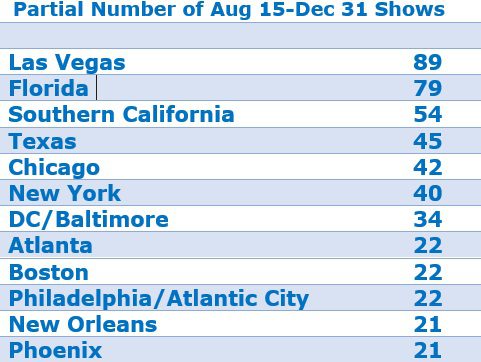 Recent shows include: NY Now in New York: Sea Air and Space in DC; MD&M in Anaheim; GalaxyCon in Raleigh (photo above, left); MESC in Boston (photo above, right); OTC in Houston; Auto Show in Chicago; MegaCon in Orlando; and HIMSS in Vegas (photo below). All were early August events except for the Chicago Auto Show, which opened July 15-19, and attracted more than 100,000 people. Looking ahead, 25 of the largest upcoming shows this year are:
• In August: ASD; Furniture; JCK
• In September: ICUEE; Miami Boat: Pack Expo; MINExpo; FabTech; NAIAS; CEDIA
• In October: NBAA; NAB; GIE; Highpoint; Hardware; InfoComm; ARA; MWC; Premiere Orlando
• In November: SEMA; AutoMobility; LA Auto; IAAPA; AAPEX; RSNA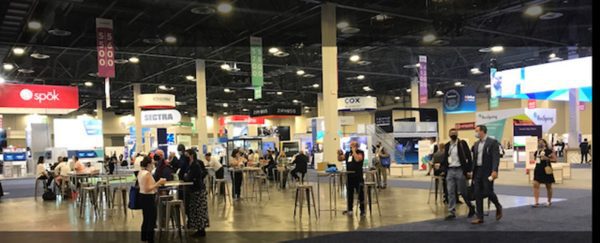 Many in the industry believe the resurgence of shows started with World of Concrete in Vegas in June of this year; others date it earlier, citing MRO Americas in April. I suggest it started July a year ago, with the Together Again Expo.
By any measure, the number of shows is increasing. One example of this momentum is Willwork had double the amount of work May-July, compared with January-April of this year. (This is tradeshow work only, both I&D and GC. It does not include retail and office installations, sporting events, private corporate events, graphic installs, or other work assisting clients or work designed to keep key people employed).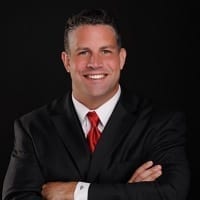 Another area where tradeshow business is increasing is hotel shows. Mark Yuska (pictured left) is president of Alliance Nationwide Exposition, and the founder of Together Again Expo. Here is his experience and take on the business: "For hotel and regional expositions, excitement is in the air. At Alliance Nationwide Exposition, 'The Hotel Show Pros' our customers are relaunching their events at a fever pitch. Post lockdown, Alliance has produced over 200 live events nationwide with an additional 250 more events left to go in 2021. There are no signs of this trend slowing down with new customers committing to go live every day. This is a very exciting time for small to mid-size events."
Tradeshows make dollars, and tradeshows make sense. They are happening because they work; and they work very well.


Bob McGlincy is director, business management at Willwork Global Event Services. Willwork creates engaging, energized and exceptional event experiences. He can be contacted at Bob.McGlincy@willwork.com