Reflecting the fast growth of virtual reality, the Consumer Electronics Association (CEA) today announced the expansion of the Gaming & Virtual Reality Marketplace at CES®2016. Owned and produced by CEA, CES is the world's gathering place for all who thrive on the business of consumer technologies and will run Jan. 6-9, 2016, in Las Vegas.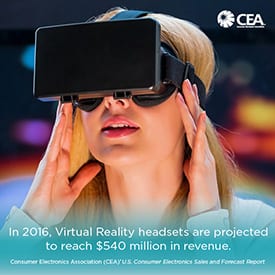 More than 40 exhibitors will showcase the next wave of immersive multimedia for virtual reality systems and environments, and today's latest gaming hardware, software and accessories designed for mobile, PC's and consoles. In total, the Gaming & Virtual Reality Marketplace will expand by 77 percent over its footprint at the 2015 CES. Key exhibitors within this space include: Oculus VR, Virtuix, Sphero and more.
"Developments in virtual and augmented reality have made significant strides to allow us to engage in a 360-degree gaming experience, explore the inside of foreign landmarks, treat phobias, better train medical professionals, virtually attend an event and much more," said Karen Chupka senior vice president of corporate business strategy and CES, CEA. "The Gaming & Virtual Reality Marketplace at CES 2016 will showcase all of these immersive innovations that are advancing this futuristic industry."
According to CEA research, virtual reality headsets are expected to really take off in 2016 with projected sales to increase by 500 percent over 2015 to reach 1.2 million units sold. Total revenues are projected to reach $540 million, a 440 percent increase by the end of 2015.
New for 2016, CES will launch the Augmented Reality Marketplace across a minimum of 3,000 net square feet of exhibit space to showcase new, disruptive technologies that can change how we learn and experience the world. Exhibitors such as ASRC Federal for NASA, Marxent and Occipital among others will feature the latest in augmented reality technology including headsets, structure sensors, software and more.
Both the Gaming & Virtual Reality and Augmented Reality Marketplaces will be located at CES Tech East, in South Hall 2 of the Las Vegas Convention and World Trade Center adjacent to each other to leverage the synergies.
Companies interested in exhibiting in either of these Marketplaces should contact Aurelie Cornett at acornett@CE.org. For more information on CES, please visit CESweb.org.