A first for America's  No. 1 tourism destination, Visit California unveiled a new meetings and events platform at IMEX America this week. United with hospitality and tourism partners from across the Golden State, Visit California President & CEO Caroline Beteta presented a first look at "Meet What's Possible" at a news conference yesterday.
"Meet What's Possible" extends an open invitation to meeting planners and convention attendees across the world to consider California's dynamic blend of destination attributes, from state-of-the-art facilities and well-appointed venues to the iconic attractions and trademark experiences that are uniquely California.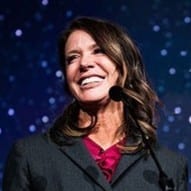 "California is open for business," Beteta said. "And with our state's abundance of natural beauty, reliable sunshine and outstanding convention amenities, the possibilities are endless when it comes to planning a safe, productive and memorable gathering here. When you meet in California, it's anything but business as usual."
To jumpstart its landmark initiative for professional meetings and events, Visit California has assembled a Task Force of destinations to advise on the state's initiative to promote the state as premier events destination. Task Force organizations include Long Beach Convention & Visitors Bureau, Los Angeles Tourism & Convention Board, Monterey Convention & Visitors Bureau, San Diego Tourism Authority, San Francisco Travel, Santa Monica Travel & Tourism, Visit Anaheim, Visit Greater Palm Springs, Visit Napa Valley and Visit Santa Barbara.
"Meetings and events play an integral role in California's economy, and in close concert with these campaign partners,  we look forward to charting a path towards a powerful recovery," Beteta said. "No matter the size or type of your next gathering, we invite the world to convene in California and be a part of our state's next great chapter. Dream big and meet what's possible in California."
To learn more about meetings and events in California, and to gain access to helpful event resources, convention planning materials, group activities and more, go to VisitCalifornia.com/meetings.