The mission of Visit Detroit is to market and sell the Detroit metropolitan region to business and leisure visitors in order to maximize economic impact. Its purpose is to champion the continuous improvement of the region as a dynamic and memorable tourism destination.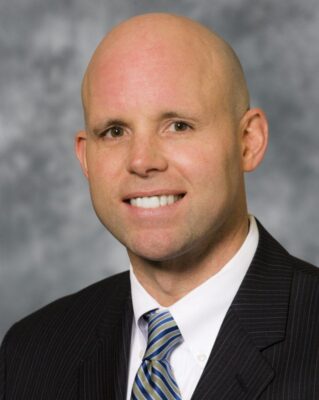 Claude Molinari (pictured right) became president and CEO of Visit Detroit in January 2021, and has focused on bringing meetings and conventions, leisure and business visitors to metropolitan Detroit to accelerate economic growth. One main focus is on group tour and meetings business from abroad, including the U.K., Germany and Canada.
In June 2021, he announced a partnership with New York-based MAD Event Management LLC and Messe Düsseldorf North America for the purpose of launching and incubating global events in Detroit. According to MAD Event Management Founder & President Martha Donato (pictured below), "The credit for the concept lies in a multi-year development plan between MAD and Claude Molinari, whose vision of Detroit as a city well positioned to capitalize on the future of live events in North America is unwavering. Detroit is keen to focus its resources to launch business-to-business and business-to-consumer events. MDNA is an organizer with a global view of the events industry and was the perfect partner with whom to execute the ambitious plan."
"Martha and Claude's vision and passion was a primary reason we were interested in partnering, using our extensive operating resources to support their entrepreneurial goals," says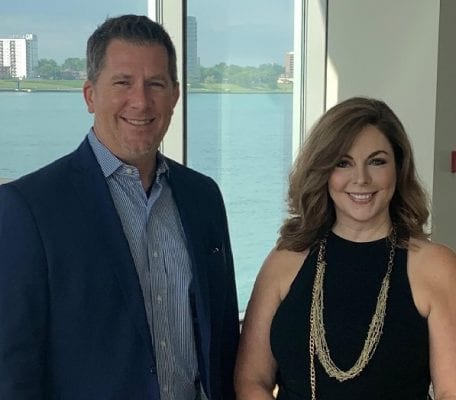 Tom Mitchell (pictured left with Martha Donato), president, MDNA. "We all believe that sustainable commerce in tradeshows, conferences and consumer events in Detroit will contribute to the city's long-running renaissance story, and we are excited to be part of it. Once we get a better handle on protocols in a post-COVID world, we will announce our dates and initial conference and show schedule."
The first in-person, large- scale event to be held in Detroit since January 2020 will be the 2022 North America Herbalife Nutrition Extravaganza, July 15-17. "Our community will roll out the red carpet to welcome the best-in-class company that will contribute approximately $11 million in direct spending to our region," says Molinari. "We are pleased they are bringing their vast network of independent distributors to experience Detroit." The event will take place at Ford Field, and more than 25,000 Herbalife Nutrition independent distributors are expected to attend, occupying an estimated 13,600 hotel rooms.
In addition to the Herbalife Extravaganza, Visit Detroit has signed the Injection Molding and Design Expo for a three-year commitment; the Silicone Expo for a three-year commitment and a new conference series, Side Hustles & Opportunities Conference (SHO-Con), launched by Sherwood Enterprises, as a result of the partnership with MAD Events and MDNA. Other groups are expected to announce in the coming weeks.
Connect is preparing to welcome back a pre-pandemic number of event professionals—about 4,000 decision-making planners and suppliers—to its signature Summertime Marketplace event, Aug. 8-10 at Huntington Place.
Connect, formerly known as Collinson Media & Events, is a leader in the meetings, events, travel and tourism industry. Specializing in destination marketing, they introduced the popular marketplace format to the meetings industry.
Home to Fortune 500 companies, many state and national associations and recognized as one of the country's premier sports towns, Detroit is uniquely qualified to host Connect. At the annual August conference, Connect will draw attendees from four main tracks: corporate, association, specialty and sports. Connect's sister company, BizBash, will also co-locate in Detroit.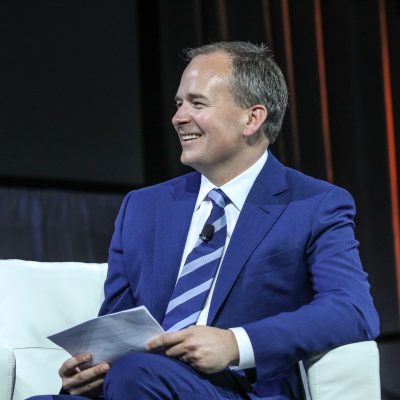 "We're very excited to be coming to Detroit next year," says Connect President Chris Collinson (pictured right). "Not only is Detroit known as the Motor City, but it's also a place where business gets done. We can't wait to help connect the right planners with suppliers. And by partnering with Visit Detroit, we know this will be a show that nobody forgets."
The event will feature Connect's largest traditional tradeshow to date along with celebrity keynotes. Look for many creative activations on the show floor and for off-site activities spotlighting all Detroit has to offer.
"We couldn't be more thrilled that Connect is heading to Detroit," says Molinari. "Connect will put thousands of decision makers in our city, which is a huge opportunity for us to ensure Detroit is on their radar for future meetings and sports events," adding that "Detroit is a revitalized, vibrant and friendly destination, and seasoned when it comes to hosting successful meetings and events. Our hospitality industry is committed to using all of our resources to create an unforgettable experience for Connect attendees."
This story originally appeared in the Q1 2022 issue of Exhibit City News, p. 27 in the special section: Spotlight on Huntington Place. For original layout, visit https://issuu.com/exhibitcitynews/docs/ecn_Q1_2022