by Calanit Atia
Photo Credits: Meeting Professionals International and Soliman Productions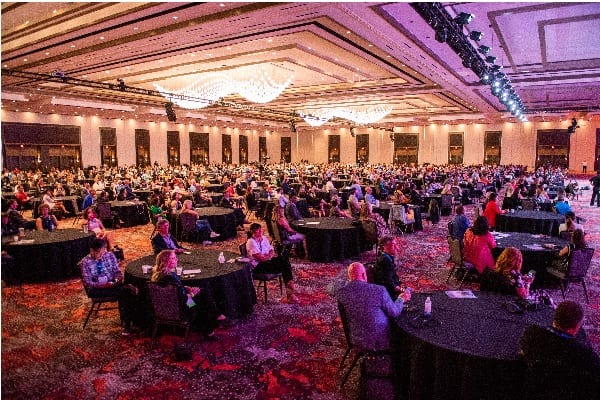 World Education Congress is the signature annual North American event for Meeting Professionals International, now in its 25th year. (Pictured left, the opening session)
WEC Grapevine also became the first post-pandemic 100 percent live hybrid event. In-person attendees totaled nearly 1,300 with an additional almost 600 participating digitally.
The first meeting was held at the brand-new Caesars Forum in Las Vegas. People who were registering in person had an option of wearing a green tag that either said, "Hugs Will Do" or "Hand Shakes," and most people had the green sticker. They could not wait for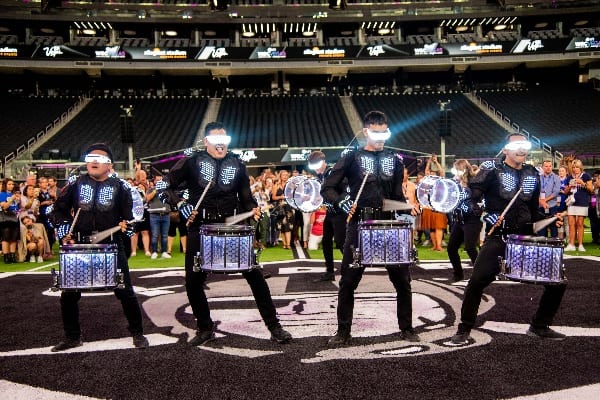 human interaction. In fact, people were hugging each other with big smiles on their faces. Excitement and happiness were in the air at every event, from conference rooms to Allegiant stadium (pictured right) and, at the Venetian pool party (pictured below), people were dancing all night long.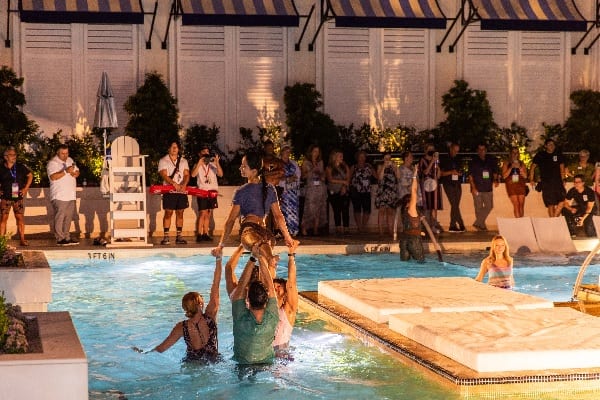 The future is bright. We must look into the future with excitement as the world is opening up, but let not forget MPI's resilience and victories.
I am a proud member of MPI as an event planner in Las Vegas. MPI is truly a remarkable organization, and its member support was amazing during COVID-19.
MPI combats the economic impacts of the pandemic. Many organizations globally were forced to make hard decisions, and MPI was not immune to that unfortunate scenario. Preserving MPI for generations remained the focus over the past 12 months. That meant restructuring to ensure the organization remained stable and effectively able to provide its mission to help the global community. That restructuring included the elimination and consolidation of positions across all business units at MPI, along with furloughs.
Fortunately, through economic stimulus measures, including the SBA Paycheck Protection Program, the association was able to bring back select employees from furlough and further stabilize its core. Now, with a core staff of 50 passionate team members, MPI continues to push forward with its mission, and the transformative changes instituted.
When the pandemic hit, MPI immediately rallied to ensure those within this industry and beyond had resources, tools and information to help during a time of personal and professional crises for so many among its global community. To be sure, the events community was impacted among the hardest—if not the hardest—of any globally. To this day, that still holds very true.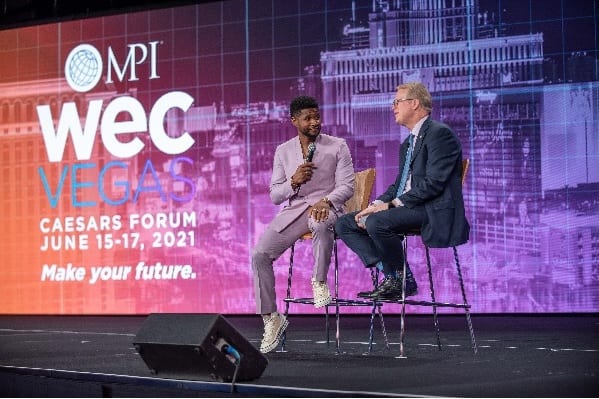 As part of its response strategy, MPI created an initiative entitled "Trusted Resources" that served as a collaborative repository for information and inspiration. This campaign included a multi-faceted web resource with global data, guidance, information and education related to the events and travel community. The campaign also featured weekly "voices of the industry" videos from industry influencers offering guidance, advice and support. (Pictured right, keynote address with Usher)
MPI also opened up its full on-demand academy library for nearly three months. Typically a member-only resource, the online education portfolio provided access to more than 300 courses for individuals—whether a member or not—to reskill, upskill and take the time for professional growth. A weekly online dialogue series was also created, each focused on teachings related to Duty of Care and event safety and security. Further, a podcast series was launched featuring industry influencers and leaders. In total, this effort benefited more than 22,000 industry professionals and provided more than 40,000 hours of educational content.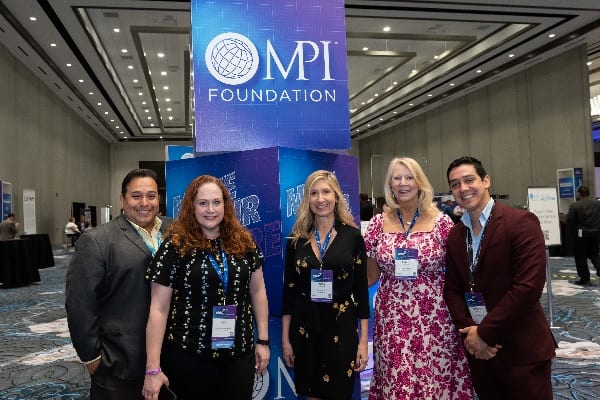 Understanding the significant impact on mental health during this time, MPI worked and collaborated with experts in the field to launch wellness initiatives, including a robust online resource. This mental well-being center provided information, guidance and links to professional support, a critical need throughout the pandemic and ongoing.
Starting in April 2020, the MPI Foundation immediately mobilized for the benefit of the community, in particular MPI membership. In the months since, the Foundation has given back more than $1 million in scholarship and grant funding, benefiting more than 3,100 members. The huge majority of those beneficiaries were in the form of membership renewal grants issued directly to members in financial distress and new member grants provided for chapters to allocate towards prospective members also facing financial concerns.
That funding was sourced largely by MPI Foundation reserves built over the past five years and supplemented by two partners. Consistent with their position to provide support to this industry, the IMEX Group, MPI's strategic partner, donated $250,000 and earmarked it specifically for global member benefit. Their support, which ran from September through December 2020, enabled funding for 757 member renewals and an additional 70 new members.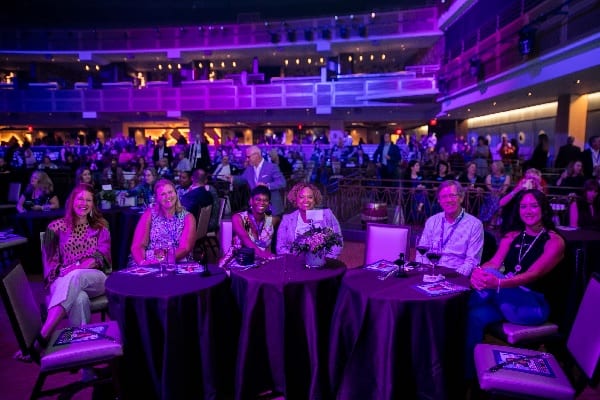 In addition to that donation, Destination Toronto donated $50,000 for benefit directly to the Canadian events community in 2021. The donation will provide for more than 140 member renewals and 18 new members through year-end 2021.
Carrying over from their program started in 2019, Giants Enterprises continues to support the MPI Foundation with their "Double Play" initiative, which matches all chapter donations totaling up to $30,000. This incentivizes chapters to donate to the Foundation, providing upon the need to refill those coffers continued for use to assist the community. (Pictured right, the Presidents Dinner at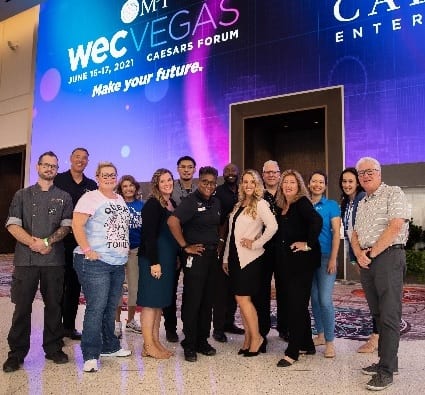 Virgin Hotel Las Vegas)
For more info on the MPI Foundation, visit mpifoundation.org.
WEC 2022 will be held in San Francisco next year from June 23-25. (Pictured left, the Caesars staff who hosted the 2021 meeting)
Meeting Professionals International is the largest meeting and event industry association worldwide. The organization provides innovative and relevant education, networking opportunities and business exchanges, and acts as a prominent voice for the promotion and growth of the industry. MPI has a global community of 60,000 meeting and event professionals including more than 17,000 engaged members and its Plan Your Meetings audience. It has more than 90 chapters and clubs in 19 countries. "When we meet, we change the word." For more info, visit www.mpi.org.
Calanit Atia is an award-winning event planner and entrepreneur, Air Force Veteran, founder and president of A to Z Events, Las Vegas DMC and entertainment agency, 2021 MPI Advisory Board Member and speaker. She can be contacted at (702) 212-2500, Info@AtoZevents.com, www.AtoZevents.com.