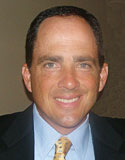 A 12-year veteran Account Executive for Zenith LaborNet, Russell Greenway, has been promoted to vice president of sales.
"It's a natural progression," said Russell. "I have been a leading member of our professional and experienced sales team. Now I look forward to making a greater impact on our overall strategy and success.


Greenway said Zenith has aggressive plans for the future.
"I look forward to the continued development of our professional sales staff to take us to the next level of service to our industry," he said. "We have a great story to tell, an excellent product to offer and a 16-year track record of exceptional performance. I can't think of a time when our service cities were any better stocked with more highly trained, experienced and talented professionals ready to deliver the highest level of service.
In his new position, Greenway will continue to build a sales team that delivers each and every time.
"Difficult economic times have created a special set of challenges for our customers," said Greenway. "Our team will find solutions and get it done when others can't. I look forward to helping our customers find solutions to their labor needs."