Supporting the St. Baldrick's Foundation for the past eight years, Zig Zibits, a full service exhibit house, was among hundreds who shaved their heads to raise funds for childhood cancer research.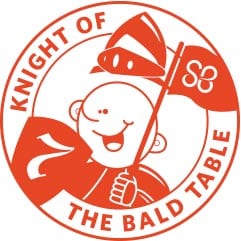 Dedicated 'shavees', barbers, volunteers and committee members who had continuously contributed for seven years were admitted to the "Knights of the Bald Table."
Held March 7-8 at Irish pubs around Las Vegas, the benefit included celebrity appearances and musical performances. Serving as event headquarters for nine years, McMullan's Irish Pub was joined by seventh-year participant Nine Fine Irishmen at New York, New York, fourth-year participant RiRa Irish Pub at Mandalay Bay and third-year participant Vinyl Lounge at Hard Rock Hotel & Casino.
"We don't have huge formal dinners or silent auction as our fundraiser. Rather, we have hundreds of people from all over Southern Nevada show up at our pub and sponsor their neighbors, friends and even strangers who are willing to have their heads shaved in solidarity with children who have lost their hair to cancer," said Brian McMullan, owner, McMullan's Irish Pub. "We hope to add to the more than $154 million to the Foundation awarded as grants to physicians and researchers across the globe. We will beat this horrific disease."
Zig Zibits and its 225 shavees donated $100,000 for the cause, with its eight-year total nearing $700,000.
"For the past few years we have raised between $125,000 and $150,000, and we are proud to know that some of the teams that have been built through our efforts are now running their own events," shared Jake Merzigian, president and CEO, Zig Zibits. "So while the total this year may be lower for our event, this region is now one of the top 10 in the world for raising money for Children's Cancer Research."
Since 2005, the St. Baldrick's Foundation has awarded more than $154 million to support research that shows the most promise in finding cures and better treatments for children fighting cancer.
For more information, visit StBaldricks.org