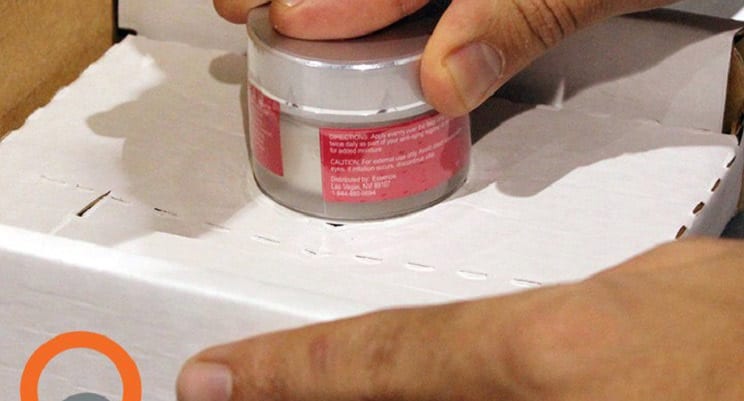 Stephen Adele, chief executive officer of ​​QuickBox Fulfillment, will participate as a keynote speaker at White Label Expo, taking place Feb. 26-27 at the Las Vegas Convention Center. Adele speaks from 25-plus years of experience in the health and beauty industry to...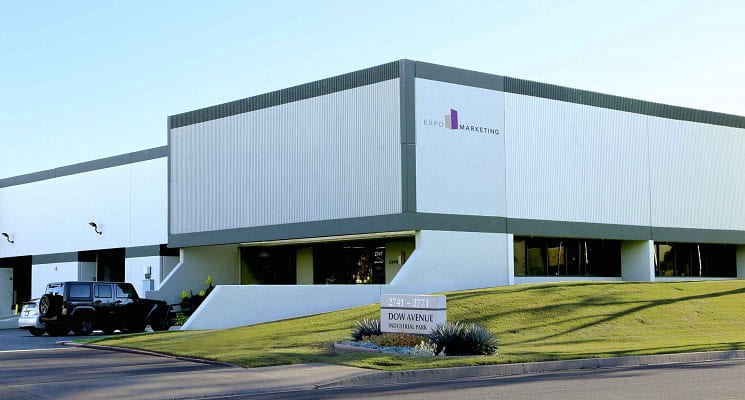 Nimlok, a division of Orbus Exhibit & Display Group, announced that ExpoMarketing Group has joined the Nimlok exclusive branded dealer network as Nimlok So Cal. ExpoMarketing, established in 1991, is located in Orange County, Calif., and has a 35,000 square-foot...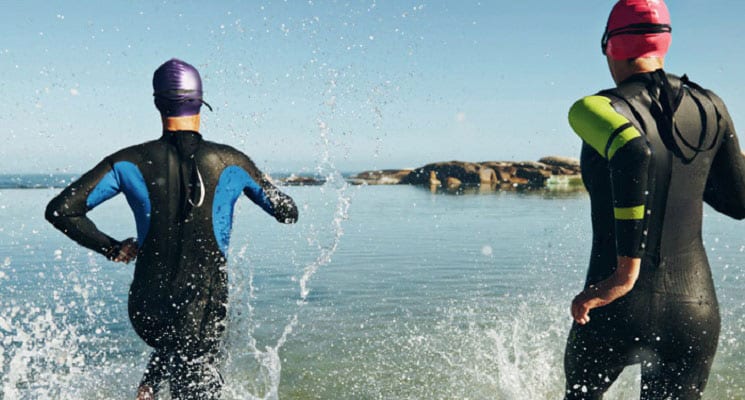 Reed Exhibitions is launching EnduranceCon—a two-day festival that celebrates the passion and lifestyle of the endurance sports community June 27-28 at the Long Beach Convention Center in California. The event is presented in collaboration with Spartan, the world's...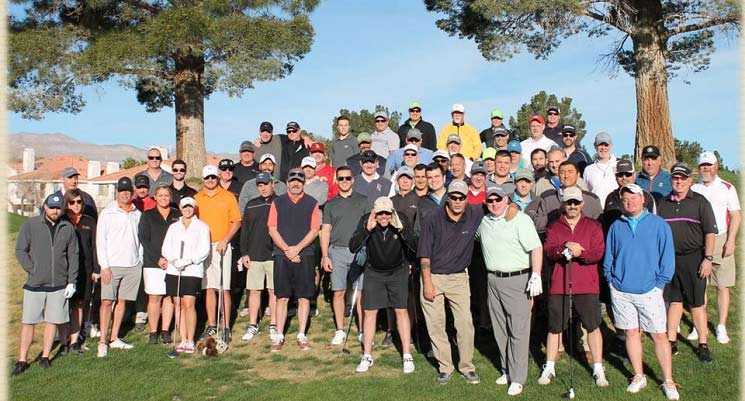 The seventh annual Las Vegas Randy will take place Sunday, March 29, at Revere Golf Club, 2600 Hampton Road in Henderson, in conjunction with ExhibitorLive during Exhibitor Week. The Las Vegas Randy Smith Memorial Golf Classic, like other RSMGC events, will benefit...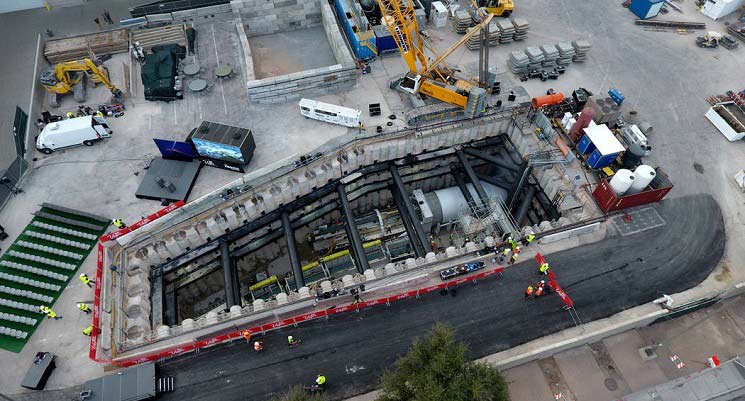 The Las Vegas Convention and Visitors Authority announced that excavation is complete in the first of two vehicular tunnels that will comprise the Vegas Loop underground transportation system located beneath the Las Vegas Convention Center campus. After tunneling 40...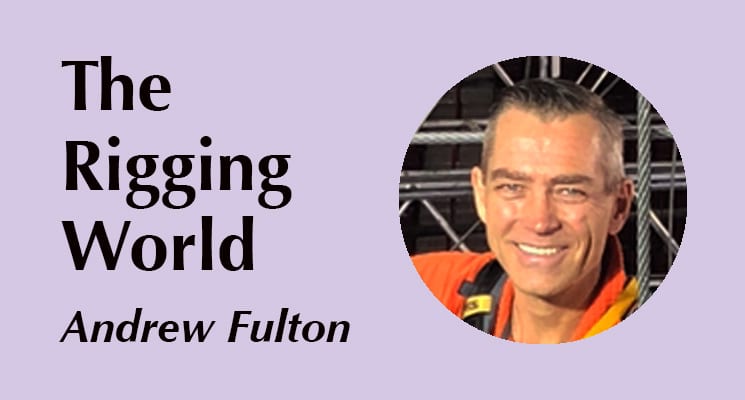 by Andrew Fulton It's so important for riggers to be trained, educated and certified. But what exactly do you know and understand about rigging or the rigging company that is performing the work on your projects? Far too often clients say that they don't know anything...
read more
by Jim Obermeyer Time for a bit of a rant: I've been thinking a lot lately about the value of relationships in our industry—building and maintaining strong client relationships to build a business. More and more we are faced with responding to RFPs where we never get...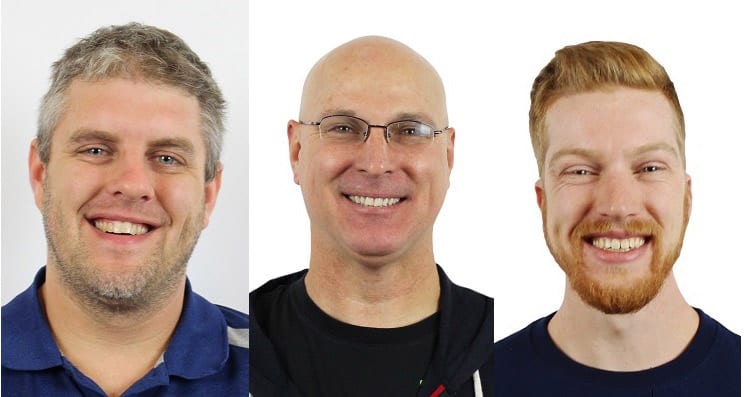 (Pictured L-R: Tom Lonthair, Mike Fellows & Kyle Nicoletta) Tom Lonthair has joined MSM as a custom fabricator. He was most recently assistant foreman with Ridge Cabinets & Showcase  in Rochester, N.Y. Lonthair resides in Rochester, N.Y. Mike Fellows has...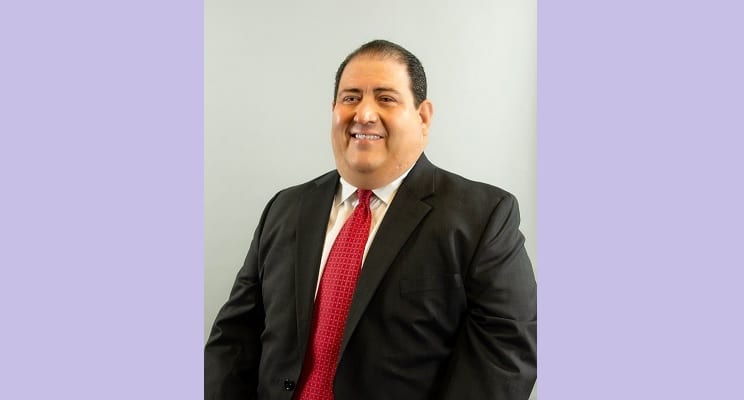 Matthew A. Polanco, a veteran of nearly three decades of experience at all levels of government affairs, has been named director of government relations for Visit San Antonio. Polanco, a California native, will serve as the organization's lead advocacy representative...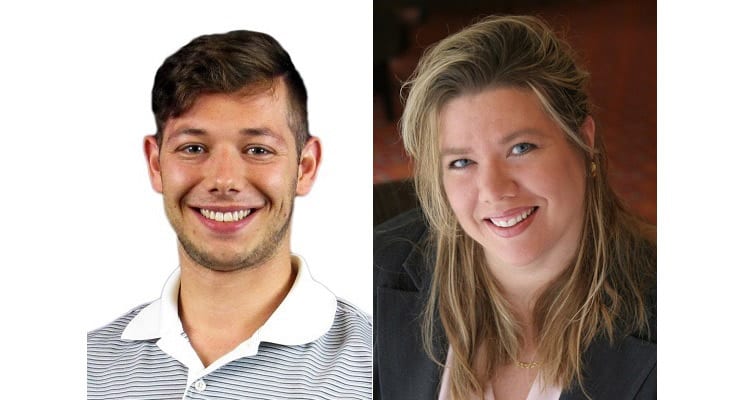 (Pictured L-R: Tristan Wilkes and Maureen Borzacchiello) MSM Inc., has hired Tristan Wilkes as an associate project manager. He holds a bachelor's degree in both English and political science from University at Buffalo. Wilkes resides in Pittsford, N.Y. Maureen...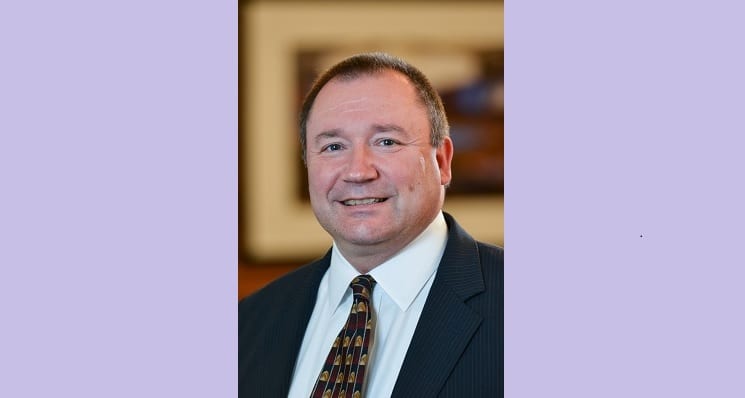 Fern, a leading provider of exhibition and event services, welcomes Mark Shadwick, CEM, as a senior national sales manager. He will be based in the national sales office located in Alexandria, Va. "I am excited to join Fern," says Shadwick. "I look forward to making a...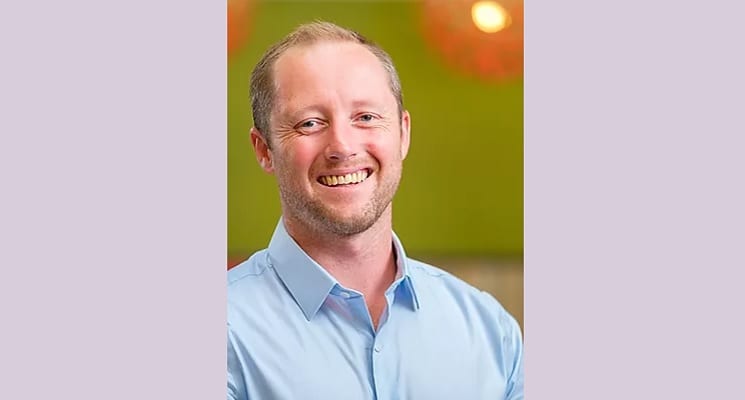 Sho-Link Inc., a premier installation and dismantle service company, has named Stephan Mahoney as Chicago city manager. Mahoney started in the industry in October of 2005 in Las Vegas as a timekeeper for a larger general contracting company. He began an apprenticeship...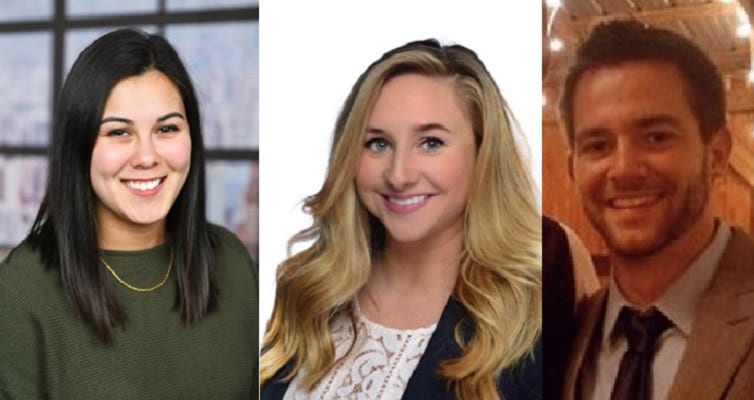 (Pictured L-R: Tracy Fujimura, Lauren Zumbahlen and Preston Thompson) Cincinnati, Ohio-based ADEX International, a premier full service corporate marketing company, has hired Preston Thompson as an account executive and Lauren Zumbahlen as a client relations/project...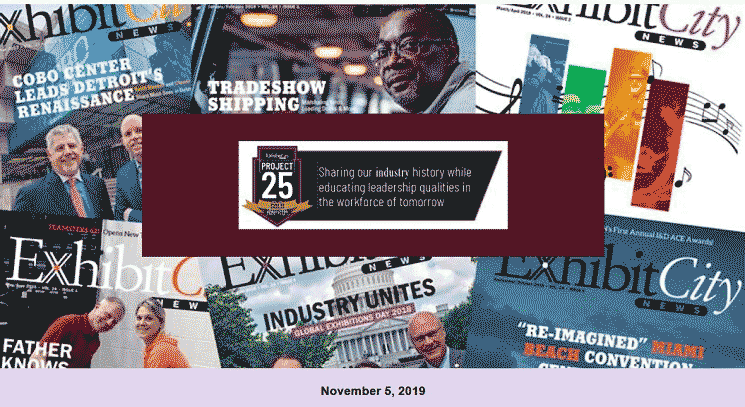 Click on the link to read ECN's First Monthly Project 25 E-Newsletter or to sign-up for ECN's free weekly e-newsblasts and the monthly Project 25 e-newsletters, subscribe at https://exhibitcitynews.com/newsblasts/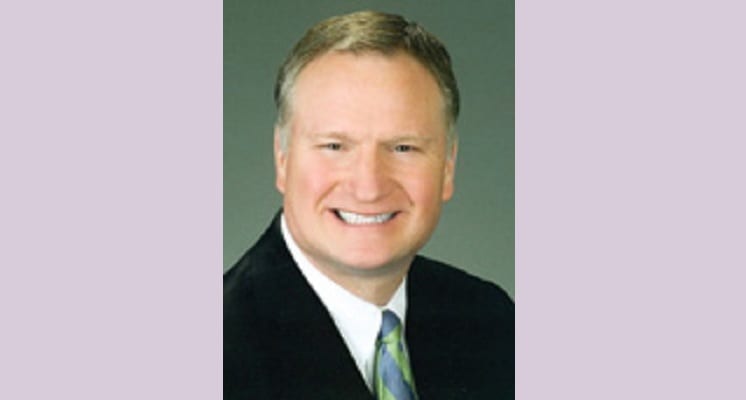 by H. K. Wilson In 1981, Mark Zimmerman was a young college grad on a quest for opportunity and adventure. He left his home in Michigan, where the recent recession had battered the auto industry and local economy, and sought his fortune in Atlanta, Georgia. He soon...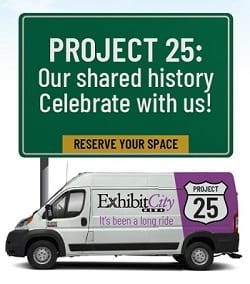 Celebrate 25 years of Exhibit City News! Call (702) 309-8023 for more info about sponsoring our silver anniversary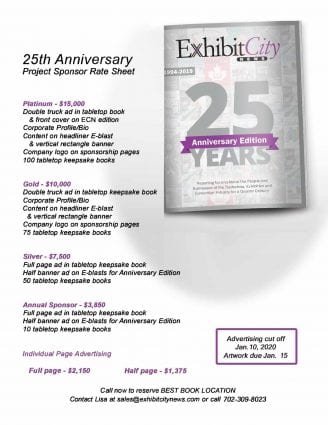 25th Anniversary Project Sponsor Rate Sheet Platinum - $15,000 Double truck ad in tabletop book & front cover on ECN edition Corporate Profile/Bio Content on headliner E-blast & vertical rectangle banner Company logo on sponsorship pages 100 tabletop keepsake...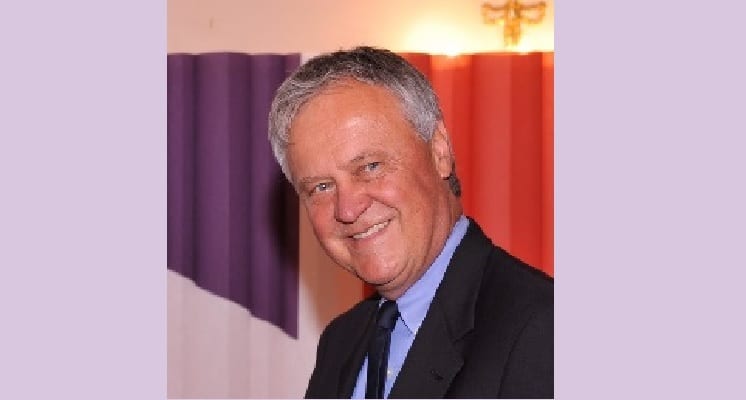 by Jeanne Brei For nearly 50 years, Larry Kulchawik has been a force in the tradeshow industry. He has worked for three of the leading exhibit companies in the U.S. in management and sales with a focus on international trade show marketing, has served on the boards of...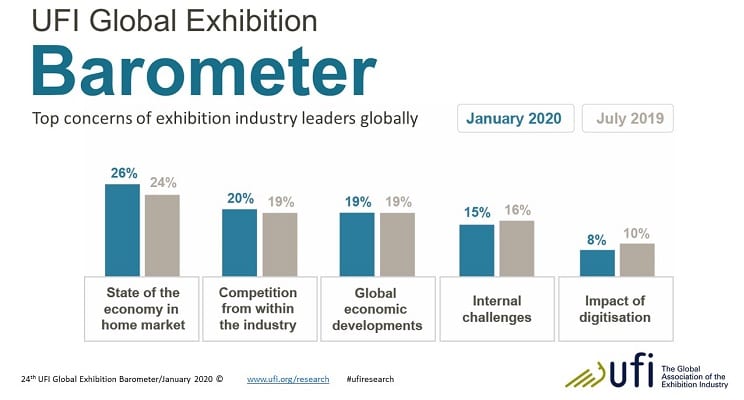 UFI, the Global Association of the Exhibition Industry, has released the latest edition of its flagship Global Barometer research, which takes the pulse of the industry. Notably, the report confirms strong industry performance for 2019, but also a higher level of...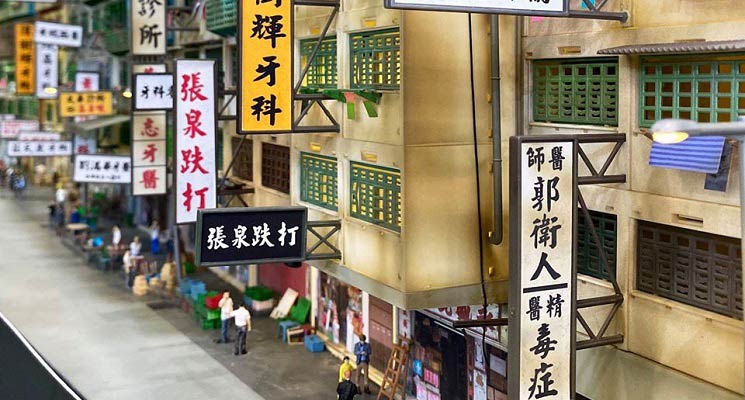 With the novel coronavirus expected to further impact Hong Kong's already slowing economy, the Hong Kong Trade Development Council is working hand in hand with local small and medium-sized enterprises to brave the current challenges by helping them diversify their...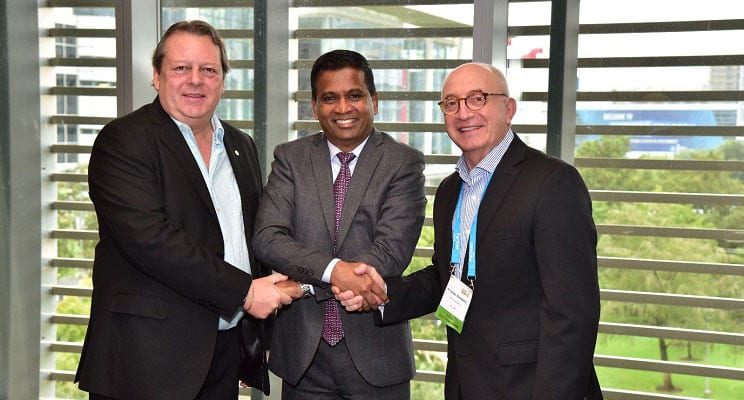 (Pictured from left: Sergio Baritussio, Senthil Gopinath and Arnaldo Nardone) FIEXPO, the Latin American and Caribbean Worldwide Meetings & Incentives Exhibition, and ICCA announced that they have extended their partnership to a broader collaboration during the...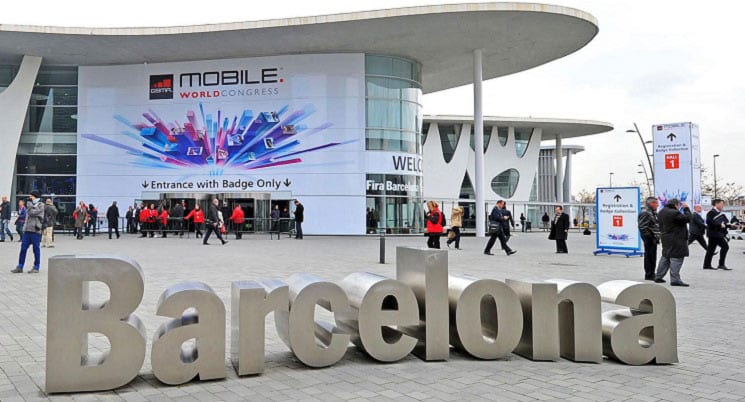 Producers of The Mobile World Congress in Barcelona say that the coronavirus outbreak has made hosting the show "impossible." "With due regard to the safe and healthy environment in Barcelona and the host country, the GSMA has cancelled MWC Barcelona 2020 because the...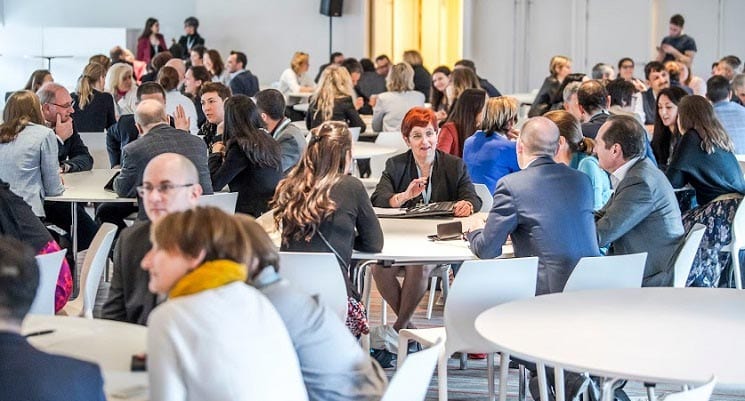 International associations are keen to exchange their experiences and plans for change with their peers at the eighth edition of the European Association Summit taking place March 10-11 at the Square-Brussels Convention Centre. This year's edition shows how the...
"Momentum Management continues to be impressed with the measures that Exhibit City News takes in their efforts to provide a respected and credible platform for our industry.
Momentum Management
"Exhibit City News provides excellent information on current trends, and is a great resource for the most up to date happenings in our ever-changing industry. I read it cover to cover!"
Leanne Dagavarian
Trade Show & Special Event Manager, Hologic
"We as an industry thank the Exhibit City News staff for providing us all with the print and online platforms necessary for honoring our up and coming industry leaders (40 Under 40) of both today and tomorrow. Keep carrying those torches and fighting the good fight… Job well done!"
Ray C. Rogowicz
CEO and President at EXHIBITTRADER.COM, Inc