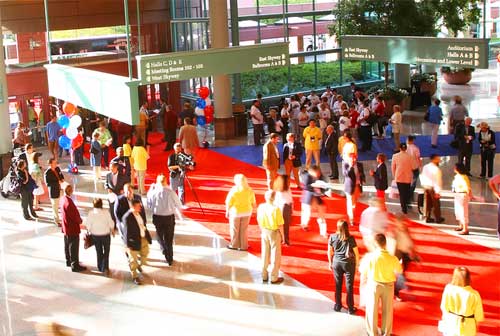 The Minneapolis Convention Center (MCC) is home to hundreds of events, gatherings and shows for local organizations as well as groups from all over the nation. Public consumer shows including the Healthy Life Expo, The Wedding Fair and the Minneapolis Boat Show are just a few events that will take place in the MCC during January 2013. While attending any event at the MCC keep in mind these 10 fun facts presented by the Meet Minneapolis Convention and Visitors Association.


1.     Legendary musicians including, Jimmy Hendrix, The Doors, Johnny Cash and Elvis Pressley have taken the stage in the Minneapolis Auditorium. Recent performances have also included Sheryl Crow, The Beach Boys, Paul Simon, Skillet and Trey Songz.
2.     Kelber Catering, the exclusive catering company of the MCC, sends roughly 116 tons of food waste to the food-to-hogs program through Second Harvest/Barthold Farms. Kelber also donates about nine tons of food to local charities.
3.     The MCC has saved $1.2 million in energy costs thanks to its 2,623 solar panels located on flat portions of the building's roof.
4.     Free Wi-Fi is available to visitors in the main level lobby.
5.     The Hall A Ballroom is the largest, column-free ballroom space in the upper Midwest at 55,000 square feet.
6.     If the IDS Center, the tallest building in Minneapolis standing at 792 ft., was laid on its side it could fit inside the MCC's four adjacent exhibit halls.
7.     By 2015, the MCC will accomplish an additional 10 percent reduction in energy use, reduce water consumption by 50 percent and increase recycling by 75 percent.
8.     The North Star Roller Girls competes in all its home derby bouts at the MCC.
9.     All U.S. presidents from recent history have utilized the MCC including presidents Barrack Obama, George W. Bush, Bill Clinton, George H.W. Bush and Jimmy Carter.
10.  National conventions held at the MCC in 2012 contributed roughly $100 million to the economic impact of the city of Minneapolis.
With nearly 480,000 square feet of tradeshow space, 87 column-free conference meeting rooms and a 28,000-square-foot ballroom, the MCC is home to many events from small meetings to large conventions or tradeshows.