Macro-trends shaping the future of the industry mingled with practical strategies for current convention center priorities at the AIPC 2014 Annual Conference in Berlin, Germany, from June 30-July 2.  
The International Association of Convention Centers (AIPC) delivered sessions designed to keep its membership base of convention centers and venue managers informed.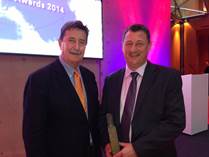 With a program built around concepts arising from the German Convention Bureau's (GCB) "Megatrends" study, which details key factors set to impact the convention center world in the years to come, the conference combined insights into issues shaping the overall business environment for centers with challenges they currently face in sessions ranging from case studies to broad reviews of political, economic and technological trends.
"Our feeling is that we always need to begin the discussion of center-specific issues and challenges by looking outside the industry for what's impacting the overall political and economic environment in which we work," said Geoff Donaghy, president, AIPC. "Our 2014 Annual Conference really took a big step in this direction with keynotes that explored everything from globalization to evolving technology, balanced by sessions that addressed the realities of current operations as expressed by case studies from members and colleagues. The result was both realistic and visionary, which is where we need to place ourselves if we are to deliver ongoing service excellence in a rapidly changing world."
Renowned globalization commentator and author Parag Khanna and Wired magazine editor David Rowan led the discussion of how current trends are shaping meeting and convention expectations of the future, citing such issues as interactive technologies, political realignment and an increasing role for intercultural business transactions as driving forces for change.
On the practical side, panels addressing topics including the evolution of food and beverage, the state of exhibitions and center-related technology provided delegates with the opportunity to acquire insights and ideas for more immediate application.
Also featured were a session providing insights and tactics for understanding and addressing intercultural transactions and another covering the results of the 2014 AIPC Performance and Outlook Survey. The latter documented an overall shift into business growth and optimism while also featuring regional comparisons that illustrated some significant global variations in key industry conditions including competition and business outlook.
Another highlight of the conference program was the awarding of the 2014 AIPC Apex Award, made in recognition of the highest client rating received by a convention center.
The award is now made bi-annually on the basis of a rigorous assessment of center performance by global market research company Ipsos, and top honors for this year went to the Cairns Convention Centre in Australia, with Canadian centers the Palais des Congrès de Montréal and the Ottawa Convention Centers runners-up.