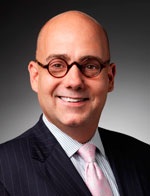 3D Exhibits, an award winning exhibit and event design, fabrication and management agency, has named Hank Heatly to the newly created position of chief strategy officer. Heatly, who was most recently director of client and industry insights for Czarnowski, will ensure that strategic planning drives the execution of processes and projects at 3D Exhibits.


Heatly's focus will be to help direct the transformation and refinement of 3D Exhibits' operations and products in ways that deliver value to its clients; increasing both efficiency and effectiveness.
"We are at a point in time when our industry is evolving quickly. Our clients are changing the way they market, execute, and measure success almost daily," said Gene Faut, president of 3D Exhibits. "3D Exhibits is poised to adapt and even reinvent to meet our client's needs."
Heatly possesses a diverse background in advertising, marketing and public relations. He has been an executive speech writer and had his own marketing agency, Hank Heatly Group, for fifteen years. His entry into the exhibit industry was as vice president at Catalyst Exhibits in 2006.
"This is an exciting time for the tradeshow industry," said Heatly. "The entire industry is transforming around us. It's wonderful to be in the right position, at the right time, working within an organization with the right resources, capabilities and perspectives to evolve to the needs of its clients."