In the tradeshow industry, to establish yourself as an innovative commodity, you must make your company stand out. The basics of a good exhibit are straightforward – offer some freebies, make your services clear, display visuals and have a knowledgeable staff.
Tradeshow creativity is growing each year, so it's essential to stay on top of the industry's latest trends. Here are our proven methods for helping your service and your booth stand out.
Photo Booths
Photo booths are a great way to entice visitors to stop at your exhibit. Offering to take a visitor's photo can help initiate a fun conversation and leave them with a memorable souvenir.
Using an electronic photo booth is recommended for a contemporary approach. This new form of photo entertainment allows you to add quirky graphics and can instantly be shared on social media platforms. With green screen technology, you can place your company's logo into every photo, transforming a fun experience for attendees into a unique opportunity to promote your brand.
Themes
Creating a theme for your exhibit requires a bit of associative thinking. For example, if your company solves a customer's problem, you could create a magic theme with the angle that those specific problems will magically disappear with the use of your product. Your theme could be incorporated into ornate and unique attire for your staff. Offer associated giveaways like pens with disappearing ink. And, of course, you can hire an entertainer, such as an illusionist, to draw in the crowd and keep them in awe.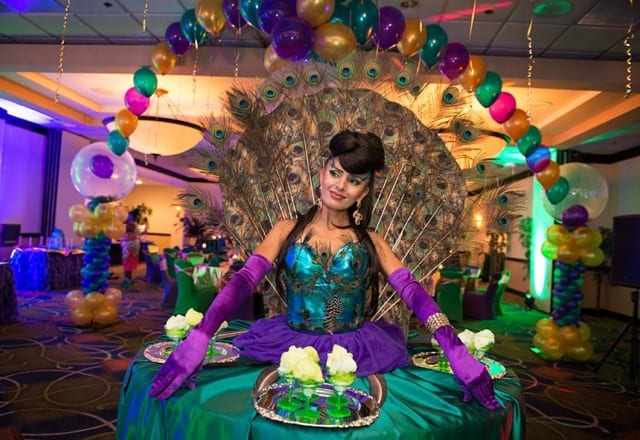 Living Tables
Every veteran exhibitor comes prepared with the essentials in order to properly display their products. Why not take advantage of this opportunity to show your creativity? A living table consists of an entertainer, typically with elaborate makeup relating to your theme, wearing a costume designed to provide a flat surface surrounding their form. Placing promotional materials, giveaways or even snacks on the table will create an exciting buzz. Not only will visitors remember your company, but they will also associate you with innovation and imagination.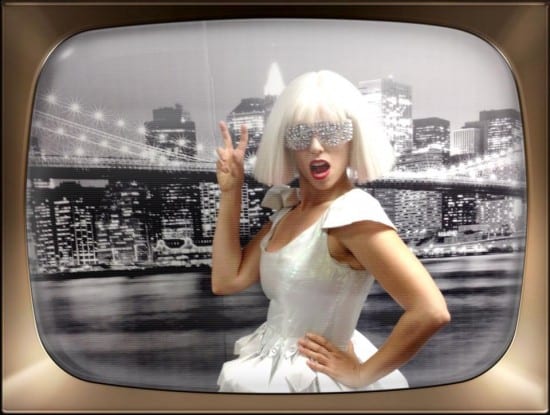 Impersonators
Nothing is as eye-catching as a well-known celebrity standing in your booth. Impersonators create a comical way of showing mock celebrity endorsement as well as adding some flair to an exhibit. The celebrity can offer their autographs on promotional materials to keep your brand in the visitor's hand. Also, offering photo opportunities with the celebrity using an electronic photo booth will provide a lasting memory of that experience and your logo. Be sure to hire a well-known and well-liked figure to avoid any awkward or controversial situations.
Casino Games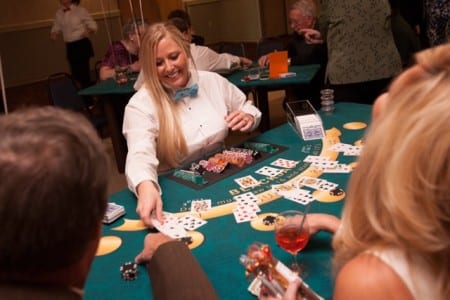 With the lights, sounds and moving parts of casino games, it's easy to see the benefits of providing this at your exhibit. Recreate the adrenaline-inducing casino atmosphere to draw in a crowd, and likely the crowd will inspire more onlookers to stop out of curiosity. For prizes, offer your company's giveaways, and for the grand prize, offer one of your products. You've created more value in your product by making it fun and challenging to acquire it.
With these showcasing methods, your company can step outside of the ordinary tradeshow realm and wow your visitors. Attendees and competitors will be sure to remember your brand and associate your product with ingenuity.
Tessie Barnett is the Content Strategist for GigSalad, the marketplace for booking bands, performers, speakers and services for events, parties and productions. GigSalad connects event planners in the U.S. and Canada with over 55,000 talented professionals for hire. For more information, visit GigSalad.com