Events and interesting facts that have shaped the industry

1948 – The chicken or the expo
In 1948, a program committee met to plan the first Southeastern Poultry & Egg Convention. It was set for January 15-17, 1949, at the Ansley Hotel in Atlanta. Registration for the convention was $2 and more than 600 people attended. A similar convention was held again at the same location in 1950. Then, the first actual exposition was held the following year, in January of 1951, when 67 firms exhibited and approximately 2000 people attended. Out of these humble beginnings, the exposition began its phenomenal run of steadily growing and expanding year after year to become what is today the annual International Poultry Expo. In 2010, there were 805 exhibitors and 18,896 attendees at the expo.
Source: www.poultryegg.org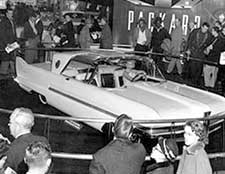 1956 – Dream car debut
June in January was the theme for the 1956 Chicago Auto Show. For the first time in show history, all exhibits were on the ground floor of the International Ampitheatre. A handful of imported models appeared at Chicago's 48th show, including the French-built Simca convertible, and a broad range of Volkswagens, from the Beetle sedan and convertible to Microbuses and pickup trucks.
Crowds were awestruck by the Packard Predictor dream car as it revolved on a turntable. Painted pearlescent white, the ultra-modern 2-door hardtop featured hidden headlights, wrap around windshields, retractable roof panels and see-through tail fins. Predictor was equipped with a 300 horsepower, 374-cubic-inch Packard V-8, and an Ultra-matic transmission with electronic push-button control. It was 18.5 feet long.
Source: www.chicagoautoshow.com
1967 – Fire destroys McCormick Place
Late Sunday night on January 15, 1967, 1,236 exhibitors finished setting up their booths for the 13th International Housewares Association Show at McCormick Place, fully expecting to meet 15,000 buyers the next morning. Instead, the industry experienced one of its greatest catastrophies.
Hours later, at 2 a.m., security guards detected a small fire started by faulty electrical wiring that had ignited storage materials in one exhibitor's booth on the upper-level of the main exhibit area. Although firefighters responded within 10 minutes, the mammoth building's roof collapsed in less than one hour. Racing downward through other exhibit floors, the inferno spread throughout the building despite the efforts of 65 percent of Chicago's Fire Department working in 16-degree temperatures. By the time the fires was declared extinguished at 9:46 a.m., the country's largest exposition hall was a total loss.
Source: www.housewares.org
1995 – RSMGC established
Randy Smith was a project manager for an Atlanta-based exhibit house, IDEAS, Inc. He died tragically in an automobile accident on his way home after working long hours at the Super Show in January of 1995. Randy left behind a wife Jenny, and two small children, Austin and Justin.
Two of Randy's co-workers at IDEAS, Ted Peterson and Rich Johnson, started the Randy Smith Memorial Golf Classic in August of 1995 in hopes of helping the emotional and financial burden Randy's death caused his family.
Tradeshow History Reported by Exhibit City News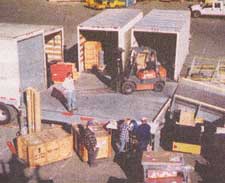 2000 – COMDEX set records
When Freeman was awarded as the official service contractor for the COMDEX Fall 2000 show, employees had three months to prepare. Production involved 11 account executives, 2 dedicated designers, 145 supervisors and labor calls in excess of 1,600 union workers.
The show surpassed 1 million square feet of exhibit space and hosted more than 200,000 attendees. At the convention center alone, the total number of pieces received for the show reached over 11,000, for a total weight of around 900,000 pounds.
2005 – Bandy resigns
Michael J. Bandy, a 17-year employee of the Tradeshow Exhibitors Association (TSEA), resigned as president, a position he has held since 1998.
Bandy went on to form an association management company, Bandy and Associates, with his wife Dee Dee.
"Michael has been a passionate advocate for this association and the industry," said Sal Cavallaro, who was the TSEA board chairman at the time.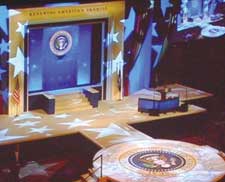 2009 – Presidential service
The Presidential Inaugural Committee selected Hargrove Inc. as the general service contractor to design, fabricate, and install the decor and manage all technical services (lighting, sound, and video) for 10 official inaugural balls and other official inaugural events. The company also provided floats for the inaugural parade and directional signage related to many of the inaugural events.
"We are proud to continue Hargrove's tradition of service to Presidential Inaugurals that date back to 1949," said Hargrove CEO Tim McGill.
In addition to installing decor for inaugural balls at the Washington Convention Center and the D.C. Armory, Hargrove worked continuously at the National Building Museum, Union Station and the Washington Hilton, where decor was installed for pre-inaugural events on January 19 and then changed overnight for the Inaugural Balls on January 20.
MoreTradeshow History