IATA airport code: DEN
Location: 8500 Peña Blvd, Denver, CO
Year Opened: 1995, replacing Stapleton International Airport, where gate space was limited and runways couldn't handle Denver's weather and winds.
Size: 52.4 square miles with six runways (about the size of Staten Island). It has 137 gates split between three concourses. As a Frontier, United and Southwest hub, it was voted the Best Airport in North America for six years (2005-2010) by Business Traveler magazine and America's Best Run Airport by Time magazine in 2002.
Transportation: To keep airport noise down it was built 25 miles from downtown. A flat rate taxi fare to downtown Denver is more than $50. Despite the distance, taxis, limousines, city buses, hotel courtesy vehicles and other services are available. The A line train runs from DIA to downtown for $10.50 day pass.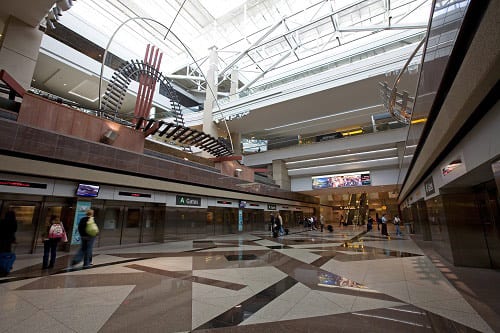 Fun Facts: Locals call it DIA for short; it is the largest in North America by total land area and the second largest in the world. Only Concourse A is accessible on foot. An underground train system services all three concourses.
The Jeppesen Terminal's peaked roof resembles snow-capped mountains and evokes Colorado's early history of Native American teepees. The catenary steel cable system, similar to the Brooklyn Bridge design, supports the fabric roof.
Volunteers bring their dogs to DIA as therapy animals for road weary travelers. The program is ironically called the Canine Airport Therapy Squad (CATS).
In March 2019 an animated, talking gargoyle that interacts with passengers and jokes about the supposed conspiracies connected to the airport debuted.
The airport has its own hotel and conference center. DIA Hotel and Transit Center includes a 519-room hotel and conference center, public ground transportation and public plaza.
The opening was delayed by problems with a revolutionary automated baggage system. During a press event to show off the system, clothing and other personal items were strewn across the systems tracks. After 10 years of trying to get the system to work right it was abandoned and traditional baggage handlers now manually handle cargo and passenger luggage.
The main terminal is named for Elrey Jeppesen, an American aviation pioneer who contributed greatly to the field of air navigation by developing manuals and charts that allowed pilots to fly much more safely. During a rainstorm in 1941 he crashed a plane at the earlier Denver Airport, resulting in no injuries, but doing serious damage to the plane.
The airport has numerous conspiracy theories surrounding it, including tales of secret underground tunnels, arcane architecture and links to secret societies such as the Freemasons, a colony of lizard people and the Illuminati. The airport is aware of all of it and pokes fun at it by doing things like claiming that walls concealing new construction were actually concealing a top secret Freemason meeting area.
This story originally appeared in the September/October issue of Exhibit City News, p. 22. For original layout, visit https://issuu.com/exhibitcitynews/docs/ecnflipbook_septoct_2019_web