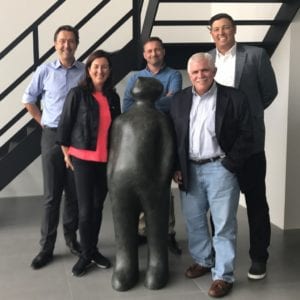 Pictured L-R (front row): Ann VanCoillie, Aluvision, The Visitor sculpture, Jim Winter, Dimension Design, (back row): Dirk Deleu and Jan Dumont, Aluvision, and Chad McNeal, Dimension Design.
Aluvision, a leading, worldwide manufacturer of high-end exhibit systems, and Dimension Design, a premier producer of custom branded assets, today announced a strategic partnership designed to integrate the production of branded environments used in exhibits, corporate interiors and other commercial venues.
This partnership was created to provide North American marketing, branding and design professionals with custom, top-tier, turnkey solutions for projects that require modular, aluminum exhibit systems and branded graphics. Quality conscious organizations commonly use these items to create grand-scale environments for trade shows, experiential events, corporate locations and retail outlets.
According to the Society for Experiential Graphic Design, a global, multidisciplinary community of experiential professionals, branded environments are a high-growth segment for the design profession and are the ultimate asset for companies that understand the value of expressing their brand in everything they do and every place they do it.
Through this agreement, Dimension Design becomes a preferred graphics partner for Aluvision in North America. Dimension Design will recommend Aluvision exhibit systems for projects and launch Aluvifit SEG, a premier graphic service engineered for those offerings. This includes:
A superior, dye-sublimated, printed graphic, finished with a thin silicone edge, intended to fit tightly into Aluvision frames.
Guaranteeing the graphic's fit and brand color match on specific solid, mesh and backlit substrates.
Targeting a ship date of two business days from the date a client approves its artwork.
The lightweight graphic's crisp, non-glare surface works as a backdrop for nearly all branded environments. Its versatility enables brands to quickly print and change messages—without the need for additional framing. Shipping, installation, storage and care of these graphics are simple and cost effective.
"Aluvision and Dimension Design enjoy a common culture that is grounded in innovation and client service," said Stephan De Mulder, senior account director at Aluvision. "Our organizations share a client base and cross paths regularly in multiple branded environment markets. That and many other things made this partnership right for both of us. As part of our agreement, we will both share detailed information about our offerings, R&D initiatives and participate in an extensive training program to ensure a great experience and high-quality results for our clients."
According to Jim Winter, chief operating officer at Dimension Design, "We're pleased to form this relationship with Aluvision. Like our offerings, their systems are engineered to accommodate a branded environment's nearly unlimited set of custom requirements. In short order, I anticipate our organizations being able to deliver seamless solutions that feature Aluvision frame systems and Dimension Design graphics for any commercial application. This genuinely bonds two premier elements of most high-end, 3-D branded environments in North America."
Aluvision is a leading developer, producer and supplier of modular aluminum solutions for the tradeshow, exhibit and event industries. The tool-free aspect of the renowned "frame system with holes" makes it the quickest and most user-friendly exhibit system on the market. Aluvision's new product developments function as an indicator for emerging trends in the industries it serves. Aluvision has a full stocking and production facility as well as an inspiring showroom near Atlanta, GA. For more info, visit www.aluvision.com. For more info on The Visitor sculpture, visit www.gardeco.eu/collections/the-visitor/.

Dimension Design is an innovative branding partner that delivers custom environments to support the face-to-face marketing activities of respected exhibit houses, marketing agencies and business brands. The company's work highlights brands, products and services at events and trade shows, in corporate and retail locations and other commercial venues. The company has regional sales and production facilities near Chicago, IL, and in Las Vegas, NV, and Jacksonville, FL. For more info, visit www.dimensiondesign.com.