by Jeanne Brei with research by Lisa Abrams, H.K. Wilson, Bob McGlincy, Tristin Vaccaro & Heather Grant
For an industry that thrives on long hours, frequent flier miles, the power of personal interactions and the thrill of creating extraordinary live experiences, the majority of 2020 was hell. But, as they say, there is always some good to be found in whatever is judged bad, and vice versa. Tradeshow and live event workers, business owners, show producers, vendors and creators were able to spend time with their immediate families—including holidays, they were able to help home-school their children and they were able to have free time to pursue a hobby, binge watch programs, remodel their homes, exercise, read, brainstorm and more.
In an unprecedented move, most governments around the world decided they had the power to determine which people and jobs were "essential" and so, construction workers and truckers continued to work throughout the lockdowns. But I&D companies, tradeshow staffing companies, tradeshow suppliers/vendors, associations, show producers and others found they needed to pivot in order to survive when tradeshows and live events were banned for months on end.
I&D Labor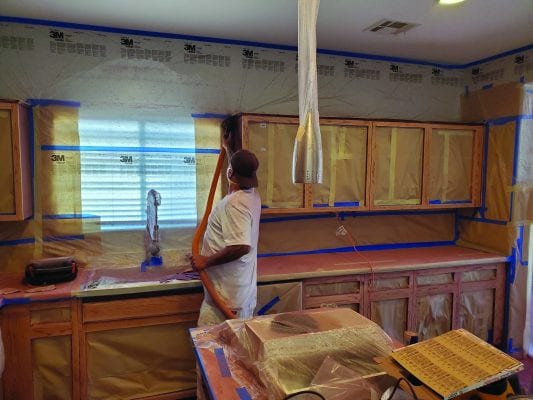 Many in the show floor and I&D labor force discovered their skills were transferable to "essential" and high-in-demand categories and became entrepreneurs. Last spring in Las Vegas, one local Teamster journeyman starting doing renovations on his own home and posting the results on Facebook. This led to being asked to paint others' homes, remodel their kitchens and build doggy doors for them. He started becoming so busy that he posted: "Ok 631 Teamsters: Sound off if you have a skill. There is far too much work out here to be sitting around. Quiet mouths don't get fed. Or if you know someone with a skill who is in need of a lil' something extra let's post it here. Come on, let's work together. Everyone could use a hand right now. Let's go!!" The post received 180 replies within hours, with posted skills including mechanic; cleaning and detailing cars, trucks, SUVs, ATV, and boats; custom carpentry; closets and built-ins; custom furniture; plumbing; tile, marble and granite flooring; some electrical; graphic/vinyl installs and car wraps; window perf; pest control; appliance repair; drywall; painting; A/C work; rustic farmhouse floating shelves; building solar screens and digital marketing.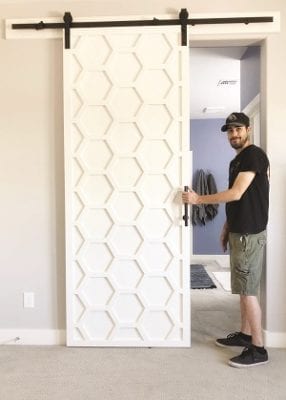 One proud father, John Jouas, president at Inside Dimension Services, says, "I have two boys, Justin and Geoff, who followed me into the tradeshow business when I started my own I&D company 17 years ago. We were chugging right along until March when the bottom dropped out. Justin (pictured right) designed and built his first door (the white hexagon style) for his own house back in May, posted pictures on his neighborhood NextDoor page and orders immediately started rolling in. This all happened organically. His wife, April, came up with the concept for their master BR/bath doorway. Once the neighbors saw the pictures online, people started tracking Justin down, including a well-known realtor in the area. Things have just taken off from there. Justin is crushing this new door business and his brother Geoff has been helping (mostly with the installations) but he's more focused on homeschooling his first grader and pre-K boys right now. There are a lot of guys I know in our industry," he adds, "that have switched gears to make ends meet until the Earth gets back on its axis."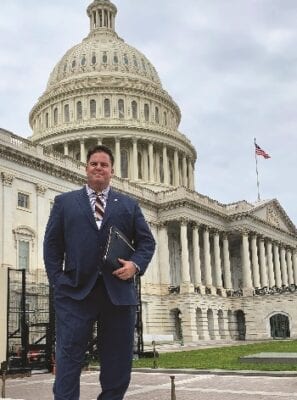 Many companies and vendors decided to go from furloughing employees to closing their businesses indefinitely. EDPA board member Chris Griffin, owner of Crew XP, maintained exhibit fabrication facilities in Orlando and Las Vegas, as well as builder sites in 10 more key convention cities across the country. That is, until the industry was "vaporized." He shuttered his Las Vegas facility and moved equipment and supplies into storage, maintained a skeleton crew with the help of PPP funds while giving 60-plus hours a week of his own time to championing the cause of the meetings and exhibitions industry. As he explains, the reasons why he's so proactive in advocacy efforts and spending so much time and effort in Washington, D.C., are that "Tradeshows have been denied federal recovery dollars. This is the year we've decided to stop being invisible. We need to be recognized for who we are and our value to the U.S. economy…Every tradeshow is its own small business incubator. And for every dollar spent on a tradeshow exhibit, there is another spent on flights, hotels, food and other items. This industry collects money and distributes it throughout the economy. I don't know of another that amplifies the overall economy like ours does."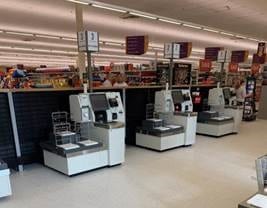 Massachusetts-based Teamwork Labor Services chose to keep their employees employed by thinking outside of the box to find new clients and new opportunities with existing clients while tradeshows were shuttered. Grocery stores and new clients like casinos and liquor stores wanted safety graphics and Plexiglas enclosures. Some wanted a new design and installation of self-checkout units. Other companies wanted Plexiglas enclosures and vinyl graphics installed in their offices, as well as signage on desks, floors, walls and doors. Since alcohol consumption increased dramatically, Teamwork created and installed several high-end designer shops, requiring extensive custom millwork. They even rebranded a farm with vinyl signage and began remodeling homes.
Vendors

Many business owners focused on pivoting to provide what was in demand—Rethink Fabrics, a sustainable apparel company that creates branded and private label T-shirts made from 100 percent recycled plastic water bottles for exhibitors at tradeshows and events, did just that. "As tradeshows were being canceled, we were able to quickly repurpose our fabrics from producing shirts to masks very early in the pandemic stage and sold hundreds of custom masks in the first week," says Terence Jackson (pictured left), principal. "Due to the fact that our fabric is already anti-microbial and water-wicking, it was a logical progression to make masks for our customers. Moving forward we will continue to sell masks and other travel accessories that will protect travelers, tourists and tradeshow attendees while diverting plastic from oceans and landfills."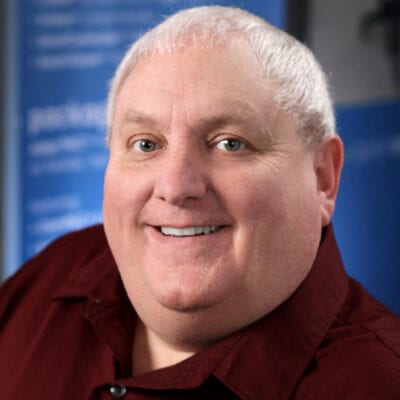 Cedar Rapids, Iowa-based Trussworks' President Steve Hess (pictured right) says, "we wondered what we could do to think outside the box and remain profitable." He sketched a hand sanitizer dispenser stand and it went from a design on a page to a completed prototype ready to go to market in less than two weeks (see story on p. 40).
Alison Wainwright, owner of both Las Vegas Mannequins and Las Vegas Store Supply, is a hard-core entrepreneur who thrived on the challenge of filling hours spent in mandated lockdowns.
She began by transforming her warehouse-sized prime Las Vegas location on Desert Inn and Valley View Drive into a mega hip venue suitable for everything from music videos to private parties and didn't miss a beat.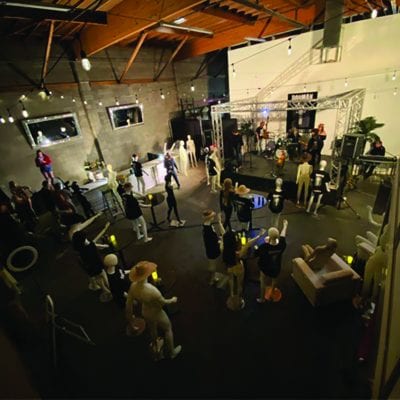 She realized that by customizing her store into an event space that could be personalized to a client's taste whether it be a musician, photographer or bride-to-be would be the type of creative challenge that would draw upon her tradeshow, meetings and live events industry skill set—that "get 'er done and make it work before the show doors open" magic that she had learned, honed and perfected during the last 16 years of working in the tradeshow industry.
Once her building had found a purpose that could be utilized during lockdowns, she switched gears and pursued another of her passions—craft beer. She had always dreamed of owning a restaurant and bar and she fulfilled her dream by becoming the owner of the Voodoo Brewing Co. Vegas set to open in July. Located in the Las Vegas Arts District at 1409 Commerce Street, she's looking forward to the fast-paced and fun restaurant/bar business.
Many industry workers found 15 months too long to wait for their jobs to return and pivoted by leaving the industry.

Founder of a Las Vegas audio-visual consulting firm and former senior account executive for Total Show Technology, Melissa Skipworth had been in the tradeshow industry since she was 18, having learned the business from her father, Norman Davies, owner of Exhibit Fair International. But facing a calendar of canceled events, she was forced to reevaluate her profession and decided to get into real estate. She was able to get licensed quickly and her previous sales experience and the techniques she worked two decades to perfect proved to be a strong foundation for her new career.
"My experiences in tradeshows and conventions truly prepared me to excel in my daily activities as a REALTOR®," says Skipworth. "My highly-proficient skills in prospecting, communication and storytelling allow me to grow my business and help my clients accomplish their homeownership goals."
Joining Coldwell Banker Premier Realty, a full-service brokerage with three campuses in Las Vegas, was an important decision for Skipworth. Backed by an iconic international brand helps Skipworth establish trust with her clients. "My services are not limited to buying and selling a residential property," says Skipworth. "With CBPR, I can guide my clients through relocation, property management, commercial investments and luxury transactions."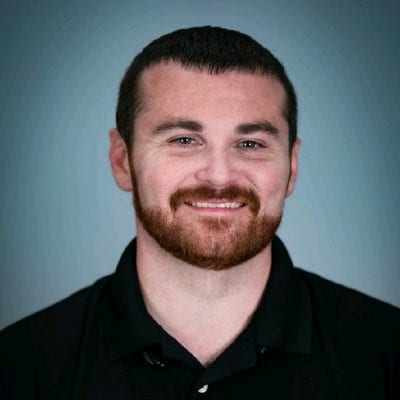 And, she admits, she may still do some tradeshow work as well now that the world has started turning again because it's possible to do both.
Industry veteran John Fecchino, aka Johnny Vegas, (pictured left), manager at We Are Conventions and Preferred Network Provider, went prospecting for gold at abandoned gold mines in Arizona while waiting for tradeshows to return and says he loved getting "away from it all."
Designers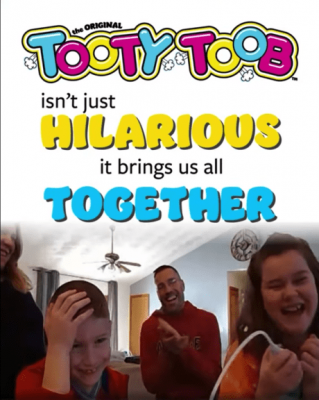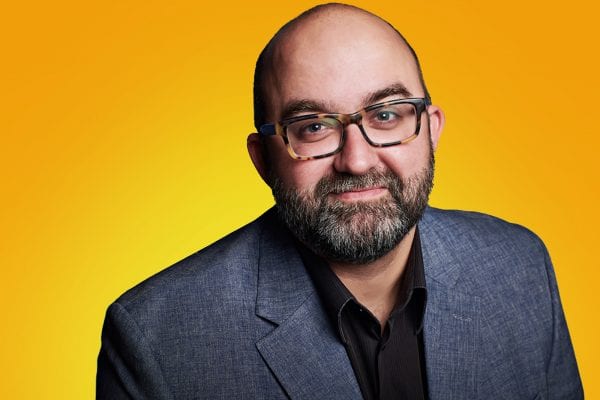 Another survivor, Pete St. John (pictured left), principle at St. John Design Group in Ithaca, New York, brainstormed a side hustle that, according to him, is an "uplifting" pivot. St. John wrote on Facebook, "My exhibit design firm was hit just like the rest of us. We used the downtime to invent, manufacture, market and release a toy called the Tooty Toob (the best fart toy you'll ever own), and it's been a helluva hilarious ride ever since. Maybe I'll see you on the show floor, maybe not, but either way, I figure we could all use a good laugh." There's no laugh track needed at the commercial he created that's currently generating lots of laughs—and sales—at www.youtube.com/watch?v=UX28xx3EUII.
Staffing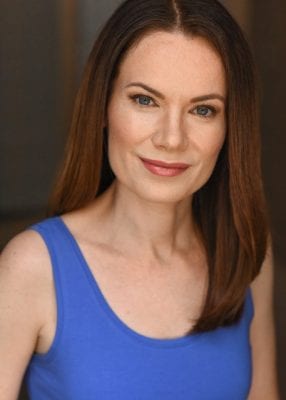 Many tradeshow talent agencies had to close shop during the lockdowns including Judy Venn & Associates. Chicago-based LB & Associates is a tradeshow talent agency that has spread their wings over the last 16 months. Lisa Breitman (pictured right), founder/owner, explains, "During lockdown, we were hoping to transition to booking actors for online shows. But exhibitors didn't want to invest too much in these events. So, we branched off and started booking talent for voiceovers. While we were open to most events prior to lockdown, our focus was always tradeshows. Post lockdown, we are open to more types of events. Recently, a major exhibit house asked us to supply talent for a big activation in Denver for talent to drive guests of the MLB All Star week around Denver while talking about the car's features. Until exhibitors' budgets return to normal, we will be open to different types of events."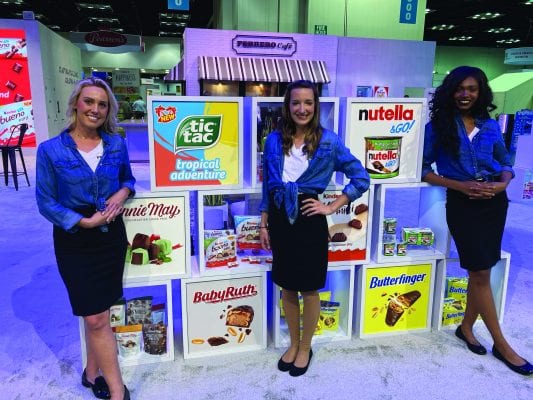 Breitman admits, "My service of booking talent is always the first service pulled from exhibitors' budgets as the marketing budget tends to be cut in half. I know it's going to take a while for my business to be back in full force … My newest competitors source strangers off of Facebook which I always explain to my exhibitors and potential exhibitors is an extreme risk. I've had the best reputation in the industry for 20 years because I book very smart, outgoing actresses instead of pretty models that just stand there and do the bare minimum. I make sure the talent are very prepared and versed on the exhibitors' products in advance so they can answer questions like a sales rep."
Although she admits that it may be a slow start, her first show post-lockdown was the Sweets & Snacks Expo in June in Indianapolis—a long time since her last event at the 7-11 Expo in Las Vegas in February of 2020. But she says, "We are still kicking and ready for this year and excited for some shows. My agency has worked with every major electronics company on shows like CES, CEDIA, InfoComm and more. After the recession, our client base transitioned to all the major candy and snack companies. I am hopeful for a strong return and know it will take time."
Tradeshow/Meeting Producers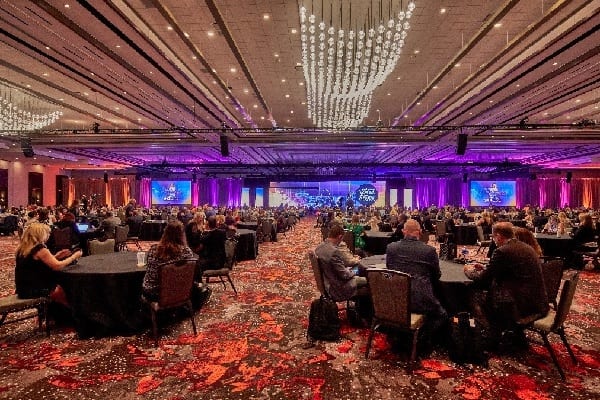 Tradeshow producers and associations have one of the most difficult roles in bringing the industry back to life. They're faced with attendees who range from still being uncomfortable in public to those who are more than ready for life to just return to normal. Meeting Planners International hosted their World Education Conference, the first large meeting at the new Caesars Forum in Las Vegas, in mid-June and handled the dilemma with pre-show emails surveying attendees' comfort levels with physical contact and then inviting (not requiring) them to wear colored ribbons on their badges indicating if they were claspers (huggers), bumpers (fist or elbows), noodlers (people who preferred others to keep a pool noodle distance away) or Zoomers (virtual attendees). Red ribbons on their badge immediately told fellow attendees to keep their distance, while yellow meant you could fist or elbow bump and a green ribbon meant you were welcome to give a hug.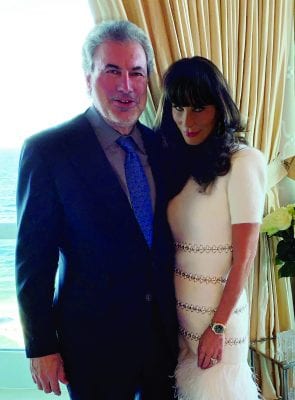 Caesars also hosted a smaller meeting the first week in June. Continental Buying Group and Preferred Jewelers International™ usually host two to three annual shows that feature educational components alongside networking events and the tradeshow. President and CEO Andie Weinman and her business partner/husband Joe Murphy (pictured left) didn't want to wait any longer than necessary to return.
Murphy explains, "After being apart for over a year, we knew there would be a pent-up demand for merchandising and connecting with our CBG family of retailers and suppliers. Our first live show post-pandemic far exceeded our expectations. Even though the attendance was at about 50 percent of what we normally see at our shows,
the energy was off the charts. There were laughs, hugs and tears of joy as our family reunited," adding, "Having a smaller group enabled us to create a more intimate atmosphere. We were able to create seating arrangements at the morning breakfast meetings to ensure that our members would network with members and guests that they had not previously been familiar with. We invited 12 qualified retail guests and strategically seated them with our existing CBG retailers (pictured below). The guests were so impressed by the show and our CBG family that seven joined CBG on site. Two more are still in process."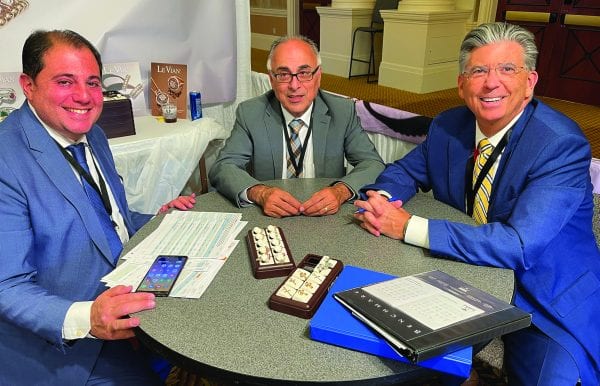 Murphy admits that in planning their show for early in June they "definitely 'rolled the dice' as there was so much uncertainty with regard to the pandemic. I decided to take the positive approach and believed that with the rapid vaccine rollout, we would begin to see a decrease in cases, which would result in the lightening of restrictions. We maintained weekly contact with our representative at Caesars, Misty Spano. Misty was excellent at keeping us abreast of all developments in the state of Nevada regarding changing COVID protocols. When the CDC announced that masks would be optional for those vaccinated, I knew more good news was coming regarding our event. One week prior to our show, we were notified that as of June 1, which happened to be the first day of our show, all COVID restrictions would be lifted. This enabled us to conduct our show as usual, no social distancing with masks becoming optional."
During the lockdowns, Murphy says, "We did not furlough anyone, but used the PPP loans to pay our employees. As it turned out, it was the smart move since many companies are having difficulty getting employees to come back to work. Florida had lighter restrictions than most of the country. One employee and I were able to continue working from the office for limited hours. Because of the nature of our business, the rest of our team were able to work from their home offices. During the lockdown we contacted and communicated with every retailer to help them navigate through the SBA and PPP loans as the applications were very convoluted. During this time, we also developed our own Virtual Platform to ensure that our suppliers and retailers would be connected and be able to continue to have product through the season."
In addition to taking care of their members during the lockdowns, in their personal life, Murphy says, "Andie and I had considered moving, but with everyone escaping to Florida from lockdown states, real estate was going through the roof. It would be impossible to find another space like what we have now, for a reasonable price. We decided to invest in our existing property. Another big goal of ours was to stay healthy and also relieve stress. We exercised daily at home and walked six to eight miles every day. That is one of my better memories!" He adds that one of the positive side effects of the last 15 months was that it reinforced how "Andie and I are a team. We are resilient and we realized even more how much we enjoy each other's company. Brainstorming new strategies on our daily morning walks along the beach path gave us time to think about the future of our business and how we could help our members and our team. Many great ideas emerged from those walks."
Informa Markets, one of the largest tradeshow organizers in the world, also found some great ideas during the mandated sabbatical. As the organizers of leading global tradeshows including World of Concrete, MAGIC and Las Vegas Cosmetic Surgery, and Las Vegas' largest meeting and conventions customer, they decided to enter into a partnership with Melanie Bash and Molly Hoisington (pictured right with Maria Ramirez), industry veterans with expert knowledge of the entertainment capital of the world, to found a new premier full-service concierge event service in Las Vegas, called Get Informed Concierge Event Service that will provide everything from transportation and dining arrangements to large-scale corporate events and entertainment. In addition to their local offering in Las Vegas, the team has also developed virtual event experiences to support digital trade events and conferences.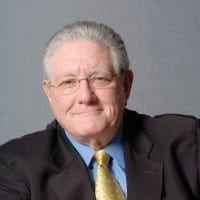 "We made the decision to embark on this partnership because we recognize the value of ease, efficiency and excellence as our customers look for opportunities to network, connect and rebuild this year," says Ken McAvoy (pictured left), EVP, Corporate Development, Informa Markets. "By partnering with Get Informed, we are able to be a single point of contact for our customers both on and off the show floor, helping them easily secure dining reservations, travel accommodations, entertainment opportunities, event venues, digital networking opportunities and more, in addition to the quality connection and commercial opportunities they receive at our events. Melanie and Molly are well-respected throughout the industry, and we are thrilled to have them on board as our preferred concierge partner in Las Vegas."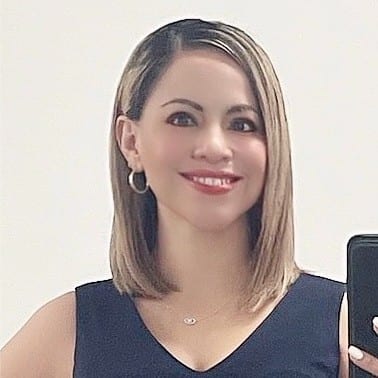 Maria Ramirez (pictured right), director of housing and operations, Informa Markets, and co-founder of Get Informed LV, adds, "When our customers return to the show floor, they are not just looking to have a good experience, they're looking to have the best experience possible. The great thing about digital is that it has created much more efficiency in our day-to-day lives, and people have come to rely on that ease of experience. As we got word that cities and states were on the brink of re-opening, we thought there was no time like the present to develop a bespoke concierge service that would meet those needs in an in-person format."
She adds that "Informa Markets is the largest tradeshow organizer in the world. Our reach and depth is unmatched. The Get Informed team are two industry experts who have a very niche, start-up feel. The combination of the resources of a large-scale FTSE 100 company with the specialism and care of an up-and-coming team really sets us apart. While we look to expand further, we also focus on Las Vegas, where we have really deep, rich relationships. It's sort of like calling a friend of a friend for a great reservation. It has that family feel because here in Vegas, we are all family." In addition to partnering with Get Informed, Ramirez says that the company saw other bright spots during the lockdowns. "The only silver lining, if you can say that, of the pandemic, is that it accelerated our digital ambitions and allowed us to focus on developing solutions that helped keep our communities connected and doing business while we couldn't meet in-person. But the reality is that we have always seen digital and data solutions as complementary tools to allow our communities to connect year-round. While incredibly valuable, qualifying suppliers and buyers often takes meaningful networking and relationship-building, and that is not really replicable in a virtual format."
She adds that another result of the lockdowns is that they're more focused on quality over quantity and doing more hybrid events. "I think a way that our success metrics have slightly shifted is that while we continue to target aggressive attendance numbers to keep a rich mix of buyers on the show floor, we have been more focused on pursuing quality attendees who are coming to the show floor eager to do business. A lot of the customer feedback we've received after our smaller events this year has been that they have as many, if not more, orders than previous years because of such an engaged and qualified attendee mix," adding, "We are also looking at a hybrid event mix moving forward. We are very much committed to the live event experience, but we also see the long-term strategic value in complementary digital solutions that extend our reach and deepen the customer experience."
Looking forward, Ramirez says, "The tradeshow industry is a resilient one. We've surveyed customers across many industries and the shared sentiment is that everyone is eager to return to in-person experiences. 2020 was a really isolating year, and many industries suffered, now it's time for recovery," adding, "I also think we will be better than ever now that we have really strong digital and data solutions to extend our brands into year-round community-building platforms. Many of the people who come to our shows have developed lifelong friendships and professional partnerships, and even more than the opportunity it provides for recovery and regrowth, it also provides an opportunity to share laughs with old friends, create new ones, learn from industry experts, and see and feel the latest products and innovations, unparalleled experiences that I think we have all truly missed, and that Get Informed will help us accelerate as we return to the show floor."
This story originally appeared in the July/August 2021 issue of Exhibit City News, p. 24-29. For original layout, visit https://issuu.com/exhibitcitynews/docs/ecn_july-august_2021