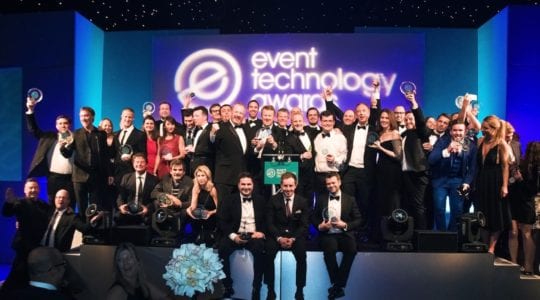 The Event Technology Awards 2016 saw the combined efforts of Intergalactic and Eventbase take home new-look trophies for: Best use of Technology for Engagement, Best use of Technology for a Brand and Best Proximity Marketing Technology at Supernova, London yesterday.
"We went in for four awards and left with three of them, a close to perfect night," said Jasper Squire, MD of Intergalatic.
More than 500 event professionals celebrated every success at the event, which was hosted by Andrew Ryan for a third successive year. The comedian heaped praise on the participants and scorn on political processes in roughly equal measure post-presidential election.
"The Event Technology Awards is a wonderful occasion," Ryan said afterwards. "Everyone in the room is so switched on to every category and they're lovely people! It's a real pleasure to be involved."
CadmiumCD took trophies for Best Event Management Solution and Best Conference Technology, Glisser got gongs for Best Use of Technology for Audience Participation, and the Rising Star title went to its employee Rebecca Tobi, but the winners of all 31 awards were equally important.
Adam Parry, Co-Founder/ Director of organizer AMP Events, comments: "The appreciation for event tech, and the companies developing and delivering it, has outstripped even our lofty expectations when we launched the awards in 2013.
"There were more categories this time and so many remarkable entries the shortlists for several were very long! It was a great night and our thanks go to everybody who entered, to our judges and sponsors, to Andrew Ryan and to the staff at Supernova. Many congratulations to the winners, but every company in the mix thoroughly deserved its name in lights."
Event Technology Awards: Winners 2016
Best Technology Start-Up
LINEAPP GmbH
Best New Technology Product
Crowd Connected
Best Ticketing & Visitor Registration Technology
Jomablue
Best Attendee Management Technology
Fielddrive
Best Event Management Solution
CadmiumCD
Best Venue Solution
Get Me Connected
Best use of Technology for Marketing an Event
InGo
Best Technology for Building Event Attendance
NetworkTables
Best Technology for Event Monetisation or Fundraising
Givesmart UK Ltd
Best Event Website / Mobile Site
Attendease
Best Hybrid Event or Live Streaming Solution
EventStreaming.TV
Best use of Audio Visual Technology
Hawthorn
Best use of Technology for Engagement
Intergalactic & Eventbase
Best use of Technology for Interaction
BEcause Experiential Marketing
Best use of Technology for Audience Participation
Glisser
Best use of RFID or NFC
DB Systems
Best use of Projection Mapping
TBA & Creative Technology Ltd
Best use of Gamification
Poken
Best use of Technology for Event Analytics, Data-Collection & insight
Lumi
Most innovative and tech-friendly venue
1 Wimpole Street
Best use of Technology for a Brand
Intergalactic & Eventbase
Best Festival Technology
StreetTeam
Best Conference Technology
CadmiumCD
Best Exhibition Technology
Circdata
Best Event Networking Technology
Whova Inc
Best Proximity Marketing Technology
Intergalactic & Eventbase
Best Augmented / Virtual Reality Technology
Pulse Group
Best Event App
EventMobi & CrowdComms
Best Technology Partnership
Konduko & Info Salons Middle East
Rising Star
Rebecca Tobi – Glisser
Favorite Event Technology Supplier – The People's Choice Award
1st Place – Bizzabo
2nd Place – Xylobands
3rd Place – Shocklogic
For more information about Event Tech Live or the Event Technology Awards please contact Adam Parry, AMP Events Ltd, Tel: 0044 (0) 161 3931 999 or email hello@eventtechlive.com.