Ten exhibitors were recognized for the overall excellence of their booth design, for outstanding booth staffing or for outstanding new products at EXHIBITOR2010. The world conference and exhibition for tradeshow and corporate event marketing took place March 14-18 at the Mandalay Bay Convention Center. Judged by a panel of their industry peers, the winners were selected out of 248 participating exhibitors.


Best of Show
Exhibits Larger Than 200 Square Feet
Noting that the design, execution and boothmanship of this year's exhibitors were exceptional, the judging panel considered a number of companies before arriving at their final selections. Judges used several criteria in selecting the Best of Show winners such as booth functionality and accessibility, attractive design layout, effective productdisplay and clear marketing messages.

http://www.mgdesign.com
"Fresh Ideas" was the theme of the MG Design Associates' 20-by-30 exhibit, which resembled a produce market. Decorated with fresh apples, oranges and lemons, The entire exhibit was constructed using sustainable products, including cork for the floors, a fabric ceiling screen, nails rather than toxic glues and a lot of wood walls which you don't see much of in exhibit design these days. Guest gifts mirrored the theme with fresh blended fruit smoothies and smoothie flavored Jelly Belly candy.
"We wanted to create a unique theme, look and feel," said Rob Majerowski, vice president of creative for MG Design. "We made the conscious decision to do something we knew would stand out. In this day and age the idea of fresh or refresh is very, very important and we tried to seize upon that… new, fresh authentic, out of the ordinary."
Best of Show
Exhibits 200 Square Feet or Less
Kubik, Inc.
Mount Laurel, New Jersey
http://www.thinkubik.com
According to Adriano Almeida, creative director for Kubik, the theme for Kubik's 10X20 exhibit was "We have all the right pieces." The"pieces" theme for the show was represented by puzzles and Kubik used that element for the booth, a puzzle direct mail invitation and puzzle-themed give-aways. For very direct mail puzzle piece attendees brought to the booth, Kubik makes a $5 donation to Habitat for Humanity.
"This is a direct tie-in to our current marketing campaign in which we decided to focus on educating people about key Kubik attributes that they may not be aware of," said Almeida. "We knew that many of our competitors provide exhibits and events, so we wanted to talk about the other things that set us apart. Why we had all the right pieces."
The Kubik team used hollow moulded 3D puzzle pieces for the exhibit, which were lightweight to reduce drayage and shipping costs, easy to install and reusable.
Best Booth Staff
The criteria for this award included a staff's use of proper booth etiquette, active engagement, effective conversation starters, adequate staffing, qualifying techniques and staff knowledge of their company and products.
Quantum Desine Group, Inc.
Fort Wayne, Indiana
http://www.quantumdesinegroup.com
A first time exhibitor at EXHIBITOR2010, Quantum Desine Group's booth staff consisted of two brothers, Kuomars "Q" and Kavon Karami.
"We had no idea we were being judged," said Kuomars "Q" Karami, director of design and operations for Quantum Desine Group, Inc. "I believe the key to winning this award was very simple: we followed common sense practices and etiquette. These things come natural to use like being attentive, engaging, showing interest in the customer, asking the right questions, bringing them in the booth rather than standing in the aisle, standing toward the front of our booth, not sitting on a stool. We are genuinely interested in or guests and thank each for coming by."

Apple Rock Advertising and Promotion, Inc
Greensboro, North Carolina
www.applerock.com
Of the 47 new exhibitors this year, Apple Rock Advertising and Promotion, Inc bested the rest. Judges applauded the engaging techniques of the exhibit staff and the way they directed visitors to the product displays.
The theme of Apple Rock's 10-by-20 exhibit revolved around the sea turtle. The exhibit included a small sand box with about a dozen toy sea turtle dispersed across the sand. Following a product demonstration, guests had the opportunity to choose one of the turtles and if the bottom of the turtle's shell was black, the guest won two tickets to Mandalay Bay's Shark Reef, home to three endangered sea turtles.
"The sea turtle is a species that has survived 230 million years," said Sherry Cox, vice president of client services. "We wanted to share with our customers and prospects that even in a down economy there are things you can do to adapt and survive. Just because a company downsizes its exhibit, doesn't mean it has to lose its brand. This booth was designed to demonstrate how you can adapt, maintain your brand, present yourself well, create interactivity and still be able to measure your ROI (return on investment) on your event, all in a smaller booth."
Buyers Choice Awards
EXHIBITOR2010 honored six new products with its Buyers Choice Award. The six were recognized from the 38 products selected for entry in the show's New Product Showcase. The products were chosen based on innovative design, broad-based application, the addressing of an industry need and whether or not the new product would enhance the job of an exhibit or event marketing professional.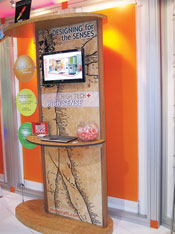 euroPod kiosk
Showcraft
Burnsville, Minn.
www.showcraft.com
Judges liked the multiple data-capture options and badge swipe functionality of the euroPod kiosk as well as the ways in which messaging and corporate branding can be displayed on its color laminate panels. One judge commented: "I like the look of it. It's elegant, modern looking and doesn't look as disposable as pop-ups sometimes do."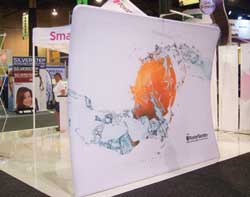 Sophora Tensioned Fabric Display
PosterGarden
Portland, Oregon
http://www.postergarden.com
Poster Garden won for its Sophora Tensioned Fabric Display, a 10-foot booth that comes in a convenient pillowcase-and-zipper design, assembles without tools and is 100 percent recyclable.
"I like that the fabric is 'sales-rep safe,'" said one judge. "My reps could put this together on their own. The fabric is machine washable, which is a huge plus."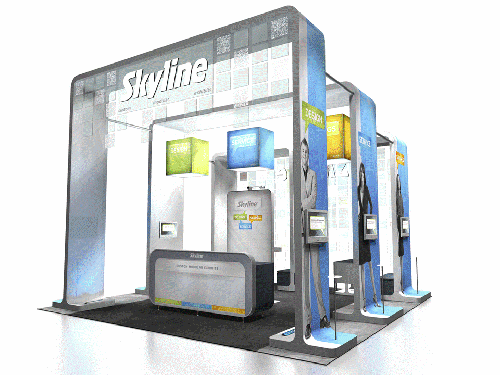 Envoy Exhibit System,
Skyline Displays Inc.
Egan, Minn.
http://www.skyline.com
The Envoy Exhibit System earned its award because of its proprietary fabric connection system, which makes it easy to change one fabric graphic for another without changing any of the exhibit's existing hardware.
"It takes a lot of labor out of the equation and you can't see the framework," said one of the judges.
Autostereoscopic 3-D Monitor
Freeman
Dallas, Texas
www.freemanco.com
Freeman's Autostereoscopic 3-D Monitor won for its ability to deliver a stereoscopic experience without the need for 3-D glasses. The judges also liked the way in which universal mountings make the 42-inch LCD monitor was easy to mount in an exhibit.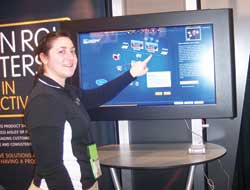 v-Connect Pro
Maynard, Mass.
http://www.kaon.com
The interactive technology of Kaon Interactive's v-Connect Pro was recognized by the judges for its ability to facilitate face-to-face real-time interaction between an exhibitor's product experts in the home office and booth visitors at a show.
"You can still show your product even if you don't have the room in your exhibit," said one judge.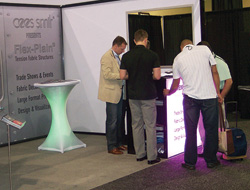 Flex-Plain
Cees Smit Group International
The Netherlands
http://www.ceessmit.nl
The Flex-Plain by Cees Smit Group International, an international exhibitor from the Netherlands, earned its Buyers Choice Award for the versatility of its tensioned-fabric display system.
"It's amazing and easy to install in just a few hours," said one judge.
EXHIBITOR2011 will again take place at the Mandalay Bay Convention Center in Las Vegas., March 27-31, 2011. For exhibiting information, visit www.ExhibitorOnline.com or call Hall-Erickson, Inc., show managers, at (800) 752-6312 or write them at 98 E. Naperville Rd., Westmont, IL 60559.
Best New Exhibitor
MG Design Associates Corp.
Pleasant Prairie, Wisconsin