Leading global healthcare event management business, Ashfield Meetings & Events, has rebranded to become Ashfield Event Experiences in a move to better reflect the award-winning agency's full breadth of expertise.
With in-house teams dedicated to event creative concept and design, content and communications, audience engagement, production and technology, Ashfield Event Experiences prides itself on its holistic approach. From the ideas, to the planning, to the execution—creating a positive, engaging experience is the "red thread" that runs through the agency's core.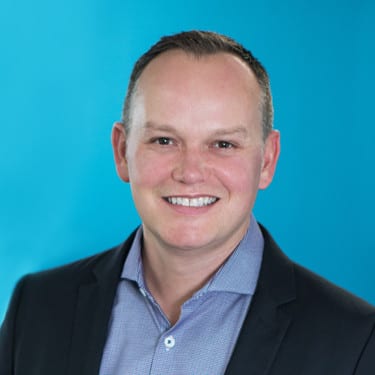 "We don't just project-plan and deliver meetings, we create impactful, engaging, memorable experiences for our clients and their audiences," says Global COO Gavin Houston (pictured left). " Our events connect people on an intellectual and emotional level. That might be through a face-to-face meeting, a broadcast-quality virtual event, or perhaps a physical or virtual exhibit booth—whatever the method or platform, we bring people together to make incredible things happen. We needed a new brand to communicate our position in the marketplace."
The company's evolution is a result of recognizing, and staying ahead of, the extensive needs of today's businesses.
"Obviously over the past year the COVID-19 pandemic has inevitably had an impact on our business, and as a direct consequence we've seen the virtual services we offer in high demand," Houston continues. "Our clients quickly realized they needed to offer their audiences much more than a standard video conference call to keep them informed and engaged. We've consistently proved how we've been able to elevate what would have perhaps been a passive viewing at a laptop screen into an all-encompassing event experience that resonates and is remembered."
With unrivaled events experience in the healthcare sector, Ashfield Event Experiences also partners across multiple industries to provide innovative event experiences and to bring new perspectives to its clients.
The rebrand comes as part of wider changes within Ashfield.

Ashfield Engage—formerly Ashfield Commercial & Patient Solutions—also launched and is a business unit of Ashfield made up of five specialist areas: Market Access, Medical Affairs, Commercial, Patient Solutions and Event Experiences. Ashfield Engage helps clients connect with all healthcare audiences to ensure people get knowledge, support and medicines when and where they need them.
"Being one of the specialist areas within Ashfield Engage is a huge benefit to our clients in healthcare, as we're able to partner seamlessly with our colleagues depending on the support they need," adds Houston.
"Partnering with Ashfield Event Experiences saves our clients time and energy as we take the complex and make it simple for them. No longer will they have to co-ordinate a list of different agencies and suppliers—they can trust us to take care of it all."
With more than 40 years of experience, Ashfield Event Experiences is one of the largest global events agencies with teams dedicated to the healthcare industry. What sets them apart is their unparalleled experience and expertise for creating and delivering any type of healthcare meeting or commercial event. Whether it's at a local, regional or international level, they recognize all the requirements from a regulatory and compliance perspective, while also fully understanding the role of different meeting and event types in the product lifecycle. Their knowledge of this highly regulated sector is unmatched and it's something they're very proud to offer their healthcare clients. They breathe life into virtual, face-to-face and hybrid healthcare events. For more info, visit AshfieldEventEx.com
Ashfield, part of UDG, is an integrated healthcare services partner, offering a breadth of services across strategic consulting, benchmarking, commercialization, customer engagement, events, marketing and communications.
Ashfield comprises of three clearly defined, integrated business units: Ashfield Advisory, Ashfield Engage and Ashfield Health. Together, the Ashfield team uses imagination, strategy and action to redefine and deepen client partnerships, re-imagine health and improve lives. Ashfield has carefully curated its business through the acquisition of 22 companies and is committed to offering streamlined services to best meet its clients' needs. With a presence in more than 50 countries, over 7,000 employees strive to provide best-in-class service for more than 300 clients, including the top 30 global pharmaceutical companies. For more info, visit www.oneashfield.com
Ashfield Engage, part of UDG Healthcare plc, is an expert, global partner in customer strategy and execution. Ashfield Engage helps clients connect with all healthcare audiences to ensure people get knowledge, support and medicines when and where they need them. As experts in strategic engagement, Ashfield Engage creates personalized, impactful experiences, across all channels. Every program is underpinned by human connections, omnichannel engagement and adaptive analytics. Ashfield Engage has more than 20 years' experience with a team of more than 5,000 employees, delivering services in more than 50 countries. Offering services across Medical Affairs, Market Access, Commercial, Patient Solutions and Event Experiences, Ashfield Engage helps its clients to engage with their stakeholders across the whole commercialization journey. Under the Ashfield umbrella, Ashfield Engage sits alongside Ashfield Advisory and Ashfield Health. For more info, visit www.AshfieldEngage.com