(PIctured above: EDPA Las Vegas Mixer at Smith & Wollensky Steakhouse. Photo Credit: Exposures, Inc.)
by H. K. Wilson
The new decade is in full swing, and EDPA members everywhere are sharpening their skills and raising the standard of excellence across the industry. In keeping with its commitment to driving growth within the exhibit, event and experiential industry through advocacy, networking, education and good works, EDPA is partnering with the Executive Education program at the Fashion Institute of Technology (FIT) to offer the first Designer Certification program.
"Carefully created by an advisory team from both organizations, this program offers designers at any experience level the opportunity to achieve the highest professional standards in experiential, exhibit and event design," says Christina Lyons, chair, FIT Graduate Exhibition & Experience Design. "Through a series of studio-based courses and seminars, participants acquire immediately applicable knowledge of cutting-edge methods, techniques and technologies that drive experience-based designed environments."
The certification consists of five online courses and a final seminar on site at FIT in New York City. Courses begin in May and run through August. Each two-week online course is taught by a team of graduate level professors and industry experts. Registration deadline for the program is April 30. The total cost for all six course that make up the certification program is $5,700.
EDPA Southeast
On Feb. 20, EDPA Southeast Chapter hosted a lunch and learn with the theme, "Seven Things Most Marketers in the Exhibit Industry Get Wrong—That You Won't." Presenter Lisa Sinicki is a content strategist and coach who has developed content and PR programs for companies including 3D Exhibits, Tom Bowman/Bowman Design Group,  Czarnowski, Tradeshow Logic and Live Marketing. She helped attendees learn how to create messages that resonate with prospects, obtain and leverage social proof, generate marketing pieces without starting from scratch, and create marketing paths that lead to sales.
EDPA Midwest
On Valentine's Day, Feb. 14, EDPA Midwest members showed their love by participating in the University of Illinois Design Illinois Career Fair at the Knoll Showroom inside Chicago's Fulton Market. The Design Illinois Career Fair connects companies with emerging undergraduate and graduate-level graphic, industrial, and UI/UX designers from the University of Illinois at Urbana-Champaign.
The chapter is hosting its next meeting on March 19 at 4:30 p.m. at the Itasca Country Club, where a professor from DePaul University will help members acquire strategies to break procrastination habits and increase productivity.
Chapter members are looking forward to Industry Xchange 2020 on April 14 at City Winery in Chicago. Industry Xchange is an educational and networking event for professional meeting and event planners. It provides attendees a forum to gain new perspectives on key trends and issues facing the meetings industry today and what they mean for business opportunities in the future. IX 2020 will be Chicago's collaborative contribution to Global Meetings Industry Day through a partnership of MPI-CAC and several local chapters of fellow industry organizations and will likely be broadcast globally through MPI Global.
EDPA Northeast
It's that time of year again, time for the largest professional development conference for tradeshow and corporate event marketing, EXHIBITORLIVE 2020!  EDPA Northeast is hosting a Cocktail Kickoff on March 30 from 5:30-6:30 p.m.
"We are excited that the EDPA NE chapter will be connecting at EXHIBITORLIVE in our community space, Reserved Parking in the Square," says Randal Acker, President and COO, EXHIBITOR Media Group. "This chapter does some amazing things together, and if you're an exhibition industry partner in the NE, you should find out more."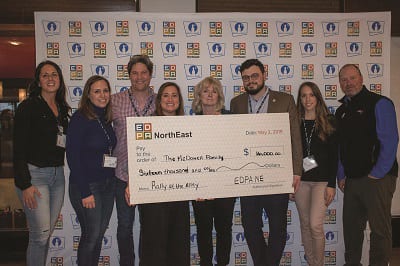 On May 7 at 6 p.m., the chapter will host the 2020 Rally at the Alley at Splitsville in Foxboro, Mass. Together, event industry professionals and organizations are making a difference in the lives of their peers by raising funds to help those in need. Last year, the chapter raised $16,000 for the family of Shari McDowell, which was used to purchase a handicap accessible van to transport Shari's partially paralyzed husband, Tom, without the need of assistance from outside the family.
EDPA Las Vegas
EDPA Las Vegas Chapter began the new decade with a New Year Kick-Off Membership Drive and Mixer on January 29 at the Gramercy Lounge inside Smith & Wollensky Steakhouse at The Grand Canal Shoppes, The Venetian Resort.
And on April 1, from 8-9:45 a.m., the chapter is co-hosting a networking breakfast inside The Square at EXHIBITORLIVE with multiple EDPA chapters. No fooling—just great food and friends!
EDPA SoCal
On March 4, EDPA SoCal Chapter is meeting at Image Options' headquarters in Foothill Ranch to hear "The State of the Industry" presented by Cathy Breeden from the Center for Exhibit Industry Research. And back on Jan. 23, the EDPA SoCal board met at Ballast Point Brewing Company in Long Beach.
"We are excited to gather and listen to Cathy speak about the state of the exhibit industry and what it may face in 2020. Every day, we live in the micro-environment of the industry; designing a new exhibit one day and tomorrow organizing labor for another project. It is insightful to how we orient and approach our days to step back and view the industry from its macro-environment, and this event offers one way to do this," says Antonia Nuzzolo, chapter vice president.
EDPA Great Lakes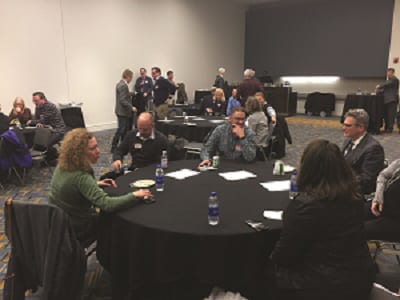 Detroit's beautiful TCF Center was the gathering spot for members of the EDPA Great Lakes Chapter on Jan. 23, when Andrea Trudeau, exhibit compliance and show floor director for NAIAS, addressed the group. According to the region's president, Kevin Sacharski, the chapter stands on three principles: funding, fun and value. With these ideals in mind, it is actively promoting membership and sponsorship opportunities this year with the goal of increasing membership and awareness of the national organization on a local level. Sacharski reminds potential members that company memberships proffer special benefits, including unlimited event participation for employees, including food/drinks at networking events; one free host event to showcase facilities and services; an ad in the monthly newsletter; and on-site signage at local events.
EDPA Texas
EDPA Texas recently announced its new board of directors for 2020: President Matthew Little, Nuvista; Vice President Noelle Webster, Willwork; Secretary Derek Argo, CORT; Treasurer Weslee Hogan, ABCOMRENTS; and members at large are James Zacharias, Exploring, Inc.; Lara Davoe, George P. Johnson;  and Wendi Sabo, Access TCA, Inc.  This newly activated chapter has big plans for the future. "As a group, we are excited to get started in Texas and are diligently working on the marketing materials to get our group up and going," says Little.
EDPA Upper Midwest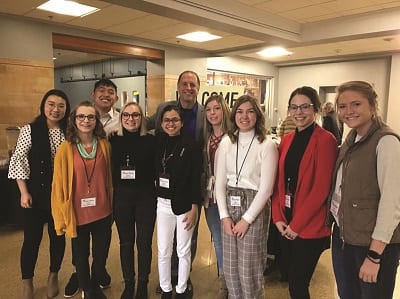 The EDPA Upper Midwest Chapter hosted its winter meeting on Feb. 3 at Holman's Air Field in St. Paul, Minn. According to Chapter President Jennifer Hermanson the event was a great success. "As industry stewards who appreciate interesting Art Deco/Beau Monde design, the gorgeous venue was the perfect setting for Bemidji State University students to showcase their work and discuss exhibit design with UMEDPA members ahead of attending EXHIBITORLIVE," says Hermanson. "In addition, Dan Greene presented the Economic State of the Industry, which was originally shared with those EDPA members who attended ACCESS in December 2019."
This story originally appeared in the March/April issue of Exhibit City News, p. 72. For original layout and more pictures, visit https://issuu.com/exhibitcitynews/docs/exhibitcitynews_marapr_digital_2020