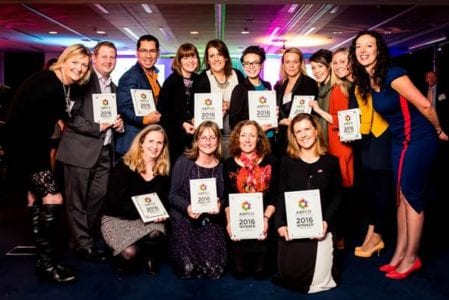 The Association of British Professional Conference Organizers has revealed the shortlist for their 2017 Excellence Awards. Last year's winners (pictured right) included Royal Society of Medicine (BeyondBORDERS), Conference Partners (EuroScience Open Forum 2016) and SECC (RCN Congress). This year's nominees:
Best Conference by an In-House Conference Organizer – Macmillan, NCRI and RCN
Best Conference by an Agency Conference Organizer – Bioscientifica, MCI and Hampton Medical
Best Industry Partnership – AECC, Shocklogic and Visit Belfast
"The Excellence Awards are now well and truly established in the industry's calendar. The quality and number of entries continues to grow each year as association professionals recognize the caliber of the awards and prestige of winning or even being shortlisted," commented Therese Dolan, joint-chair of ABPCO. "The quality of entries this year is the best to date. The shortlisting process was incredibly challenging as there were so many examples of best practice, creativity and high-quality events. I very much look forward to the presentations and seeing the final winners on the day."
The Excellence Awards will take place December 8 at the Harrogate Convention Centre. Selected by an independent panel, the shortlisted candidates will each present details of their event, demonstrating best practice and expertise during the lunch. Winners are then selected through peer voting amongst those in attendance.
Ahead of the Excellence Awards and Chairmen's Lunch, a dinner has also been arranged which will take place the evening before at Betty's Café Tea Rooms. Those interested in attending the Excellence Awards should visit https://www.abpco.org/abpco-chairmens-lunch/
ABPCO is the UK's leading organisation for professional conference and event organisers, industry associates and those studying for, or seeking a career in the conference and meetings industry. For more info about ABPCO, visit www.abpco.org.