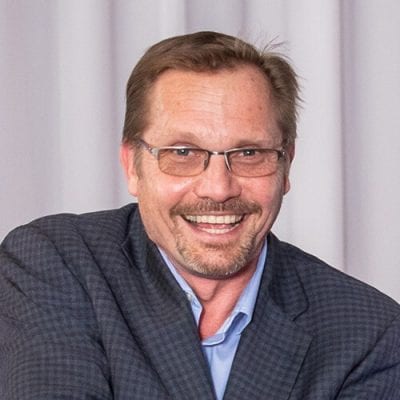 On June 30, Jim Johnston (pictured left), president of Autocar, LLC, manufacturer of North America's first specialized, severe-duty vocational truck brand, spoke at WasteExpo, a solid waste, recycling and organics industry event that took place June 28 – 30 at the Las Vegas Convention Center.
Johnston spoke about low carbon fuel solutions at the expo while the following four vocational waste management trucks were on display:
Two Recology trucks, the 

Autocar

 ACX FEL with ADAS front end loaders and the

Autocar

ACX RotoPac ASL
Waste Management 'Power of One' 

Autocar

 ACX
Johnson's Garbage Service 

Autocar

 DC-64R strip chassis, fitted for the Loadmaster REL body and 

to

be installed after the show
WasteExpo is the leading event in North America for waste, recycling and organics professionals from the private and public sector. WasteExpo offers an interactive conference program that dives deep into vital industry topics such as recycling, landfills, fleet management, collections, organics, safety, food waste and recovery and more. WasteExpo also boasts a robust Exhibit Hall showcasing 600+ exhibitors showcasing the latest industry solutions. 
Autocar, LLC, manufacturer of North America's first specialized, severe-duty vocational trucks brand with the most advanced direct-to-customer business model, is the only American owned and operated original equipment manufacturer (OEM) of trucks. Autocar's severe-duty vocational trucks provide customers with the perfect tools for their job with the most uptime, support and impact to their bottom line. Autocar collaborates with customers to build trucks to their exact specifications and needs. Autocar's purpose-built, severe-service truck lines include ACMD and ACX cab-over trucks, the ACTT and ACTT-E terminal tractors and the DC-64 Class 8 work trucks. Autocar Truck recognizes that performance and uptime are everything and offers every customer 24-7 access to its "Always Up" direct factory support center, staffed by expert technicians who engineer and build Autocar's trucks. Autocar promises to provide trucks that deliver the best value, provide the best service and provide a complete solution for customers' needs. The Autocar pledge is to do the work right the first time and to act proactively, in a timely manner and with simplicity. For more info, visit AutocarTruck.com.