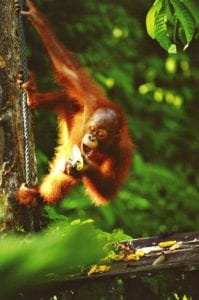 The popular Borneo Orang-Utan Project (BOP) will be bouncing into Bangkok, Thailand at the Incentive Travel & Conventions, Meetings Asia and Corporate Travel World from 27-29 September 2016.
BOP, the official corporate social responsibility program of the International Congress and Convention Association Congress 2016, invites all ICCA members to generate awareness on the plight of the Borneo Orang-Utans by participating in this distinguished initiative by the local host of the 55th ICCA Congress 2016 and ICCA as part of the #RoadToSarawak campaign.
Following the successful renditions of BOP at tradeshows in Barcelona, Melbourne, and Shanghai, this fourth installment will see one lucky ICCA member win the opportunity of a lifetime to be a year-long guardian of a precious orang-utan boy.
This time, the adoptive guardian will be taking custody of 11 year old Baka (pictured at right), who is affectionately known as 'Mama's Boy' as he is usually seen clinging to his dear mother in the forested reserves of Semenggoh Wildlife Centre in Kuching Sarawak.
Amelia Roziman, who heads the Public Relations and Marketing Committee for the local host under ICCA 2016 said, "Since the debut of the BOP in Barcelona, Spain in 2016, it has been heartwarming to see that orangutan conservation has enjoyed tremendous support from international ICCA members and Sarawak based Business Events partners alike."
These supporting partners include the Mulu Marriott Resort and Spa, which is offering three lucky members a chance to win a 2D/1N stay at the Mulu Marriott, a 5-star luxury resort located five minutes from Gunung Mulu National Park – a UNESCO World heritage site.
To assist Baka in getting home, visit the BOP team at the Malaysia Booth D1 to snap a photo with "Brooke" – the official ICCA 2016 mascot – and share it on social media with the hashtag "#RoadtoSarawak" "#IT&CMA16" and "#ICCAWorld".
The announcement of the winner will be made by ICCA in the week after IT&CMA Bangkok. ICCA will adopt Baka on behalf of a chosen member, upon the announcement.
For more information, please contact our representatives from Sarawak Convention Bureau – Ms. Anedia Kahar – Head of Business Development at anedia@sarawakcb.com or Mr. Donny Tan, Business Development Manager at donny@sarawakcb.com .