The Las Vegas Convention Center
Location: 3150 Paradise Rd, Las Vegas (one block east of The Las Vegas Strip, on the site of the Las Vegas Park Speedway, a failed horse and automobile racing facility from the early 1950s)
Year Opened: April 1959 as a 90,000 sq.ft. exhibition hall with a 6,300 seat, silver-domed rotunda
Renovations & Expansions: Completing their 14th renovation in Dec. 2000, they added 1.4 million sq.ft. with the new West Hall and an underground tunnel. In 1971, $7 million went to rebuild, remodel and expand; 1998's expansion increased the center to 1,900,000 sq.ft. and they imploded the closed Landmark Hotel and Casino to add parking; in 2002 they built South Hall, adding 1,300,000 sq ft., and four bridges to cross over Desert Inn Road; in 2010 they added a Metropolitan Police Substation and a Clark County Fire Station (becoming the only facility in the country with these on-site amenities at the time) and in 2015 they spent $182.5 million to buy the Rivieria Hotel and Casino (which they imploded in 2016).
Ranking: Third largest convention center in the U.S. (after Chicago and Orlando); it was the first facility in Nevada to receive the Global Biorisk Advisory Council (GBAC) STAR facility accreditation.
Sq.Ft.: 4.6 million sq.ft. with approximately 2.5 million sq.ft. of exhibit space, 225 meeting rooms (more than 390,000 sq.ft.) handle seating capacities ranging from 20 to 2,500. Two grand lobby and registration areas, one in West Hall, and one in Central Hall (more than 260,000 sq.ft.) with parking for more than 10,000 cars.
Largest Show: The Conexpo-Con/Agg construction trade show in 2008 used the most space, 2,400,000 sq ft. COMDEX was the most attended tradeshow in the U.S. with more than 200,000 attendees. Currently, the Consumer Electronics Show is the most attended annual tradeshow at this location with 140,000+  attendees.
Fun Fact: The LVCC Loop, the underground tunnel developed by Elon Musk's The Boring Company, was designed to shuttle convention attendees throughout the 200-acre campus in all-electric Tesla vehicles, and debuted in June 2021.
Fun Fact #2: The LVCVA has 90 percent of its vehicles being powered by electric or propane. With a generous grant from the Consumer Electronic Association, the Electronic Vehicle Charging Station debuted at 2014 International CES.
Operations: Owned and operated by the Las Vegas Convention and Visitors Authority, the LVCVA board includes elected officials and six reps from the private sector. Clark County and the city of Las Vegas each have two reps, while the cities of North Las Vegas, Henderson, Mesquite and Boulder City each have one seat. Private-sector members, nominated by the Las Vegas Chamber of Commerce and Nevada Resort Association, represent the hotel industry and general business interests. The LVCVA board is considered to be one of the most successful public-private partnerships in the country.
Website: www.lvcva.com
Our Las Vegas Convention Center spotlight just wouldn't be complete without highlighting a few more convention spaces in the city. After all, the Venetian Expo & Venetian CC (formerly Sands Expo & Venetian Congress) is the fifth largest convention center in the U.S. (after Chicago, Orlando, LVCC, and the Georgia World Congress Center) and is a little more than a mile from the LVCC while Mandalay Bay's CC is the 10th largest in the country (at 2+ million sq.ft.). MGM Resorts invested $350 million from 2014-18 to expand its meeting and convention space on the Strip by a quarter to more than 4 million square feet. They finished a 350,000-sq.ft. expansion of the Mandalay Bay CC in 2017 and opened a 200,000-sq.ft. expansion of the Aria in 2018.
But this year we'll feature the brand-new venues that had the misfortune to open during a nationwide lockdown: the new Caesars Forum and the Wynn Conference Center were both scheduled to open in March 2020, the Expo at World Market Center Las Vegas in downtown was scheduled to open in the summer of 2020; the newly-renamed Venetian Expo & CC and its new Stella Studio, and MSG's Sphere, which was to open this year but has been delayed until 2023.
Caesars FORUM (adjacent to The Linq, Harrah's & Flamingo)
Address: 3911 Koval Lane
Sq.Ft.: 550,797-sq.ft. of exhibit space: with two 108,000-sq.ft., pillarless grand ballrooms and two 40,000-sq.ft. junior ballrooms, and a 107,000-sq.ft. outdoor Forum Plaza on 29 acres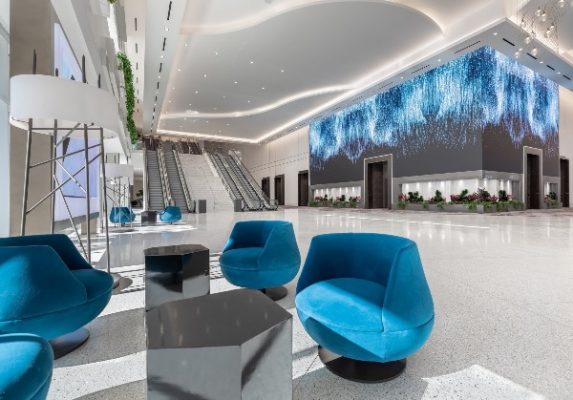 Date Opened: The $375 million facility was scheduled to open March 2020; it opened Oct. 25, hosting the 2020 ConferenceDirect Annual Partner Meeting
Management: Caesars Entertainment
Fun Fact: A covered (and air conditioned) sky bridge lets conventioneers quickly walk to Harrah's, the Linq Hotel and Monorail. Biophilia, the concept that nature in design provides health benefits to building users, is evident throughout the beautiful FORUM CC. An abundance of natural light, live plants, the four seasons-inspired ballroom carpets and design, and nature-inspired art and photography make the FORUM CC an inviting oasis in Las Vegas. You can feel the feng shui in action!
Wynn / Encore Convention Center
Address: 3131 S. Las Vegas Blvd. (site of the old Desert Inn Hotel & Casino)
Sq.Ft.: The $423 million addition, which includes an 83,000-square-foot pillarless ballroom and a two-story, 430,000-square-foot meeting space at Wynn Las Vegas, has more than doubled the property's rentable meeting area, by 300,000 sq.ft. to 560,000, across 57 flexible meeting rooms
Date Opened: They opened three weeks ahead of schedule (in February 2020), followed by the lockdown in March
Management: Wynn Resorts (CEO Matt Maddox)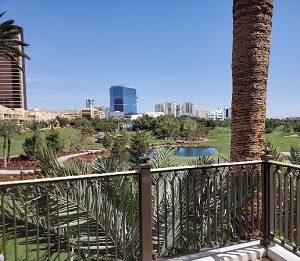 Fun Fact: Floor-to-ceiling windows on both the top and bottom floors of the building offer views of the 17th and 18th holes, including a 100-foot-wide waterfall that is 10 feet tall. The indoor-outdoor area—a 20,000-sq.ft. pavilion and 20,000-sq.ft. lawn—is breathtakingly beautiful. Meeting rooms face the golf course and the patio while the views inside include African and Indonesian art, Venetian glass mirrors and 19th and 20th century furniture. Hand-woven, colorful tapestries hang on the walls and "Smiling King Bear," a pop-surreal sculpture created by Spanish contemporary artist Okuda San Miguel is on the patio.
The Expo at World Market Center Las Vegas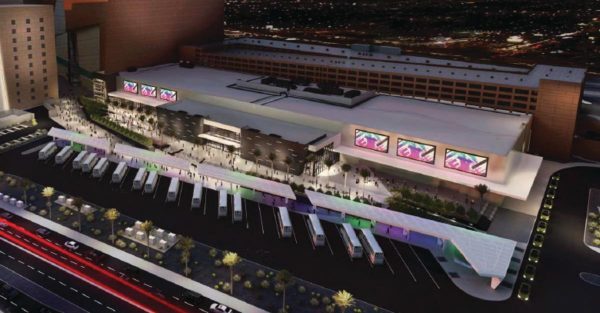 Address: 435 S. Grand Central Pkwy, downtown across from The Smith Center
Sq.Ft.: 415,000 sq.ft. (The Pavillions are three interconnected, ground level, column-free exhibit halls totaling 345,000 gross sq.ft. with 195,000 sq.ft. of exhibit space, divisible by two halls which can accommodate up to 1,000 booths; an expansive lobby and registration areas, shuttle bus depot, attached parking garage and food service options.
Date Opened: Was scheduled to open in the summer of 2020; official ribbon-cutting was held in April of this year
Management: International Market Centers, L.P.
Fun Facts: The $103.5 million investment includes WorldView, a 10,000 sq.ft. banquet room on the 16th floor with wrap-around windows and an adjacent outdoor terrace (SkyView is a 7,000 square-foot rooftop terrace that can be combined with WorldView). There's also the Grand Plaza, an open-air 50,000-sq.ft. venue and 190,000+ sq.ft. of surface lots for staging, event parking or an open-air event. The World Forum and Atrium rooms are also available.
The Venetian Expo & the Venetian Convention Center (formerly Sands Expo CC & Venetian Congress Center)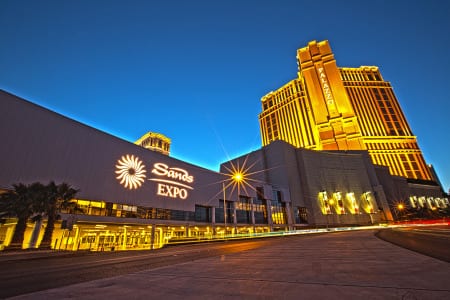 Address: 201 Sands Ave.
Sq.Ft.: 2.25 million sq.ft. (the largest CC in the U.S. not municipally owned)
Date Opened: 1990 (at the time it was the second largest convention center in the U.S.—it's now fifth—and was the only privately owned/operated CC in the U.S.)
Management: After Las Vegas Sands Corp. CEO Sheldon Aldeson passed away on Jan. 11, Vici Properties and Apollo Global Management bought the properties for $6.25 billion in early March, changing the venues' names as of Sept. 2.
Fun Fact: The Las Vegas Sands Corporation was one of the few companies in this industry with no layoffs or furloughs during the long lockdown as Adelson said he would personally pay his employees if the corporation didn't. They debuted a new meeting space this year: The Stella Studio—a multi-functional, 8,000+-sq.ft. venue located in The Palazzo tower with a modern minimalist style, natural light and a neutral palette.
MSG (Madison Square Garden) Sphere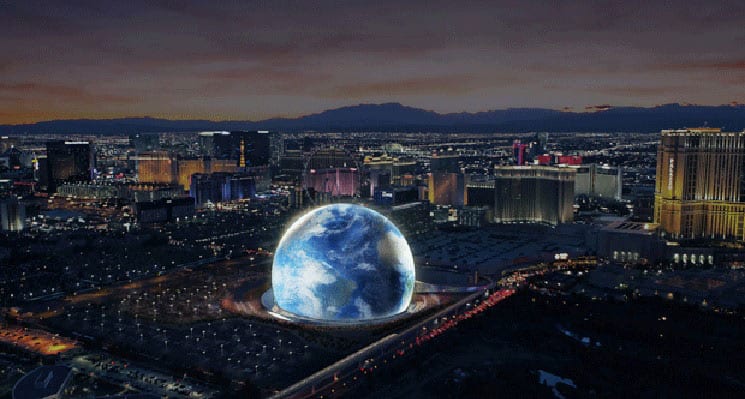 Address: 255 Sands Ave, Las Vegas (behind the Venetian Expo & CC)
Sq.Ft.: At 160,000 sq.ft. (366 feet tall and 516 feet wide), it will be the largest spherical structure in the world. Developers say its 580,000-sq.ft. LED exterior will be the largest and highest resolution LED screen in the world. Capacity is designed to seat 17,500 (with an additional 2,500 for standing room only) and 23 VIP suites.
Date Opened: Opening has been pushed back to 2023 with the budget increasing to $1.8 billion
Management: Madison Square Garden Entertainment Corp. was leasing the land for the arena from Las Vegas Sands Corp. (who have since sold all their Las Vegas holdings)
Fun Facts: The venue's "beamforming" audio system will direct sound to specific locations at a constant volume from point of origin to destination. It will also allow two people sitting in different sections to hear completely different things. An infrasound haptic system will use deep vibrations so that guests can "feel" the experience. The main atrium of the structure will span four floors and feature free-standing escalators and bridges offering clear views of the space below. Upon completion, the dome will weigh more than 13,000 tons with a surface area around 220,000 sq.ft. It's expected to host expected concert residencies, films, corporate events, award shows, product launches, esports and sporting events such as boxing, mixed martial arts and wrestling.
This story originally appeared in the Sept./Oct. issue of Exhibit City News, p. 10-13. For more pictures and original layout, visit