The 2.1 million-square-foot Music City Center in Nashville opened in 2013 so the city could host large, city-wide conventions in the downtown area and was officially LEED Gold certified in 2014. It replaced the Nashville Convention Center that had been built in 1987 on Broadway and Fifth.  The new building was designed by Atlanta-based TVS Design, Nashville-based Tuck Hinton Architects, and Moody-Nolan Architects and a joint venture, Bell/Clark, headed up the construction management. It was developed by Nashville Metropolitan Development and Housing Agency and was built at a cost of about $623 million.
The official groundbreaking for the center was held on March 22, 2010 and more than 200,000 cubic yards of rock and soil were excavated. The 16-acre site took 24 weeks to excavate. Soon after, the six red cranes were erected, the tallest of which reached 200 feet. The concrete team placed 110,000 cubic yards of structural concrete and 13,500 tons of rebar. Over 100,000 man hours were spent deciding where each piece of steel would go and 14,000 tons of structural steel was eventually placed. The project took three years to complete and more than 7,300 people worked on the project during that time.
More than 15,000 people toured the building during its two day grand opening celebration in May 2013 and activities included live music, great food, and a zip line through the exhibit hall. Since then, the building has been filled, with events such as CMA Fest's Fan Fair X and the Music City Sports Festival. About one third of the staff journeyed from the old building to the new construction.
In its first five years, the Music City Center hosted 1,500 events, bringing 2.8 million people to Nashville and generating over $1.5 billion dollars in direct economic impact. This equates to about $950,000 of direct economic impact generated every single day. The Convention Center Authority's reserves currently top more than $100 million and have ballooned far greater than projected since the center opened in 2013, creating a sizable surplus.
In 2017, the authority spent $19.9 million to expand the center with a new concourse space, enclosure of a ballroom terrace and construction of a food and beverage outlet. The Music City Center is seeking a new master plan this year as part of a potential expansion at new sites in order to add more convention space to Nashville. "I know it's hard for people to believe, but being open six years now, we face a continual lack of space," says Charles Starks, president and CEO of Music City Center. The convention center has bookings into 2030, Starks said, and the newly opening hotels are helping Music City Center land conferences that need some 2,500 to 3,000 rooms on peak nights.
As part of the 2020 fiscal year operating and capital budgets the convention authority approved in March, up to $750,000 was set aside to get a master plan developed. The capital budget is about $17 million and includes several other upgrades to existing facilities, including replacement of some furniture and fixtures within the center. The new master plan would not be for renovations but for additional construction, according to Starks.
The Convention Center Authority budgeted $2 million for art in the new convention center. Over 225 artists submitted applications including paintings, suspended pieces, new media, mosaics and light works. Of the 52 artists represented in the collection, 32 are from Davidson County. Another 16 are from other parts of Tennessee, and the remaining four are from Georgia and Kentucky. The art committee commissioned eight site-specific, monumental pieces and two of these pieces came from local artists, Jamaal Sheats and Alicia Henry.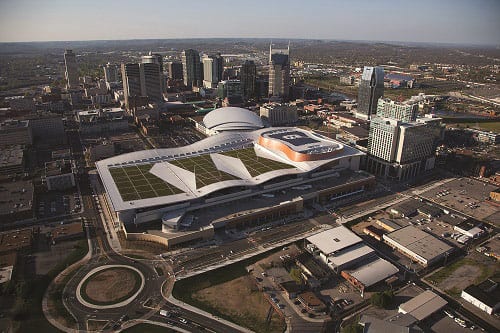 Convention Center Snapshot: Music City Center
Location: 201 5th Avenue South, Nashville TN, 37203
Year built: 2013
Square Footage: The convention center has 350,000 sq.ft. of exhibit hall space with five halls, two ballrooms and two floors of meeting rooms. Utility boxes every 30 feet provide water, compressed air and telecommunication equipment.
Parking: Approximately 1,797 parking spaces in the attached parking garage; nearly 40,000 parking spaces nearby can be found via parkitdowntown.com
Wi-Fi: Free Wi-Fi throughout the facility
Hotels: Within a 1.5 mile radius of the MCC there are 26 hotels; there are 42,000 hotel rooms in the Nashville metropolitan area
Airport Info: The MCC is 8.1 miles from the Nashville International Airport
Fun Fact #1: The 14-acre undulating roof is intended to evoke Tennessee's hills and features an eco-roof with four acres of sedum plants to control water runoff. Additionally, it has a 162-foot guitar-shaped structure that weaves vertically through the building.
Fun Fact #2: The four city blocks where the convention center is situated comprise much of the area formerly called Black Bottom, probably because, as the lowest part of town, it was prone to flooding which coated the area in dark mud.
Fun Fact #3: Perry Bradford's song, The Original Black Bottom Dance, was first introduced in Nashville. The sheet music included instructions for the dance moves.
Fun Fact #4: The convention center is the home to more than 100 pieces of public art.
Website: www.nashvillemusiccitycenter.com/
Convention Center Snapshot & Spotlight stories originally appeared in the July/August issue of Exhibit City News, pgs. 10-11 & 60. For original layout, visit https://issuu.com/exhibitcitynews/docs/ecnflipbook_julyaugust_2019_web