In an unknown economic climate, a slow and steady return to full recovery is uncertain. Comparing trends across 14 key industry sectors, research from the 2013 Center for Exhibition Industry Research (CEIR) Index shows a promising upward climb for the future of the exhibition industry following the recent recession.
Measuring year-over-year changes in net square footage, gross revenue and the number of exhibitors and attendees between 2011 and 2012, the CEIR Index assesses the industry's overall health by its annual performance.
Generally moving in a positive direction, the CEIR Index three sectors were given less than favorable outlooks in 2013 and only two in 2014.
"Overall, the [2013] second-quarter results continue on a positive upswing, and they confirm that the exhibition industry has effectively weathered the recession and is a valuable business practice despite ongoing uncertainty from lawmakers in Washington," said Allen Shaw, Ph.D., economist, CEIR; and chief economist, Global Economic Consulting Associates Inc.
Directly affecting recovery of the U.S. exhibition industry are federal government budget cuts and mandates born from the financial crisis. While minimal growth was expected for 2013, GDP growth should accelerate for the long-term in 2014, according to CEIR reports.
"With the decline in attendance, [CEIR is] closely monitoring business-to-business exhibitions especially for tradeshows that depend on government employees' participation to determine how much of the attendance decline is directly attributable to sequestration," said Douglas L. Ducate, CEM, CMP, president and CEO, CEIR.
Investment in tradeshows and exhibitions depends on a simultaneous recovery within the sector itself for exhibitors to return to the show floor, according to Jerry Howard, CEO, National Association of Home Builders (NAHB).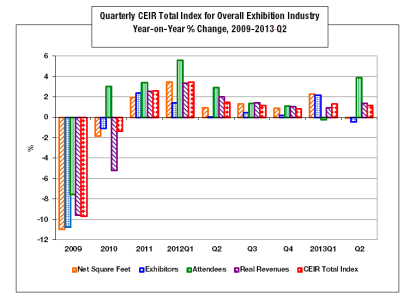 "The outlook for home building and remodeling has improved considerably over the past year, with annual housing starts expected to increase by nearly 20 percent to over 900,000 units in 2013 and accelerate beyond the million-unit pace in early 2014," said Howard. "Such improvement in production is triggering significant growth in NAHB's annual exhibition sales and membership, and we definitely expect that to continue."
Megan Tanel, vice president of exhibitions, Association of Equipment Manufacturers (AEM), sees little lag time for the construction industry, which looks to tradeshows and exhibitions to aid in its recovery.
"Responding to the positive changes we began to see with the economy, AEM announced plans to launch CONEXPO in Latin America by 2015," said Tanel. "Not only is this a result of our members' needs for global opportunities despite a domestic economic downturn, but also demonstrates our commitment to investing in events on an international scale to fuel the exhibition industry and solidify our position for long-term growth. This allows us to diversify our business markets while managing our costs until the economy steadies."
Panelists at CEIR Predict, an event for exhibition organizers and investment firm executives held Sept. 12 in New York City, agreed that increased consumer confidence during the past year instill confidence in the upward direction of the exhibition industry. Mitigating factors cited included government regulations regarding product safety, consolidation versus expansion, the effect of online storefronts on independent retailers, and the impact of mergers that are driving investment banking and revenue for financial institutions that weigh heavily on the outlook for events in these sectors.
Thirteen of the 14 industry sectors are expected to resurge by 2015, which bodes well for the overall health and future of the U.S. exhibition industry.
The CEIR Index provides exhibition industry performance across 14 key industry sectors: Business Services; Consumer Goods; Discretionary Consumer Services; Education; Food; Financial, Legal and Real Estate; Government; Building, Construction, Home and Repair; Industrial/Heavy Machinery and Finished Business Inputs; Communications and Information Technology; Medical and Health Care; Raw Materials and Science; Sporting Goods, Travel and Entertainment; and Transportation.