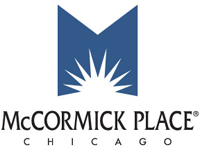 Chicago convention officials announced that the American Society of Nephrology's (ASN) annual meeting, the world's largest gathering of kidney professionals, will take place November 1-6 at McCormick Place.


ASN's meeting in 2016 is expected to attract 14,000 attendees with estimated direct expenditures of more than $342 million for the city and state.
"ASN's commitment to Chicago represents the great momentum that is taking place at McCormick Place," said Jim Reilly, MPEA trustee. "Thanks to the recently-enacted convention reform legislation our customers are seeing the substantive changes they requested and in turn, we're hearing a great deal of positive customer feedback."
ASN leads the fight against kidney disease by educating health professionals, sharing new knowledge, advancing research, and advocating the highest quality care for patients. The annual meeting attracts physicians, scientists and other health professionals from around the world who want to learn about the latest advances in kidney health.
"As a result of the many positive changes in our convention industry, we are not only maintaining current business, but we are driving new business to Chicago and Illinois," said Tim Roby, president and CEO of the Chicago Convention and Tourism Bureau.
In addition to reforms, Tod Ibrahim, executive director, American Society of Nephrology, cited Chicago's expansive medical community and access to regional medical professionals, state-of-the-art facilities, world-class hotels and restaurants and high standing in the business communities as reasons why they recently chose Chicago for the first time in nearly 30 years.
"Chicago offers exactly what we're looking for to make for a successful meeting," said Ibrahim. "We've heard very positive feedback from those who've held conventions in Chicago since the reforms took effect."
"ASN's decision to hold its meeting here for the first time in almost 30 years shows confidence in us and helps to demonstrate that the steps we have taken to make Chicago more convention-friendly are working and are enhancing our already prominent role in the nation's convention industry," said Mayor Richard M. Daley.
"Our great city of Chicago and Illinois are great places to do business," said Governor Pat Quinn. "The medical industry especially is growing at a rapid pace, creating good-paying jobs all over the state. We are excited to show the American Society of Nephrology a first-rate convention in a world-class location."
Several major shows have recommitted to Chicago since the state passed sweeping reforms last spring. Those shows include:
ACE Hardware Corporation
American Academy of Ophthalmology
American College of Cardiology
American Federation of State, County and Municipal Employees
American Wind Energy
Biotechnology Industry Organization
International Housewares Association
International Manufacturing Technology Show
Lions Club International
National Restaurant Association Restaurant, Hotel-Motel Show
Society for Neuroscience
Solar Power International